New campus fund celebrates legacy of community building
Author: Development and Donor Relations
Posted on Sep 22, 2020
Category: Alumni Annual Giving , News and Events , Creating Opportunities for Students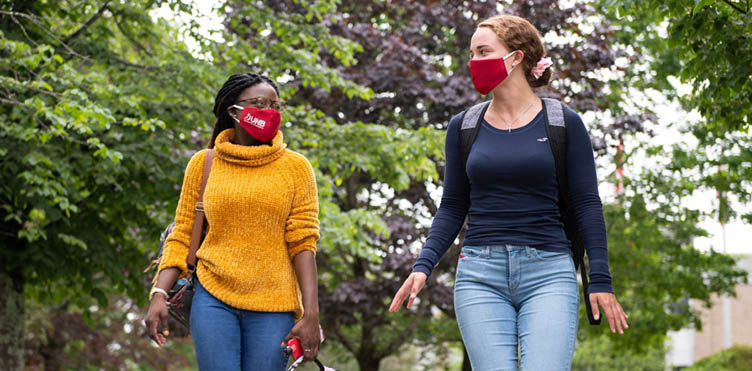 ---
UNB Saint John has launched a new fund to foster the sense of community between students living in residence and those living off-campus. The Beckett Campus Community Fund celebrates and builds upon the legacy of Dr. Barry Beckett and the late Flora Beckett, two key figures in the campus's growth.
The donor-driven Beckett Campus Community Fund will provide opportunities for students to remain engaged on campus after classes, with potential activities ranging from games nights and intramural sports, to monthly speaker series on topics important to student life in 2020.
UNB Saint John Vice-President Dr. Petra Hauf said the creation of the fund reflects a growing sense of excitement and momentum that is closely tied to the campus's sense of community.
"UNB Saint John began with a commitment to effective education," Dr. Hauf said. "Community is at the core of UNB's identity. The Beckett Campus Community Fund honours the vision that has guided this campus for more than 50 years, while inspiring students to create a prosperous and sustainable future."
"Over the past couple of years, we have been increasingly intentional about building relationships and connectivity for students as they join the UNB Saint John family," said Director of Student Services Sheldon MacLeod. "We are delighted that the Beckett Campus Community Fund will continue that great legacy of community building, connecting both on- and off-campus students."
Patrick Hickey, President of the UNBSJ Students' Representative Council, said students are excited to see that campus life is being prioritized by their university. "The connection each student has to their campus is so important," Hickey said. "It can completely change their university experience for the better. We hope this fund will allow students from the local Saint John area to better connect with students living in residence and forge a sense of community and student life here at UNB Saint John."
As UNB students, faculty and staff adjust to a new way of operating through the COVID-19 pandemic, it is now even more important than ever that the entire student community have safe, fun ways to stay connected – not just online, but also in person.
UNB Saint John alumnus and Manager of Residence and Conference Services Cory Brown encourages his fellow alumni to join him in supporting the fund. "A donation is a great way for our Saint John campus community to help foster a sense of belonging for all students, not just those in residence," he said.
Barry and Flora Beckett joined UNB Saint John in 1966 and were themselves strong campus community builders. Barry was a chemistry professor and campus registrar, retiring as Registrar Emeritus. Flora was a mathematics professor and director of the Math Help Centre. They helped build an identity for the campus based upon research excellence and community engagement. The campus's newest student residence, scheduled to open in January 2021, has been named in their honour.
UNB President and Vice-Chancellor Paul Mazerolle praised the Becketts' legacy.
"Barry and Flora Beckett embodied the commitment to academic achievement, public service and sustainable growth that defines our university," Dr. Mazerolle said. "By demonstrating a desire to see every student succeed, they helped UNB Saint John grow from a small commuter campus into a forward-thinking, international centre for research and education."
The Beckett Campus Community Fund is funded entirely through the generous support of UNB's donors. Those interested in supporting the fund may make a donation at unb.ca/beckettfund.