Students at UNB receive Canada's largest STEM scholarship
Author: Development and Donor Relations
Posted on Apr 29, 2020
Category: Creating Opportunities for Students , Scholarships and Bursaries , News and Events
Jessica Dean of Bedford, N.S., and Stephen White of Saint John, N.B., have been named the University of New Brunswick's newest recipients of the prestigious Schulich Leader Scholarships for 2020-21.
Launched in 2012 by Canadian business leader and philanthropist Seymour Schulich, this annual scholarship program encourages promising high school graduates to embrace STEM (Science, Technology, Engineering, Mathematics) in their future careers. This year, Schulich Leader Nominees from across Canada vied for 100 scholarships valued at up to $100,000 each.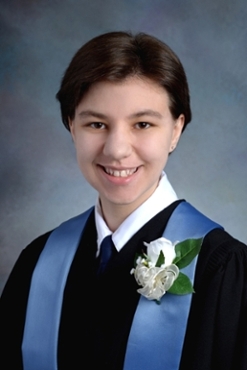 Jessica Dean, 17, is a recipient of the $100,000 Schulich Leader Scholarship. Jessica is a grade 12 student at Armbrae Academy in Halifax, N.S. She will enter the bachelor of engineering program on UNB's Fredericton campus in the fall.
Jessica volunteers tutoring math and French at her school, and also volunteers with the Girl Guides of Canada where she's been a member for 13 years. She loves mentoring others and helping them fulfill their goals. In 2019, Jessica received the Lieutenant Governor's Education Medal. That same year she travelled to Switzerland with Girl Guides and climbed to the summit of Faulhorn – an experience she says taught her that with "ambition, a strong team beside you, and a positive attitude, you can reach great heights."
"I had such a positive experience when I came to UNB's open house," Jessica said. "I do enjoy learning in a hands-on environment and I can't wait to come and learn! UNB has a friendly Maritime feel and this will allow me to make many connections along the way."
Stephen White, 18, is a recipient of the $80,000 Schulich Leader Scholarship. Currently in grade 12 at St. Malachy's Memorial High School in Saint John, Stephen will be entering the bachelor of computer science program on the Fredericton campus this fall.
Stephen has a passion for cybersecurity and has used that passion for the benefit of others. He founded a cybersecurity group at his high school, where he helps to guide his fellow students in learning about the topic. He has also led his school's cybersecurity team to the Canadian nationals two years running, and is a lead developer on a software program that helps school-based teams practice their cybersecurity skills and compete with other teams around the world.
Stephen is excited to be surrounded by like-minded people when he starts his degree in the fall. "Receiving this award has enabled me to continue my passion with much more time and much less stress," Stephen said, "and for that I am grateful. I can't wait to start a new life at UNB."
About Schulich Leader Scholarships
Schulich Leader Scholarships are prestigious entrance scholarships awarded to high school graduates enrolling in a Science, Technology, Engineering or Mathematics (STEM) undergraduate program at participating universities in Canada and Israel. Recognizing the increasing importance and impact that STEM disciplines will have on the prosperity of future generations, philanthropist Seymour Schulich established this $200 million scholarship fund to encourage our best and brightest students to become the next generation of technology innovators.
This program awards 100 scholarships annually, valued at more than $14 million. High schools across the country put forward more than 1,500 Schulich Leader Nominees vying for 100 Canadian scholarships. Canada's highest-potential students win these scholarships, giving them the opportunity to pursue their dreams and become the next global pioneers in STEM.
Learn more about how you can support students and scholarships at UNB.