Driving change for women at UNB
Author: Development and Donor Relations
Posted on Jan 2, 2020
Category: Innovation , Creating Opportunities for Students , News and Events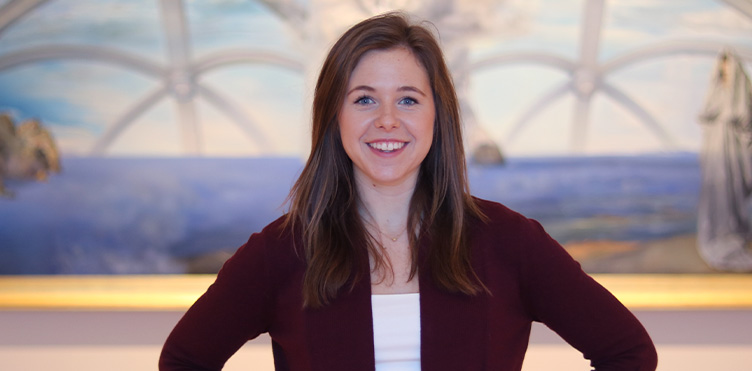 ---
What started as a simple conversation about biology midterms has turned into a defining conference for women in science, technology, engineering and mathematics at the University of New Brunswick.
Girls STEM Up
Jill Lamb (BSc '19), who chaired the J.D. Irving, Limited, 2019 Girls STEM Up Conference, believes the event sparked an important discussion on gender inequity in the STEM fields and will be an important stepping stone for female students who are focused on entering sectors traditionally dominated by men.
"It is a conversation that needs to keep happening," Jill said of the conference.
Jill and eight dedicated students organized the event in just over three months, attracting a sold-out audience of 250, ranging from high school students to industry leaders.
We had such a great roster of speakers who were so incredible, so motivating for this young demographic of women trying to build their careers in these sectors," Jill explained. "You need reassurance from others in order to find what you are passionate about and stick with it."
Driving change
The concept for the conference arose following a chat that Jill had with a group of first-year science students who thought that the only path after a bachelor of science was a career in medicine - a highly competitive field where only a few of the best are accepted.
"It really frustrated me."
After discussing it with her peers, Jill knew something needed to be done.
"We were incredibly excited when JDI extended an offer as the title sponsor," said Jill. "To us, it was validation that someone else believed in the same vision and goals.
Valued partnership
JDI has a long history of supporting initiatives at UNB, particularly ones that strive to make a positive difference in communities and promote social sustainability.
"We are pleased to partner with and support the Girls STEM Up conference," said Colleen Baxter, VP of Human Resources with JDI. "We are committed to help empower the younger generation of females to get excited about pursuing careers in STEM."
"There are so many opportunities and it is an absolute pleasure to support an event so focused on driving this kind of change. Our organization alone forecasts 7,500 full-time hires over the next three years – many in STEM fields," said Baxter.
Plans are already underway for a bigger and better conference next year. Part of Jill's motivation for creating the event was to make a positive change that could stay at UNB for more than her last year of university, and thanks to JDI, this dream has indeed become a reality.