UNB engineering student Houda El Hajjaoui receives UNB Alumni Legacy Award
Author: UNB Alumni
Posted on Aug 30, 2023
Category: Young Alumni , UNB Fredericton , Inspiring Stories , Engineering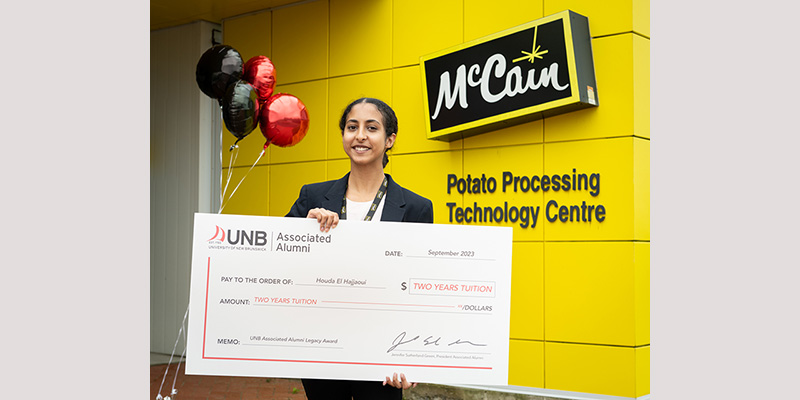 ---
A University of New Brunswick engineering student has been selected as the third recipient of the Alumni Legacy Award, established and presented by the UNB Associated Alumni.
The 2023-2025 recipient, Houda El Hajjaoui, is a shining example of the values outlined by this scholarship. Throughout her time as an international student at UNB, she has shown immense pride for our institution, dedication to her faculty and fellow students, and a commitment to carrying on the UNB alumni legacy. 
On August 16, as she completed her summer co-op term at McCain, El Hajjaoui was surprised and presented with the award by Associated Alumni president Jennifer Sutherland Green (LLB'99). Valued at two-years of tuition and fees, the scholarship is funded through the generous support of UNB alumni and friends. It recognizes a UNB student who has completed the minimum requirements for the second year of an undergraduate degree program and has demonstrated immense pride and commitment to the university through extra-curricular involvement.
An international student from Morocco, El Hajjaoui is now entering her fourth year of chemical engineering, and has shown strong academic achievement and volunteerism, as well as exceptional involvement with the faculty of engineering since her first days on campus.  She has been a dedicated member of the UNB Engineering Undergraduate Society (EUS), currently serving as the vice-president internal, where she oversees internal affairs between EUS members, manages administrative duties and coordinates inter-society events. 
El Hajjaoui has also served as the chapter president for Motionball UNB, as engineering councillor with the UNB Student Union, and has been a long standing volunteer with the International Students Advisor's Office. During her time at UNB, she created the ENGG PAL Center Pilot Project providing engineering students with access to weekly free help sessions. An advocate for anti-racism and fighting discrimination in post-secondary institutions, El Hajjaoui volunteers in the community as communications director for Shades of Change.
"The University of New Brunswick is the place I never dreamed I would be at. I hope that my work and involvement at UNB will help empower students, especially women in STEM to pursue their dreams and to be sure that they too can bring impact to this community."
In addition to submitting an essay describing why she is"Proudly UNB" and how she will continue to be an ambassador for UNB upon graduation, a letter of recommendation from a UNB graduate was also required as part of the award application.

"Though she has only been here for three short years, she has made an impact within the UNB community and will continue to do so as she progresses in her program," says UNB alum Xiuming Shi (BPhil'21). 


Support future generations of #ProudlyUNB alumni. Give to the Alumni Legacy Award.