UNBers dominate Atlantic Business Top 50 CEO list
Author: UNB Alumni
Posted on May 26, 2023
Category: UNB Saint John , Law , Inspiring Stories , Kinesiology , Engineering , Computer Science , Management , UNB Fredericton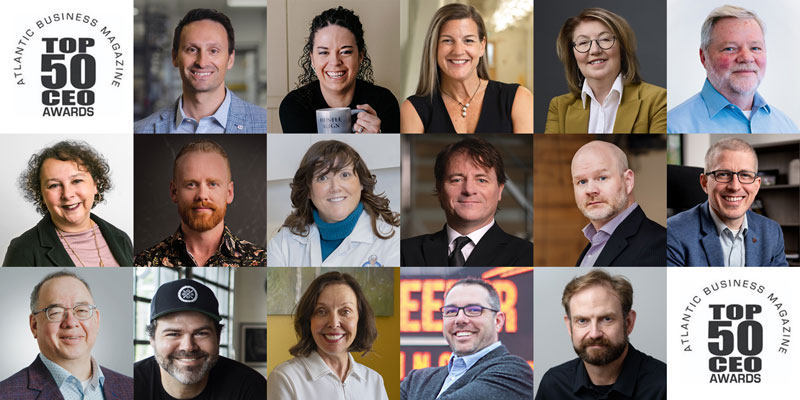 ---
Atlantic Business Magazine's
2023 Top 50 CEO Awards
were recently announced, and 16 UNB alumni and alumni of the UNB Wallace McCain Institute's (WMI)
Entrepreneurial Leaders Program
(ELP) made the prestigious list.
In its 25th year, the Top 50 CEO Awards celebrate accomplished business leaders in the Atlantic region. Over the past 25 years, they have recognized 552 Top 50 award winners who have collectively created more than a million jobs and generated almost $1.9 trillion in revenue.
Joel Albert (BBA'05), ELP10F:
Co-Founder/Owner/Business Development, NorthTaste Flavourings Inc., Anse-Bleue, NB
Joel Albert is doing a lot of things right to deserve a spot as a Top 50 CEO. From founding a family company that upscales 300,000 lbs of marine by-product annually into value-added food, and dominating the North American market in just 13 years, to focusing on process and product innovation, cross-departmental R&D and work-life balance, Albert checks a lot of boxes.
Sascha Boulet-Devost (BScKIN'09), ELP11Th:
CEO, Capture Therapeutics, Grand Falls, NB
Sascha Boulet-Devost was shaped by the women who came before her. Both her grandmother and mother were business owners who challenged the status quo. The young Boulet-Devost learned to measure her success in terms of impact.
Mary Butler (MEd'10):
CEO and President, New Brunswick Community College (NBCC), Fredericton, NB
As president and CEO of New Brunswick Community College (NBCC) since 2019, Mary Butler has increased enrolment by over 35 per cent, boosted organizational efficiency with a lean management system and bolstered financial sustainability by 81 per cent.
Dr. Susan Chalmers-Gauvin, O.N.B. (BA'96, DLitt'12):
Co-Founder and President, Atlantic Ballet Atlantique Canada, Moncton, NB
Dr. Susan Chalmers-Gauvin, who has led collaborations on youth retention, downtown revitalization, immigration, diversity and inclusion and digital transformation, is committed to ensuring social impact is part of the ballet's creative work going forward.
Tanya Chapman (MBA'12):
CEO & President, The Chapman Group. Saint John, NB
The CEO of Saint John's The Chapman Group is back as a Top 50 winner this year. Tanya Chapman continues to steer her HR consultancy to year-on-year growth of 20 per cent, while maintaining her team's commitment to boosting regional prosperity. In fact, the company donates 10 per cent of its time to pro-bono work with non-profit organizations.
Billy English, ELP7:
CEO, Kindred Home Care, Saint Stephen, NB
When Billy English and his business partner Will Bernard purchased Kindred Home Care in 2013, the non-medical home care agency had been serving N.B. seniors for 30 years. Kindred has since increased revenue by 900 per cent and grown from 200 to 1,000 employees, making it the largest home care company in the province.
Rosalyn Hyslop, ELP11Th:
Co-CEO, Mrs. Dunster's (1996) Inc., Sussex, NB
Rosalyn Hyslop met her business partner, co-CEO and husband Blair in 1988, in Junior Achievement. She says, "We talked about someday owning and operating our own business. Over the next 26 years, life happened. But this all prepared and led us to having our own family business when we purchased Mrs. Dunster's bakery in Sussex, N.B. in 2014."
Kevin Kiley, K.C. (LLB'93):
Managing Partner, McInnes Cooper, Halifax, NS
As a 25-year veteran of one of Atlantic Canada's most prominent law firms—and four as its managing partner—Kevin Kiley evinces a disarmingly persuasive leadership style. "Over time, I realized that often the best outcome is when all parties win." And so it is, perhaps, that McInnes Cooper has experienced a sustainable 15-plus per cent growth rate over the past three years and a growing complement of almost 500 employees.
Dr. Erik Klein (Class of '97):
CEO, Town Health Solutions, Hampton, NB
With 190 per cent revenue growth since 2020, Town Health Solutions has become Atlantic Canada's largest locally owned rehabilitation network. Getting there, says CEO Dr. Erik Klein, took a combination of "grit, determination, and pure stubbornness."
Mark McAllister (CS'01), ELP11Th:
CEO & Co-Founder, VeroSource Solutions Inc., Fredericton, NB
Early in his career, UNB computer science graduate Mark McAllister spent many years working in the healthcare domain. He witnessed significant investments being made in the sector but knew that more could be done to build on these investments and expand digital healthcare access.
Dr. Keith McIntosh (DSC'18), ELP1:
CEO, PLATO Testing, Fredericton, NB
For Keith McIntosh, business leadership is all about building better communities. Better communities build economic opportunities for everyone. "Many organizations talk about the importance of social impact but real leaders act, they don't just talk about acting," he says.
Alan Norman, ELP15:
CEO, Tire Shack Brewing Co., Moncton, NB
Imagine coming home to Moncton after 16 years in Toronto with dreams of opening your own craft brewery. Now imagine that you do, just in time for Covid. For husband-and-wife team Alan Norman and Jerrica Kennedy, that was no thought experiment. Today, they're not only back up, they're thriving. Their beer has been widely recognized, winning multiple top brewing awards in the U.S. and Canada, including Canadian Brewery of the Year (2022) by Brewers Journal magazine beating out over 1,200 craft breweries from across the country.
Danielle Pelletier, ELP8:
CEO and Founder, VIVA Therapeutic Services (formerly Autism Intervention Services), Fredericton, NB
From the beginning, the founding CEO of VIVA Therapeutic Services, Danielle Pelletier, has been breaking boundaries. "We are never going to be a 'status quo' organization," she says about her company, which provides autistic preschool-aged children with high quality, evidence-based programming in French and English.
Matthew Stockford ELP10F:
President, CEO, Stockford Reefer Services Inc., Beardsley (Woodstock), NB
Since the friendly family takeover, Matthew has grown Stockford Reefer—which specializes in transport refrigeration (reefer) repair— into a state-of-the-art facility and expanded service offerings to include new and used reefer and trailer sales and rentals, secure parking, cross dock services and online parts sales. He also ushered in 450 per cent growth over the past 10 years (54 per cent since 2020).
Matt Symes (BA/BEd'04):
CEO, Symplicity Designs, Moncton, NB
Matt Symes calls himself, in order, a "serial entrepreneur, recovering academic, and marathoner." Officially, he presides over a management consultancy that, he says, "has helped over 500 organizations scale and recover from some of their darkest moments."
Mark Wood (BScEE'80, MScEE'83), ELP10F:
CEO & Co-Founder, Ocean Sonics Ltd., Truro Heights, NS
Mark Wood prefers to think of himself as an "ocean innovator" who became an entrepreneur. However he puts it, his combination technological of know-how and enterprising savvy has served Ocean Sonics well. Today, the world-leading technology company "bootstrapped in Great Village, N.S." exports its icListen smart hydrophone across Canada and around the world.
All profiles were taken from the Top 50 CEO website. Profiles by Alec Bruce, Moira Donovan, Stephanie Gough and Mark Vaughn-Jackson.
The full list of 2023 Top 50 CEO recipients can be
viewed online
.