UNBeknownst #29: Lea Nicholas MacKenzie on championing Indigenous human rights
Author: UNB Alumni
Posted on May 11, 2023
Category: UNB Fredericton , Arts , Podcast , Inspiring Stories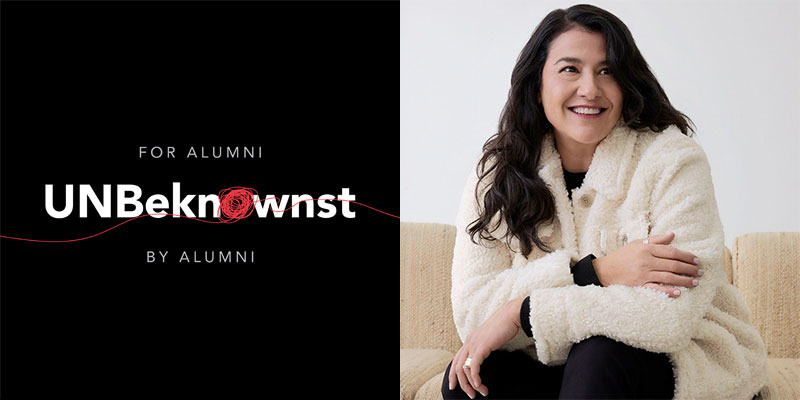 ---
Lea Nicholas-MacKenzie (BA'91) is a trailblazer for Indigenous rights: she's the former special advisor for Indigenous issues to the UN, former chief of staff to then minister of justice and attorney general of Canada, the Honourable Jody Wilson-Raybould, and past chief of staff to the National Chief at the Assembly of First Nations. She also served as director of aboriginal participation and chief of protocol for the Four Host First Nations during the Vancouver 2010 Olympic and Paralympic Winter Games.
Lea is a member of the Wəlastəkwey Nation at Tobique, New Brunswick and holds a BA in Language and Linguistics UNB - and since then has gained extensive experience in international relations focused on the human rights of Indigenous Peoples. In 2021 she was named one of Canada's Top 100 Most Powerful Women.
In this episode:   
Lea's family background and family role models – and how she learned that advocacy can make a difference
Lea's first roles and how she learned how the system worked
Her experience on and off for many years at the Assembly of First Nations, including Chief of Staff at age 27.
Her experience advocating at the United Nations.
What led to becoming a seasoned leader and ready to serve with Jody Wilson-Raybould in the Minister of Justice and Attorney General's office, and her experience with that chance to make change.
Her principles of justice, integrity and truth telling and how they didn't always mesh with the realities of politics
Her work today in human rights, governance and reconciliation
The Indigenous rights advancements that are giving her hope
Ideas for being an ally moving forward and how to further the Calls to Action
What Lea is optimistic about for the future
Where to listen:  
Links and resources:   
Thanks to:  
To listen to UNBeknownst and for more info on the podcast, the hosts and how to subscribe to new episode alerts, visit our website.