Two-time alum Haiping Fu (BBA'07, MBA'19) recognized as a woman of inspiration for her career in finance
Author: UNB Alumni
Posted on May 29, 2023
Category: Inspiring Stories , UNB Saint John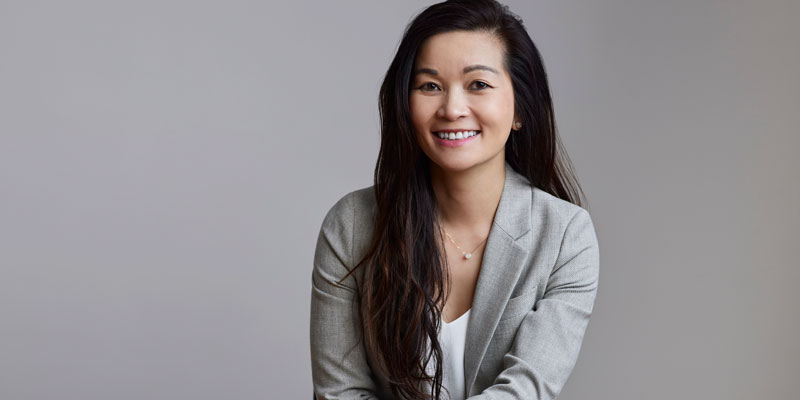 ---
From the tropical island of Hainan, China to Saint John, New Brunswick, two-time UNB alum Haiping Fu (BBA'07, MBA'19) has established a successful career in finance. Recently recognized by Canadian Immigrant Magazine as one of their 2023 Women of Inspiration in Banking and Finance, Fu has spent the last 15 years growing her business and helping others feel confidant and secure in their financial health.
In her role as an associate wealth and investment advisor for RBC Dominion Securities, Fu works specifically with immigrant clientele both locally and across the country. Her and her partner, fellow UNB alum Jackson Lang (BBA'10), are the only two Chinese-speaking advisors at the wealth management level in the Atlantic region.
"When you talk about money it's very private, especially in my culture," says Fu. "I am the trusted person my clients go to for solutions to their problems. I find it very interesting that when you help people to accomplish something financially, you actually help them to reach a lot of goals in their life."
An inspiring leader personally and professionally, Fu says one of the most rewarding parts of her career is also helping newcomers feel settled, secure, and safe living in a new country.
"I understand how it felt to come to a new place where language is a problem and where you don't know anything about the system. With a wealth management approach, I'm involved in every aspect of their lives from their real estate to their trusts, children, and support of elderly parents - my clients are always so appreciative."
Fu's own experience building a career as a newcomer began in 2001 when she hopped off a plane in New Brunswick, in pursuit of her university career at UNB Saint John. She had never left her home island but was eager to study abroad and experience something new.
"My cousin was studying at UNBSJ at the time, and she told me it was a quiet, small community where I could focus on my classwork and get to know the local culture."
"I said let's do it. Let's go."
Throughout her undergraduate studies in the faculty of business, Fu worked to improve her English, along with her teamwork, presenting and negotiation skills, all while learning and experiencing a new culture.
After completing her final exam, she boarded another plane to Calgary, where she embraced every opportunity to meet others in the industry and build her own career in the banking and finance sectors. Fu worked for several years in both Calgary and Halifax, before landing back in Saint John in her current role at RBC Dominion Securities.
"After I returned to Saint John, I was busy building my career and my son was three years old at the time, but I decided to enroll in the MBA program. It felt very different going back to UNB Saint John again after ten years because I wanted to do it for myself. I wanted to go back to learn more and learn from other people's perspectives in a very diverse program."
Fu's inspiring career has certainly come with a lot of hard work, trusting her gut and taking chances. She hopes to inspire others to embrace change when opportunity knocks.
"Keep preparing, learning, and doing things to equip yourself, and when opportunity arises go for it! For me, it was the best decision ever to return to Saint John. I always felt at home living here."