Preserving the past and making connections on the Miramichi
Author: UNB Alumni
Posted on Mar 29, 2023
Category: UNB Fredericton , Arts , Inspiring Stories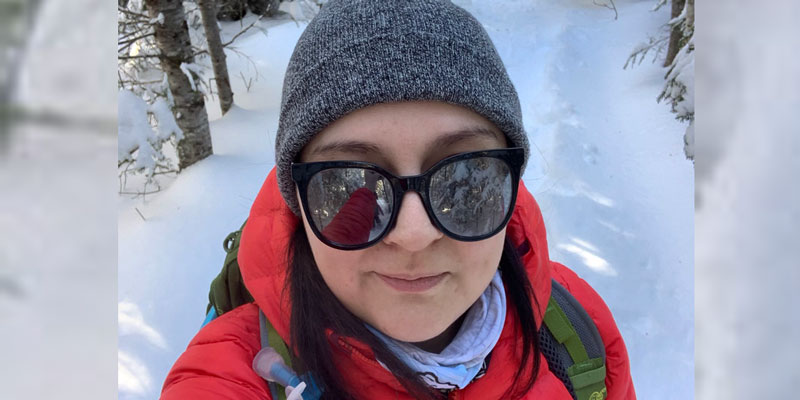 ---
Christine Jean (BA'21) loves to study people and nature – and the connection between the two. An anthropology graduate and current master's student at UNB, her research focus is on human-nature relationships along the Miramichi River, in particular from Boiestown to Blackville, in the hopes of bettering understanding the community and providing ecologically, socially and economically sustainable ideas and initiatives and environmental stewardship. 

Christine has also taken on a new role in the community that's an interesting extension of her studies: Executive Director at the Central NB Woodmen's Museum. Her passion for artifact maintenance and archiving – and her curiosity about the intricate relationships between humans and the natural environment in rural central New Brunswick – is helping her re-envision the museum in a new and fresh way.  

"Humans have been involved in the lumber industry since the 16th century, and over time the industry has changed, affecting communities and families. There have been shifting labour forces and movement of people in this area, primarily because of changes in logging and fishing. These communities have been shaped by nature and the ways in which humans connect and interact with it." 

Christine says that "it's important to understand and preserve our past in order to understand where we are now and to do better in the future." That's some of what she's doing at the Woodsmen's Museum, as she works to digitize historical information and create meaningful exhibits about various types of trees, lumber processes, tools and the history of logging in the province. But she's also busy doing everything else involved in running a museum, from advertising to fundraising and grant writing, to community engagement and creating visitor and school programs. "I love it. I love connecting with community members and with other organizations in the community. And I love being able to bring education on this topic to others – it gives me a lot of joy."  

Christine is a big fan of lifelong and continuing education. Having moved around in various communities in Ontario and Quebec when she was young, she then gained a business education and had an early career in medical administration. But she unfortunately found herself as mother of three in a very abusive relationship, enduring forced confinement at home. After five long years she was able to escape to New Brunswick in 2017, at 31 years of age. The following year she registered at UNB in the Bachelor of Arts program and took an anthropology class.  

"I fell in love. The program gave me an opportunity to explore the world in ways I previously could not. It let me rediscover myself, not only as a student and a mother, but also as a person. I love people, and the better you understand people the better you can help them."  

She says that returning to school as a mature student was lifechanging for her. The guidance, support and encouragement I received from everyone in the faculty was invaluable. Their enthusiasm is contagious. In particular, I'm eternally grateful to my mentor, Dr. Daniel Tubb, who is incredible at engaging students and embracing each student's different way of learning. I'm grateful for the excellent guidance as well as for scholarships and prizes I've been able to receive that are helping me continue learning." 

Christine is now undertaking a Master's in Anthropology, alongside her work at the Central Woodsmen's Museum and as a freelance grant writer. She says it's a balance she loves and that each complement the other. "Learning and sharing knowledge is important to build and maintain social bridges, and it's important in helping rural communities stay resilient and build bright futures."  

"Rural communities have a special place in my heart, and although I may not be from the Miramichi, it fills a hole in my heart and I feel at home. The Boiestown community has welcomed me with open arms and I feel like I'm surrounded by family. My new husband and I will be moving there and I'm looking forward to this being our forever home."