A leader in supply chain contributing to community growth in New Brunswick's Port City
Author: UNB Alumni
Posted on Feb 22, 2023
Category: UNB Saint John , Inspiring Stories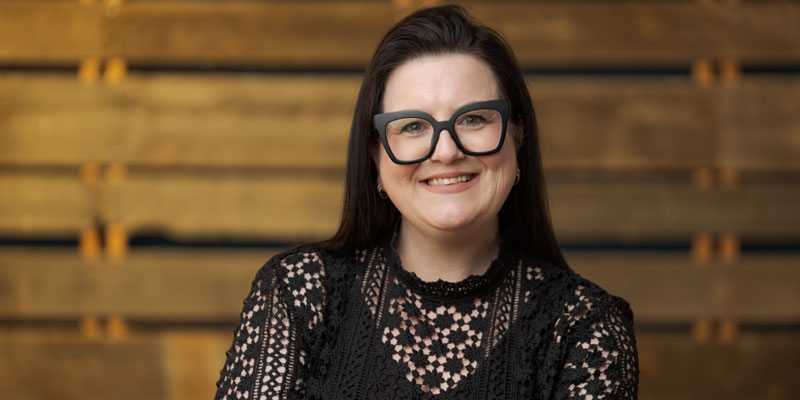 ---
Shannon Blanchard (BBA'00) grew up in the New Brunswick city built around its harbour and port. Now she goes to work every day as a leader in the supply chain sector, contributing to the community through her role at Port Saint John, one of the primary catalysts for economic development in the region.
As Director of Supply Chain Innovation, Blanchard's responsible for Port Saint John's container supply chain. She says her team works with port partners and stakeholders to establish a competitive marine gateway to international markets, all in support of a fluid and resilient Canadian supply chain offering.
Port Saint John is Atlantic Canada's largest port by volume and has a diverse cargo base, handling an average of 28 million metric tonnes of cargo annually and connecting with over 500 ports worldwide.
"The city has been built around the port and, and the reality is, if the port is healthy then the community is healthy as well," says Blanchard. "Over the last few years we, along with the provincial and federal governments, invested in our infrastructure to support increased container capacity. Last year, those investments resulted in a 72 per cent growth year over year. Equally as exciting are the indirect spin-offs and growth we are seeing in our communities; the private sector investments, job creation, and new sectors developing. Saint John certainly is in a collective growth mode."
A proud and passionate Saint Johner, she began her career with Port Saint John in 2005, working in internal marketing roles before completing her a professional designation in transportation and logistics in 2013. Now, her work has allowed her to build connections within the business and the transportation and logistics communities, but it has also given her opportunities to volunteer on local boards.
Blanchard describes her work as ever dynamic and exciting. She says the big driver for her is not only witnessing the enhancements in critical infrastructure Port Saint John has made, but also their support in the national supply chain, accessing international markets, and understanding what it means for her local community.
"As we transition and grow as a port community, that resurgence of the importance of the port is going to be fed into the next generations. My generation experienced that so-called 'sleeping giant,' but those ahead of us will very much see a vibrant and thriving port, with economic spin-offs that we can all enjoy in one way, shape or another."
As seen in recent years with Saint John's AREA 506 Musical Festival and container village, as well as the arrival of two DP World container cranes that have drawn attention in the Saint John harbour this January, the public is seeing an operating port up close and personal, and is experiencing the city's uniqueness, as the province's only container operation.
Also, a result of the COVID-19 pandemic, the transportation and logistics sectors have been placed under a microscope, showing how critically important having a resilient supply chain is. With sectors and industries looking at how they can create either a resilient supply chain or lean supply chain in their business, Blanchard believes it is now one of the fastest growing sectors for opportunity.
"Working in this industry is very dynamic, always changing, complex and challenging, but rewarding at the same time. Up until the last three years, no one really knew what a 'supply chain' meant. Now for us as individuals, we can appreciate not only what it is, but how it can dramatically impact our everyday lives."
Supporting up-and-coming leaders in the transportation and logistics sector, has been one of the most rewarding highlights of her career. Having had mentors throughout her own professional life, Blanchard has generously dedicated a great deal of time to mentoring others and giving back to the community.
"I feel very fortunate to have had two very respected women in their profession as my mentors. My advice for everyone is to engage in mentorship early in their careers, to find someone who has likeminded values and goals in their sector or industry, and to learn from those who have already been before."
Reflecting on her career, Blanchard recalls her time as a student in UNB Saint John's faculty of business, where her early mentors Michelle Scott and Shelley Rinehart (BA'84, MBA'88), Director of MBA Graduate Studies, encouraged her to pursue the co-op program and explore a career in marketing. She says the program opened her eyes past the 'traditional' fields of business and has since led her to the transportation and logistics sector.
"At a time when jobs were very scarce, I landed one right out of university in marketing. I don't think I would have had the opportunity to join the workforce in the field I studied in so quickly without co-op. I really have to thank Michelle and Shelley for pushing me in that direction because it landed me where I am today - in a fulfilling and rewarding career, in a city I love."