Building the Alumni Office from the ground up. Decades of leading, strengthening and engaging the alumni community.  
Author: UNB Alumni
Posted on Dec 8, 2022
Category: UNB Saint John , Young Alumni , UNB Fredericton , Inspiring Stories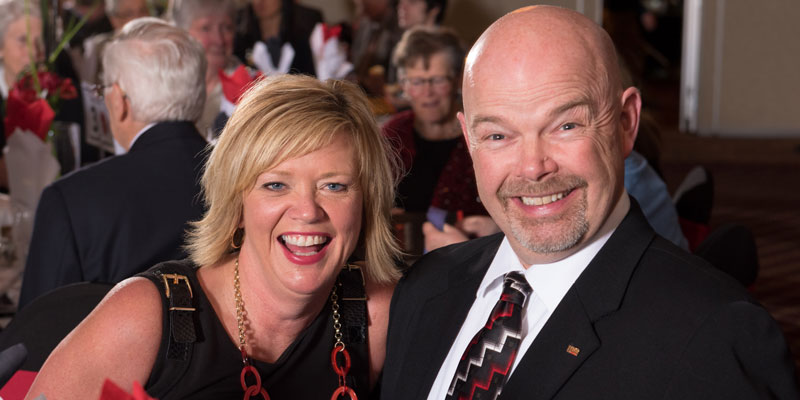 ---
On Dec. 30, 2022, Mary Duffley will retire from her role as Assistant Director of the UNB Associated Alumni after a nearly 30-year career at UNB. The profound impact she has had on the alumni family, the Saint John community and her fellow UNBers across the province lends to the remarkable legacy she will leave at UNB. 
Following the proud footsteps of her late mother, who also retired from UNB, Mary began her career on the Saint John campus in 1993 with community relations. A short time later in 1996, she joined the alumni team and went on to build the Saint John Alumni Office from the ground up, leading it on her own for the next two and a half decades and becoming the face of the alumni on campus. 
"When Mary was appointed, her enthusiasm and tenacity were apparent from the get go," says Registrar Emeritus Barry Beckett (PhD'70). "Her unflagging devotion and commitment to the campus and its students, her recognition that the size of the campus was an asset to be built on rather than a drawback, her ability to involve alumni with current students, along with her enthusiasm for providing fun events have all helped enrich the lives of countless people."
Serving through several administrations, various strategic priorities, and changes in Association leadership, she has continuously and tirelessly worked with the interests of UNB students and alumni at heart. She is often best known for being a proud and passionate advocate for the needs and strengths of the Saint John campus. 
"Mary Duffley is the heart and soul of alumni relationships for UNB Saint John," says CCAE president and former Associated Alumni Executive Director Mark Hazlett (BPE'87, MPE'89). "Her name can be added to the legends of this campus - Forbes Elliot, Colin B. Mackay, Tom Condon, and Barry Beckett."
When asked about her proudest moments at UNB, Mary reflects on the special traditions and important initiatives that she has carried throughout her career. 
Her cherished Associated Alumni Champagne Toast has become a loved celebration for graduates at the spring and fall convocation ceremonies in Saint John. Similarly, the Alumni Honour Guard, celebrating its 20th year, has been carried on by Mary since the inaugural honour guard in 2002 when UNB President Emeritus Dr. John McLaughlin was being installed. Throughout its long history, Mary has engaged hundreds of alumni volunteers who proudly wear their red sashes and gowns in celebration of the graduating classes. 
In 2005, Mary established the Graduating Student Leadership Awards program in Saint John, which recognizes graduating students who have made outstanding voluntary extracurricular contributions during their time at UNB. Approaching its 18th year, the awards program has honoured over 375 graduates, and has seen several alumni return to the awards' dinner year after year in support of the newest recipients. 
"My proudest initiative was the Grad Leaders Program that I started with the executive of the day in 2005," says Mary Duffley. "Recognizing student leaders for 17 years is pretty special." 
She says student support has always been a highlight of her career, seeing the impact of student recognition firsthand through the Alumni Student Leadership Awards, the Alumni Legacy Award and valedictorian selection. 
Many alumni will have attended a number of alumni gatherings under Mary's wing, including the Saint John Alumni Golf Tournament, Oktoberfest, the Saint John campus 50th Anniversary alumni celebration, wine-tastings, beer fests, comedy shows and more, in addition to various chapter events across the country. 
The programs she's built, grown and nurtured are tied directly to her unwavering commitment to UNB - but maybe more significant are the deeply personal relationships she's made with students and alumni across our campuses. 
These connections are genuine and meaningful reflections of her career. Many graduates tie their connection to UNB directly to Mary, as a result of the care, support, devotion and respect she has given to every alum who has walked through her door. 
In 2009, Mary was recognized by the Association with a Proudly UNB Honorary Alumni award. This recognition is a true testament to her 'red and black' pride. UNB, its students and alumni would not be what they are today without Mary's distinguished career, and her legacy will be felt for decades to come. 
"As I reflect on my career at UNB, it has been the numerous connections and relationships that I have with alumni that is most meaningful. With their support and encouragement, I was able to build a program in Saint John from the ground up and I am so very proud of what we achieved. It has been truly inspiring to see firsthand the impact alumni have and continue to make at UNB."