A 20-year tradition for the Saint John campus Alumni Honour Guard
Author: UNB Alumni
Posted on Oct 27, 2022
Category: Inspiring Stories , UNB Saint John , Young Alumni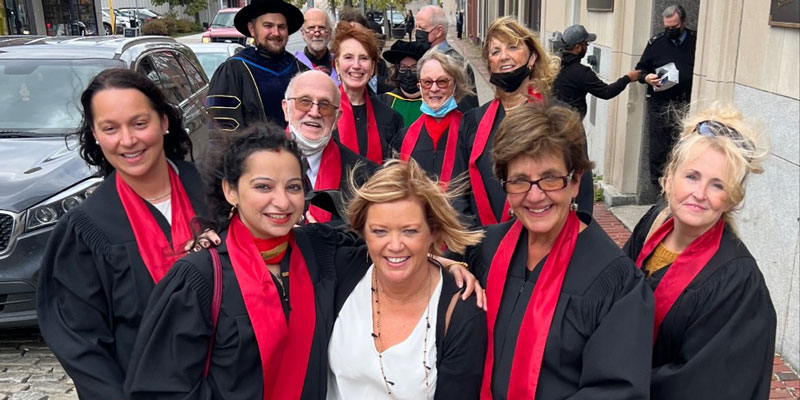 ---
A UNB Saint John tradition that spans 20 years has seen hundreds of alumni proudly sporting robes and red sashes, and has become a cherished activity for spring and fall convocation ceremonies.  
The Alumni Honour Guard was first established in 2002 at fall convocation when UNB President Emeritus Dr. John McLaughlin was being installed at the Trade and Convention Centre in Saint John. The newly-formed Saint John Alumni Office was tasked with pulling together a group of alumni to participate in the celebrations and to lead graduating students into their ceremony.
Associated Alumni Assistant Director, Mary Duffley, has led the Alumni Office and Alumni Honour Guard for its entire 20-year history and says it is incredibly meaningful to think back on the growth and the impact this tradition has had for UNB alumni.
"The Honour Guard was met with a great deal of eagerness from the alumni community," says Mary. "Back in those days we were just opening the Alumni Office here and beginning to engage alumni in activities at UNB. For me, it's certainly been one of our significant initiatives and a very proud accomplishment."
Since that first group of 50 alumni participated in the inaugural Honour Guard, the tradition has continued and has evolved in many ways. What began as alumni wearing traditional graduation robes and hoods as they followed the piper in the graduation procession, has transformed into wearing their now-distinguishable black robes and red sashes. Most recently, volunteers have also been given the honour of presenting graduates with their alumni pins during a special pin presentation.
The group has similarly become a cherished way for many to carry on their UNB family legacy by participating in honour of a relative in the graduating class. Over the 20-year history, the Alumni Office has welcomed many alumni-parents, grandparents, in-laws, siblings, spouses, and extended family who participated in celebration of their loved ones' graduation day.
During the campus' 50th anniversary in 2014, we also welcomed the first graduating class of '74 back to participate in the Alumni Honour Guard as a group, for the 40th reunion year. 
"I've created deep relationships with people on the Honour Guard because I see them every year and it's given them a way to connect back. By providing this opportunity we have some people who are interested in being involved in this happy day. I've really appreciated and valued their participation over the years."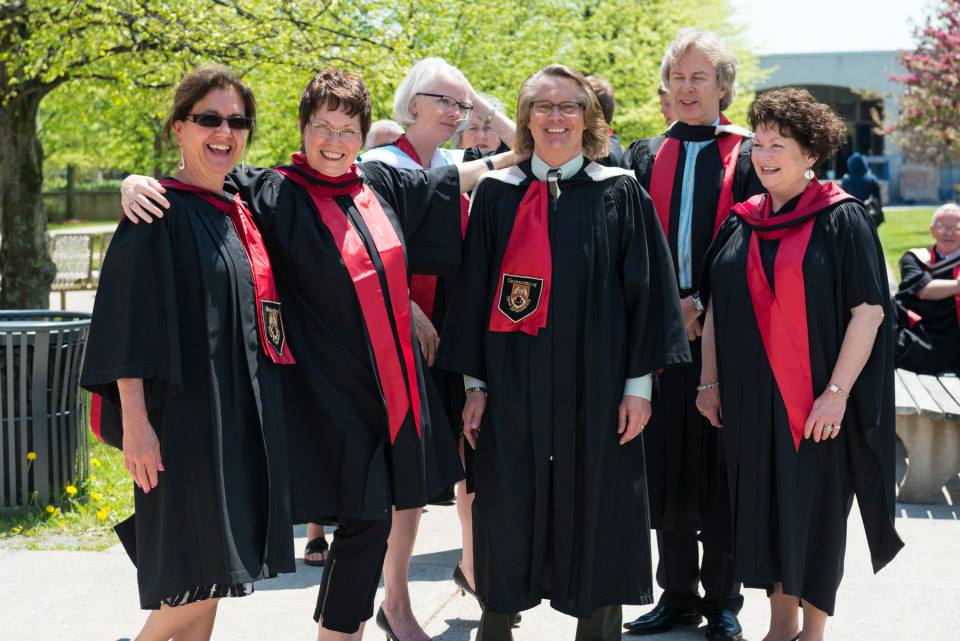 For several proud alumni, including Maxine MacMillan(BA'90, MEd'91), Jill Jollineau (MEd'02), David Thorne (BBA'91) and Barrie Rigby (BSc'62, BEd'65), volunteering with the Alumni Honour Guard has become their own personal tradition since participating in the inaugural group in 2002. It's given other volunteers, like Stan Devine (BA'74) and Bernadette Mantin (BA'00, BEd'04, BN'16), their own way of giving back to UNB, to welcoming our newest alumni into the family and to reliving their own UNB experiences. 
"To be part of the Alumni Honour Guard is a privilege and an honour," says Bernadette Mantin. "I get just as nervous and excited to watch these students pass through the guard as I did at my own graduation ceremonies. These students are walking taller with a sense of purpose and pride as they their dream of graduating from UNB has become a reality. I have had nothing but great fun as an Honour Guard member."