UNB alumni make up a quarter of Atlantic Canada's Top 30 Under 30 Innovators list
Author: UNB Alumni
Posted on Nov 4, 2022
Category: Engineering , Management , UNB Fredericton , Young Alumni , Inspiring Stories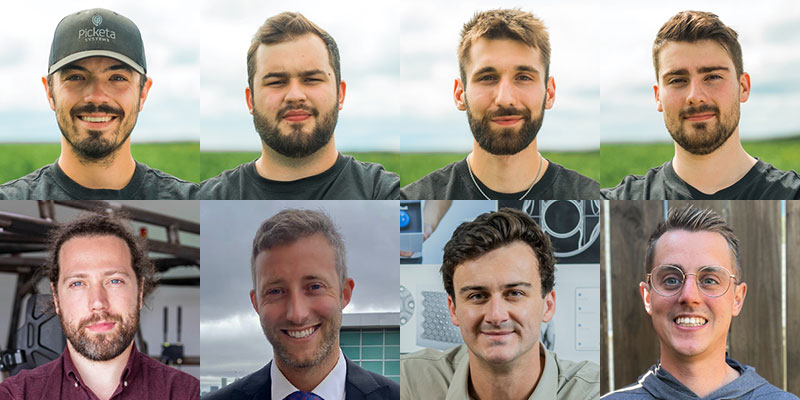 ---
Atlantic Business Magazine's Top 30 Under 30 Innovator awards program recognizes young people who are turning their creativity and passion into revenue-generating pursuits. This year's list includes a diverse group of marketers, scientists, entrepreneurs, inventors, artists and advocates.
Eight(!) UNBers were named to the 2022 list. They exemplify what it is to be innovators, carving their own path to success and making a difference in their communities along the way.
Zachary Andersen (BScEE'21), Chief Growth Officer; Maxime Dumont (BScEE'21), Chief Operations Officer; Dominic Levesque (BSEcEE'21), Chief Technology Officer; Xavier Hebert-Couturier (current UNB student), Chief Executive Officer
Picketa Systems
It began, as it often does, with a problem: 21-year-old Xavier Hébert-Couturier knew he wanted to pursue the Technology Management and Entrepreneurship Capstone project as part of his senior year in UNB's software engineering program. But to do so, he had to identify a problem that needed to be solved.
Hébert-Couturier reached out to high school friend and fellow engineering student Dominic Levesque, as well as two other students in their program, Maxime Dumont and Zachary Andersen. Together, the team decided to investigate the challenges growers face in monitoring their crops. After a year of prototyping, the idea the team landed on has blossomed into Picketa Systems Inc.—a company meant to tackle a problem far beyond the scope of a school project. By providing growers with tools to conduct real-time plant analysis, the company's founders hope to help solve the bottleneck in precision agriculture—paving the way for the more sustainable food production the world sorely needs.
In its first two years of operation, the company has expanded rapidly, growing from 600 samples collected on nine farms in New Brunswick, to more than 2,000 samples from 62 potato farms across New Brunswick and Prince Edward Island. Going forward, the team envisions building out their market presence as widely as possible, expanding into more markets and crops, and allowing anyone with access to their technology to do testing on their own fields.
Nicholas Dowling (BScME'18, D-TME'18), Chief Operational Officer, EIT, and Co-Founder
Potential Motors
When it comes to taking credit for the astonishing innovations his company, Potential Motors, has introduced to the car market in just three years, former UNB mechanical engineering student Nick Dowling doesn't.
The company is currently launching a never-before-seen electric vehicle through pre-order sales. In fact, the vehicle is so innovative, Dowling and his team at the aptly named Potential Motors expect to use it as a marketing tool to promote their software to other car manufacturers.
Curtis Kennedy (BScME, DTME), Founder and CEO; Aaron Turner (BScME'17, MScCHE'20), Chief Operating Officer
Symbodi
While studying engineering at UNB, Curtis Kennedy created Vertiball a health product that uses a patented airlock mounting system affixed to walls, which enables users to target and relieve tense muscles effortlessly.
Struck by Vertiball's progress from a 3-D printed design to a successful product, fellow engineering student and childhood friend, Aaron Turner decided to make the leap from engineering to business, launching a two-person startup with Curtis called Symbodi in 2019.
A year after Vertiball's launch (and having already won close to $40,000 from national and international business plan competitions), Arlene Dickenson of CBC's Dragon's Den offered them a deal which raised over half a million dollars.
Since then, the company has grown to include three innovative products with eight million in sales through major North American retailers and partnerships with high level athletes. The company plans to launch its first electric massagers in 2023, continuing the same trajectory of athletics and scientific innovation that has characterized their success thus far.
Michael Brown (BBA'14), Founder
Brown Asset Management Inc., LongTermGevity Inc. and Feels Great Music Inc.
Some are happy to describe themselves as "serial entrepreneurs". That might suit former kid farmer-investment fund manager-drug company czar-music industry mogul Michael Brown. But "serial innovator" might be more accurate.
Michael is the founder of not one but three start-ups, Brown Asset Management Inc., LongTermGevity Inc. and Feels Great Music Inc.
LongTermGevity Inc. is proceeding through clinical trials targeting an FDA drug license in 2026 to bring its novel pain medicine, which targets injuries to the central nervous system, to market. Brown Asset Management Inc. is working on creating applications to automate various asset management and investment banking services with aspirations to become the premier financial services firm. Finally, digital record label, Feels Great Music Inc., is actively signing artists, producing and publishing music aiming to create a platform for artists to collaborate and monetize their work on the blockchain.
Read more about the 2022 Top 30 Under 30 Innovators. Photos and bios sourced from Atlantic Business Magazine's website. 
Four UNBers were named 2021 Top 30 Under 30 Innovators. Read more about them.