UNBeknownst Podcast Episode 8: Samantha Stewart on competition, mental fitness and developing a growth mindset
Author: UNB Alumni
Posted on Dec 2, 2021
Category: Podcast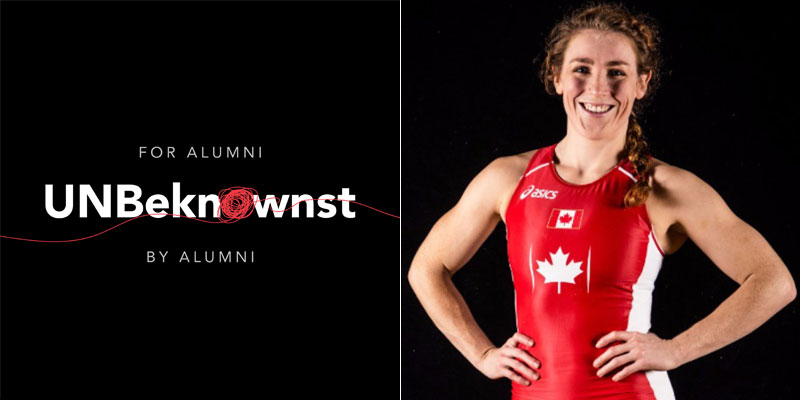 ---
UNBeknownst Podcast Episode 8
Samantha Stewart: Competition, mental fitness and developing a growth mindset
Samantha Stewart (BRSS'13, BA'14, MEd'19) moved to Fredericton in 2009 to study Recreation and Sport Studies, and during that time, began competing internationally as a member of Team Canada's wrestling team. Since then, she's become a ten-time national medallist, been named Most Outstanding Female Wrestler in Canada twice, was the Rio 2016 Olympic alternate, and recently won bronze at the 2021 Wrestling World Championships. Off the mats, Samantha's completed three degrees at UNB: a Bachelor of Recreation and Sport Studies, a Bachelor of Arts with Honours in Psychology, and a Master of Education in Counselling; and is now a Licensed Counselling Therapist candidate, who combines her passion for helping others discover their purpose, achieve their aspirations, and reach their potential with her love, dedication to, and knowledge of elite sport in Canada. She's an athlete ambassador with the New Brunswick Sports Hall of Fame and KidSport NB, and she's a huge advocate for athlete mental health and getting women and girls active in sport. 
In this episode: 
How Samantha got into wrestling at an early age

 

Breaking down big long-term goals into small, manageable steps

 

Sam's experience in being persistent even in the face of failure

 

Her experience competing on the world stage

 

How to stay mentally fit in any situation

 

Practical ways to develop a growth mindset in order to succeed

 
Where to listen
Links and resources: 
Sam's website: https://www.samanthastewart.ca/ 
Sam's LinkedIn page: https://www.linkedin.com/in/samantha-stewart53/ 
Thanks to: 
Our alumni host, Ian Smith
Music by alumni artist, Beats of Burden
Our alumni Affinity Partners, TD Insurance, Manulife, and MBNA Mastercard


To listen to UNBeknownst and for more info on the podcast, the hosts and how to subscribe to be alerted to new episodes, visit our website.