Volunteer Spotlight: Nathan Munroe
Author: UNB Alumni
Posted on Nov 22, 2021
Category: Inspiring Stories , UNB Saint John , Young Alumni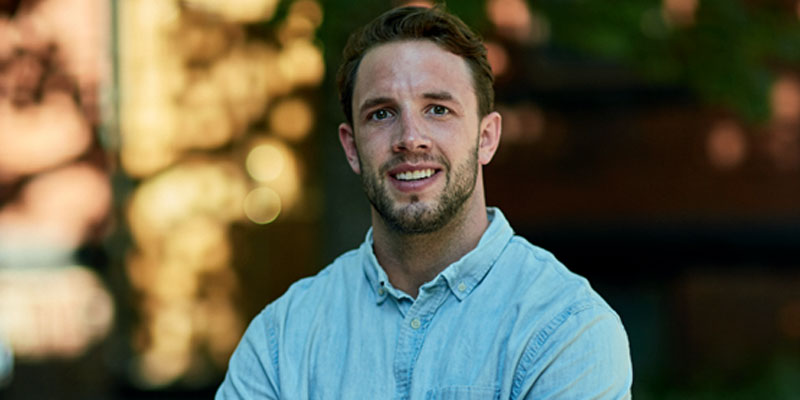 ---
When two-time alumnus Nathan Munroe (BBA'12, MBA'14) reflects back on his time at UNB, he says it was the volunteers who made the student experience even more special. From coaches to guest lecturers in the classroom, Munroe was inspired to give back his time to current UNB students, just as others did for him.
Throughout his short time as a graduate of UNB, Munroe has stepped up in many ways as a dedicated volunteer. He coached the Seawolves men's volleyball team for four consecutive years, has served as an alumni mentor for the annual Career Talks student-alumni networking event and joined the Associated Council to further his engagement with UNB.
"I joined council to try to stay deeply connected to the university and understand what is going on across both campuses," says Munroe. "Council has given me the opportunity stay in touch with students, athletics, research, alumni and the campuses themselves."
During his undergraduate degree at UNB Saint John, Munroe was deeply involved in athletics as a member of both the Seawolves volleyball and soccer teams - a highlight of his experience attending three Atlantic Conference Championships in both sports.
When he wasn't on the court or on the field, Munroe was working through the co-op program at UNB or studying abroad in Hong Kong during his fourth year.
"I found these experiences set me up for success when I joined the workforce after graduation. I went on to be hired by one of my co-op employers a few years after graduation."
"UNB Saint John is a small tight knit campus. Most of my fondest memories are of the campus itself and getting to know the other students while walking the halls of spending time in the library."
Munroe had the unique experience of attending both UNB campuses during his academic career. He later went on to pursue a Master of Business at UNB Fredericton, where he also participated in the Student Investment Fund (SIF) program.
Now as a UNB alumnus, his experiences at both UNB Fredericton and UNB Saint John have only made him prouder to be connected to the UNB family, to learn about his fellow alumni around the world and to support future graduates.
"Every time I read an article in the Alumni News about world class alumni, I get extremely motivated to help other students reach that level."
"Whether it be coaching, speaking, lecturing or serving on council I like to think that I can help make an impact in a student's life."