Meaghan Donahue Wies shares her path to Canadian Sport Centre Atlantic
Author: Meaghan Donahue Wies
Posted on Nov 17, 2021
Category: UNB Fredericton , Kinesiology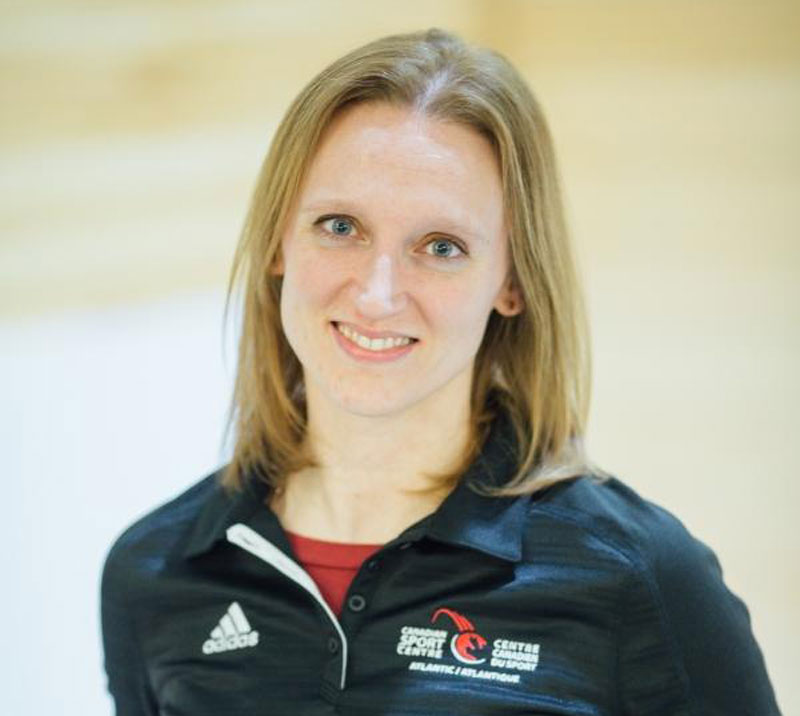 ---
SPOTLIGHT SERIES: WOMEN IN KINESIOLOGY, RECREATION AND SPORT MANAGEMENT 
Written by Meaghan Donahue Wies (MBA'11) 
My name is Meaghan Donahue Wies and I am the Athlete Services Manager and Game Plan Advisor with the Canadian Sport Centre Atlantic. The path that led me to this role is a winding one, but it comes as no surprise to those who know me that I have landed in the sport sector. I have always been a sport person - playing, watching, managing fantasy teams - so when the time came to make a change in my life's direction, it was an easy decision to follow that passion.
I came to UNB in 2009 to undertake the MBA in Sport and Recreation Management through the Faculties of Kinesiology and Management and the rest, as they say, is history. I have now been working in the field of sport management for ten years, and have amassed a wealth of experiences, developed a far-reaching network, and helped a lot of athletes, coaches, and organizations. In my role with the Canadian Sport Centre Atlantic, I am responsible for coordinating essential support services for New Brunswick's national team athletes and coaches to ensure they have the support they need to elevate their performances on the international stage. I also work with government partners, Provincial Sport Organizations, and other stakeholders on performance planning and development of the performance sport system throughout the province. 
A highlight of this work is attending the Canada Games for the past four cycles and the upcoming two to support Team New Brunswick as a member of mission staff. I also lead Game Plan (Canada's national athlete wellness program) in Atlantic Canada, advising national team athletes on five dimensions of wellness, and providing connections and direct servicing to help athletes develop holistic and balanced lives in their pursuit of excellence in an out of sport.  
I am involved in the sport sector in a number of additional leadership roles as well. I am the Treasurer on Sport New Brunswick's Board of Directors, as well as a Director at Large for Parasport New Brunswick, both positions I have held since 2019. I have facilitated dozens of workshops with Canadian Women and 1 Sport's Women and Leadership series since 2014. Earlier this year, I started teaching for the Faculty of Kinesiology, bringing a practical lens to courses in management and programs/events - this brings me particular joy, being able to share what I have learned and to help develop the future leaders of our sport and recreation system.  
The common thread across all of this is my education at UNB. The MBA in Sport and Recreation Management gave me the skills and practical experience I needed to succeed, many of the people I work with on a daily basis are also graduates of Kinesiology programs at UNB, and many current Kinesiology students undertake internships and practicums through the CSCA and our partners. I am thankful on a daily basis that I chose a different direction back in 2009 and followed my passion to UNB!