From exercise science to habit-forming tech, Darren Steeves is committed to helping people
Author: UNB Alumni
Posted on Nov 18, 2021
Category: Kinesiology , Inspiring Stories , UNB Fredericton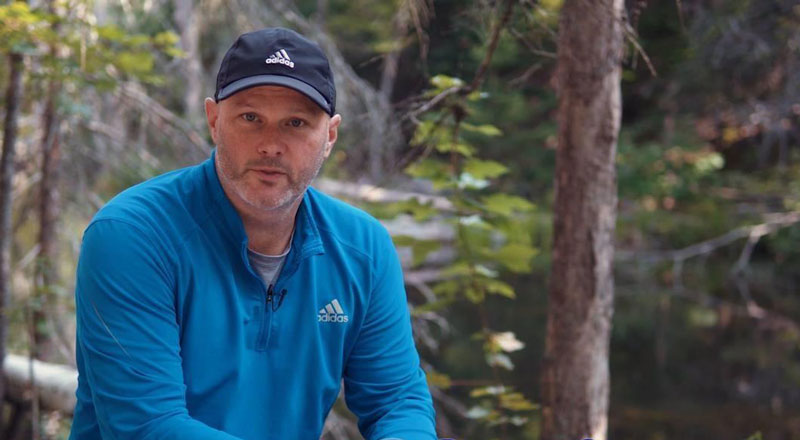 ---
Darren Steeves (BEd'94) never imagined when he graduated from UNB with an education degree majoring in physical education and minoring in mathematics that he'd end up as an entrepreneur in the tech arena. But that's exactly where he is now, as co-founder and CEO of JackHabbit, a Growth Management System that he calls "the next evolution beyond learning management."
Based in Halifax, Darren wanted to take his years of experience and success in sport science and consulting to help people on a much larger scale. He'd already been working as a consultant to deliver health and wellbeing solutions to employees through corporate programs, and worked one-on-one with world-class athletes and other clients to help them achieve their goals.
"Back when I graduated from UNB, a job opened up for me in the fitness world in Saint John at the YMCA, and my first mentor guided me toward learning and doing more in that field. I went to Dalhousie University to work full time as their Wellness Director, start their sport-science program and study part-time to get a master's in Kinesiology and Exercise Science. I figured out that my purpose was to help people, and I learned that I love a collaborative model and value innovation, excellence and integrity."
As he developed avenues to help more and more people (corporate consulting, writing, life coaching, research) he was building relationships. One of those was with Zach Miller, one of his co-founders in JackHabbit. Zach was big into machine learning, and they began forming a plan for using artificial intelligence and behavioural design to help people develop healthy habits.
"There are over 300,000 health apps available but the problem is most people don't stick with them or even start them. I know from being in a university setting that students are struggling, and they typically go straight to the campus psychologist for help. But many times there are strategies and interventions that could prevent reaching that point. The problem is, students don't know or use those resources. They're already overwhelmed and making the decision of where to start can only make the problem worse and lead to hopelessness."
JackHabbit was created with just this in mind – to guide where to start and where to go based on needs in a given day or moment. The platform supports a wide range of wellness-related habits, rather than just one or two like most competitors do, and it's being developed with the help of leading-edge researchers. Elizabeth Cawley, Director of National Mental Health Strategy for student support organization ASEQ | Studentcare, is one of them, and has shown you can help a lot of students without intensive one on one counselling, saving that space for the approximately 20% of the population who needs professional help.  
JackHabbit's target market is insurance companies whose clients are post-secondary institutions and other large employers. They just landed their first big client and will be going out to over a million students in 2022/23. "As part of an insurance company's solution for students or as a stand-alone product, JackHabbit technology will be an engine learning from users to serve them solutions and suggestions in a similar way that Spotify serves me a playlist I'd like at a certain time of day. If a system can tell me what music I want or need, in the moment, we can do it for mental health."
"Behavioural science tells us that if content is in context to where an individual is at, and it's customized for them, they're more likely to comply. Our technology is not just persuasive; it's based on behavioural design – internal motivation. External motivational tools have been proven to fail by themselves. It's really similar to what I've always done in the fitness and sport science world – assess, individualize the intervention, learn from success and failure, and keep trying to help."
One example that Darren gives for how the platform works for post-secondary students is the journal tool that users have access to. If a student writes that they're thinking of dropping out of school, or worse, thinking of harming themselves, the platform can either have a peer counselor call them right away (if they've given permission for this) or it can serve them up immediate information on interventions they can take themselves. "This model has proven to be quite effective in both helping people when they need it, and relieving the pressure on scarce resources like psychologists. It's a model that works for people and economics. The number one question on campus tours from parents is now about mental health resources. Universities and colleges can add solutions powered by JackHabbit to their arsenal and be able to help more students in a timely way, keep more students from dropping out, and more reliably manage their people resources needed for mental health support and crises."
Darren says the company is young but growing fast, thanks to an amazing team. "We have 16 people now, and 5 Mitacs students working with us as well. We have post-doc students in behavioural design, machine learning, as well as Kin researchers and Psychology PhD's working on curriculum and content. And we're doing a seed investment round now for $4M so we can hire more machine learning and R&D employees in order to help more people."
With conversations ongoing with companies in the United States and Asia, and with rollouts to corporate employees as the next goal, Darren is busy and excited to be on the journey. "It's been a real learning process for me, but I've had great mentors. It's been a windy, twisty road to get here, but I'd encourage anyone to take that path. Find your purpose, determine your values and match your behaviours to them. When you do that, you'll flourish."