A wonderful start for The Wonder-Full Box
Author: UNB Alumni
Posted on Oct 26, 2021
Category: Inspiring Stories , Young Alumni , UNB Saint John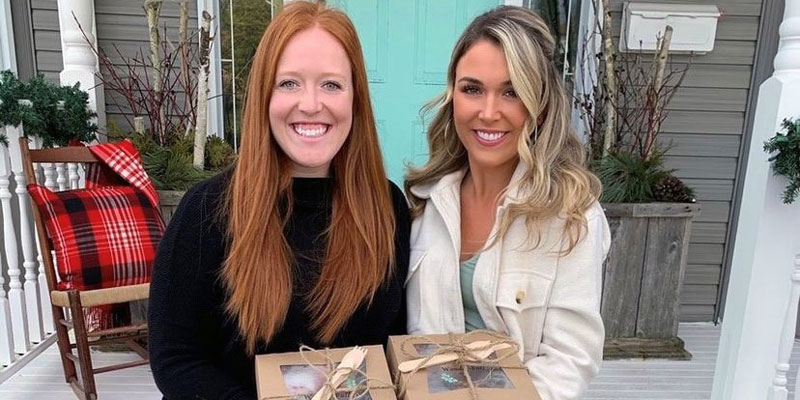 ---
Meet The Wonder-Full Box! A new product in Saint John, New Brunswick that has everybody snacking.
What started as a simple idea to sell charcuterie boards to their friends and family over the Christmas holidays, has transformed into an exciting business venture for a current UNB nursing student and a two-time UNB alumna.
Now approaching their first year in business and recently marking their 1000th box sale, Loren Flood-Waugh and Mary Frances Boyle (BAM'15, BBA'18) have been busy - and have lots to celebrate. 
"It continues to shock us every week that we are still getting orders and making boxes," says Boyle. "It was really awesome when we first started because it felt like the community backed us from the beginning. It was really beneficial for us, and it helped expand our reach very quickly."
Since launching in November 2020, The Wonder-Full Box has been providing curated assortments of cheeses, meats and sweets. The boxes come in a number of sizes and themes to accommodate many different occasions. From the most popular 'Sampler' to the 'Apple Picker,' the 'Movie Night and the 'Baby Box,' to name a few, customers have the opportunity to choose which best meets their taste and price range. 
In a typical week outside of key holidays, they can see anywhere from 10-40 box sales. When asked how they balance their full-time careers and full-time studies, while running The Wonder-Full Box on the side, Flood-Waugh says it has been a great learning experience on how to set boundaries and manage time, particularly as a full-time nursing student.
"We've definitely created a schedule that works best for us and for the business," says Flood-Waugh. "Thursdays we will buy the bulk of the product that we need for our orders. On Fridays and Saturdays we create the boxes and do pick-up or delivery from 10 a.m. to noon."
The pair of entrepreneurs certainly make a great team. While Boyle primarily manages the business' ordering and tracking of sales and expenses, Flood-Waugh is the creative designing boxes and managing their social media presence. They've also taken a course in entrepreneurship at UNB to further support their business venture.
With her own background in culinary arts and two business degrees from UNB, Boyle says it has been really exciting to combine their skills and see the business take off. 
"I feel that I can't say enough about the bachelor of applied management program I took at UNB Saint John because it allowed me to take the hands-on experience of culinary school and match it with the business education side of things. I felt I had a well-rounded knowledge that allowed me to go into the business field and recognize this is what I like to do."
With the support of the community, their friends and family, the two young entrepreneurs describe their first year in business as incredibly unexpected. As they look ahead to the upcoming holiday season, and the milestones they've reached in their first year, they're looking forward to seeing how The Wonder-Full Box can grow and continue to serve the local area.