Saint John developer Percy Wilbur (BA'93) helps bring revitalization and growth to the uptown core
Author: UNB Alumni
Posted on Oct 26, 2021
Category: UNB Saint John , Inspiring Stories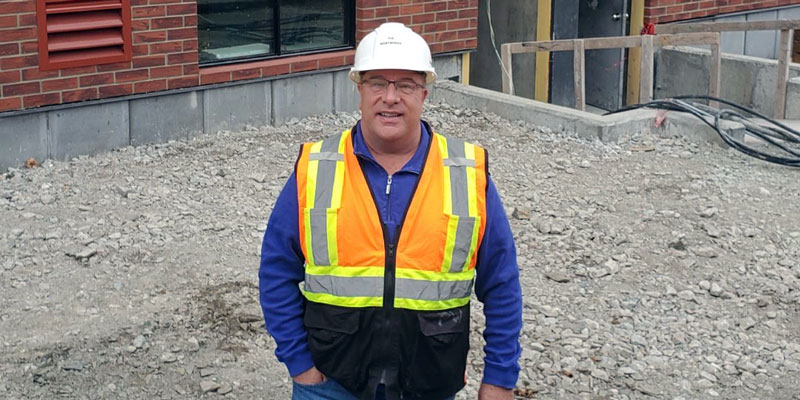 ---
UNB Saint John arts alumnus Percy Wilbur (BA'93) wants the city's uptown core to be vibrant and to grow with working class people. So he takes some of Saint John's "eyesores" that have been sitting in disrepair and brings them back to life as developments that fit with the community. 
One of his current projects, a building commonly known as the "old Woolworths," has sat vacant on King Street for the last ten years, but his plans to transform it into a commercial and residential development hope to bring young and old into the city and create growth for the uptown. 
"About five years ago I changed my focus and thought I could either retire and sit back or find something to do," says Wilbur. "Because of my children, I felt like giving back to the community."
"There's certain segments of the population that would like to live uptown but there are no options for them. I wanted to be part of the new uptown vibe and the push for more population in this part of the city." 
In addition to 99 King Street, Wilbur has been busy revitalizing other parts of the uptown core. He's rebuilt the home of the former Gothic Arches on Wentworth Street into a residential development that is now close to 60 per cent occupied at three months away from opening.
"People love it because the apartments are large, they have lots of storage, nice amenities and are a five-minute walk from all of the festivals and restaurants."
"I don't care if it's me or my competitors. A rising tide floats all boats, and if we continue building options for people, we will eventually get better walking and biking trails, and restaurants and local clothing stores will have the opportunity to grow as a result too."
Throughout the course of his 25-year career in real estate development, Wilbur has been central to many changes in Saint John. From Cedar Crest Garden Centre, formerly Wilbur's Garden Centre, to strip mall properties on the east side, to the land which now houses the Tucker Park Shannex, he has had a fulfilling and exciting career doing what he loves most.
But it wasn't always such a clear career path for Wilbur, who moved away from Germany and an army job to study at UNB Saint John's faculty of arts at age 26.
He says he chose to study topics he was interested in - history, political science, economics and a few business courses - and between Friday afternoon card games at Colonel Tuckers, began handing out business cards to pick up odd landscaping jobs. By his third summer on campus, he had eight fellow student employees to help with his many business pursuits. 
When he later graduated as a dean's list student and valedictorian of his class, Wilbur was met with a fork in the road and a decision to pursue either law or an untraditional career path for most arts graduates - business. 
"As it turned out I fell in love with business. I would get in bed at night and couldn't fall asleep because I was so excited about the opportunities."
Wilbur says It was one of the best decisions of his life to choose UNBSJ and to have UNBSJ "choose him." He feels fortunate to have had many influential professors, such as Drs. Tom and Ann Condon, Dr. Don Desserud, Dr. Teresa's Chudy. Dr. Barry Beckett and Bob Garland, who supported him through his academics and his business career.
As he reflects on his time on campus and the experiences that have helped shape his career, he says that his best advice for current students is to follow their passion.
"There's so few people out there doing what they'd set out to do. If you do something that you're passionate about, you're going to be successful. You might fail along the way, but success will follow you."