Ray Gracewood brings pride and celebration to New Brunswick through AREA 506 music festival
Author: UNB Alumni
Posted on Sep 27, 2021
Category: UNB Saint John , Inspiring Stories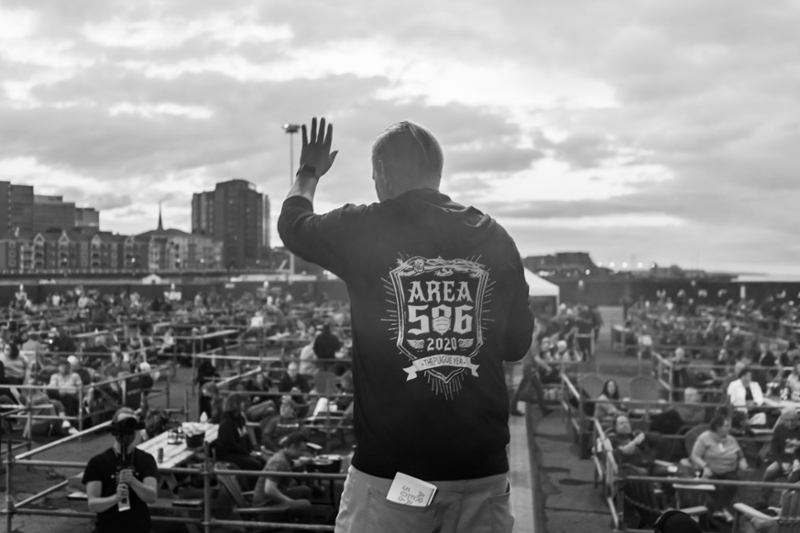 ---
Photo: Mathieu Savidant (BBA'19)


Ray Gracewood (BBA'01) is a music lover, a fierce Saint John community supporter and a proud New Brunswicker – so it is no surprise that he is also one of the faces behind the ever-growing AREA 506 Music Festival.
It all began in 2015 when, at the time, Gracewood was working for Moosehead Breweries overseeing the commercial team for Atlantic Canada. He was also serving on the board of Discover Saint John, where one of his priorities was to get an events capacity up and running for the city.
"There didn't seem to be a soapbox for New Brunswick based products, services and companies to really celebrate that they're from New Brunswick," says Gracewood.
"Why isn't there something that celebrates the Mooseheads, the Ganongs and the Covered Bridge Chips, and all of the small, local businesses? Why isn't there something that celebrates our city and province?"
Gracewood threw caution to the wind and set out to create a music festival on the Saint John Waterfront. Along with a small committee of community volunteers, they launched the inaugural festival in August 2016.
Focusing on music, culture and goods, the annual festival is celebrated over the New Brunswick Day long-weekend and showcases a concert lineup that largely supports New Brunswick and Canadian musicians. But festival goers don't only experience live music. Following his business partner Darcy LeBlanc's vision to create a vendor village out of shipping containers, the festival also features local goods, services, and products lined up colourfully across the wharf.
A perfect reflection of the Port City.
This summer, due to COVID-19 public health restrictions, the organizing committee embraced the opportunity to be creative and to try new things. Led by Gracewood's Myomo Consulting Group, the Waterfront Concert Series extended throughout July and August weekends with 100 per cent of acts from Atlantic Canada, designated pod-based seating, and touchless food and drink delivery.
The festival has been such a success, that Saint John will see a permanent shipping container village established on port property, increasing public access to the waterfront, cruise ship tourism and support of events like AREA 506. Gracewood says they also intend to implement aspects of the pod-experience and the summer-long Waterfront Concert Series into 2022, while still maintaining the infamous New Brunswick Day weekend festival.
Now after completing his sixth season, Gracewood says it means the world to him to see how the celebration has become something unique for the province and to see the community's pride in this special place he calls home.
A graduate of UNB Saint John's faculty of business, Gracewood not only gives back his time to the community but also to supporting UNB students as a guest speaker in the faculty. And it was here in the classroom only a few years earlier that he recalls connecting with an engaged student, who this summer became his lead photographer for the festival. Talk about a full circle moment. 
"It's always been a community-run event. It's always been based on the strength of sponsors and volunteers and committee groups. And when I look back over the last five to six years, the people who helped us build it are still here today."
When asked how he has balanced AREA 506, while maintaining his own professional careers in business, Gracewood says he never thought of the festival as a job.  
"It has always a passion project for me. It is something I love so much that I have no issue putting in the time. It allows me to build relationships that I otherwise would never have and that has always been super exciting."