UNB nursing student Emma Stephen receives UNB Alumni Legacy Award
Author: UNB Alumni
Posted on Aug 17, 2021
Category: Inspiring Stories , Young Alumni , UNB Fredericton , UNB Saint John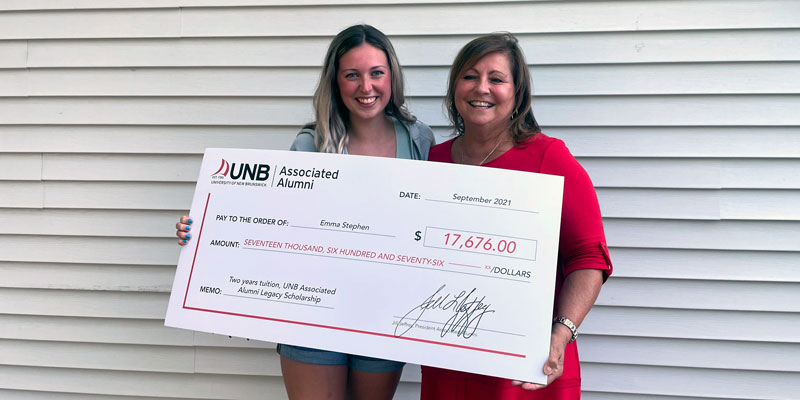 ---
A University of New Brunswick nursing student has been selected as the second recipient of the Alumni Legacy Award, established and presented by the UNB Associated Alumni.
The 2021-2023 recipient, Emma Stephen, is a shining example of the values outlined by this scholarship. Throughout her two years at UNB, she has shown immense pride for our institution, dedication to her faculty and fellow students, and a commitment to carrying on the UNB alumni legacy.
Valued at two-years of tuition and fees, the scholarship is funded through the generous support of UNB alumni and friends. It recognizes a UNB student who has completed the minimum requirements for the second year of an undergraduate degree program and has demonstrated immense pride and commitment to the university through extra-curricular involvement.
Entering her third year of studies, Ms. Stephen has shown strong academic achievement as well as exceptional involvement with the faculty of nursing, even throughout the virtual challenges of the COVID-19 pandemic.
She has been a member of UNB Fredericton's Nursing Undergraduate Society since her first year on campus, currently serving as the event coordinator and social media executive, where she has made student engagement a priority, has hosted virtual events and supported her fellow peers. This past year, Ms. Stephen also joined a new committee organized by the dean of nursing, to help improve the experience for UNB students.
"UNB has provided me with so many learning opportunities and I've been surrounded by many empowering UNB alumni who have shaped my experiences and I one day hope to do the same for future UNB students," says Ms. Stephen. "This award has changed my life and for that I'm truly grateful."
In addition to submitting an essay describing why she is"Proudly UNB" and how she will continue to be an ambassador for UNB upon graduation, a letter of recommendation from a UNB graduate was also required as part of the award application.

Three-time alumnus and UNB teaching professor, Stephen VanSlyke (BN'87, D-ADM'95, MN'02) played an important role by referring Ms. Stephen for this recognition.
"Emma is academically strong, engaged in the university community in meaningful ways and demonstrates strong social intelligence," says VanSlyke. "This combination is what makes her so exceptional."


Support future generations of #ProudlyUNB alumni. Give to the Alumni Legacy Award.