"Teaching true and detailed Indigenous history is the first step to changing the perception of our people"
Author: Trey Lewis
Posted on Jun 9, 2021
Category: Young Alumni , Management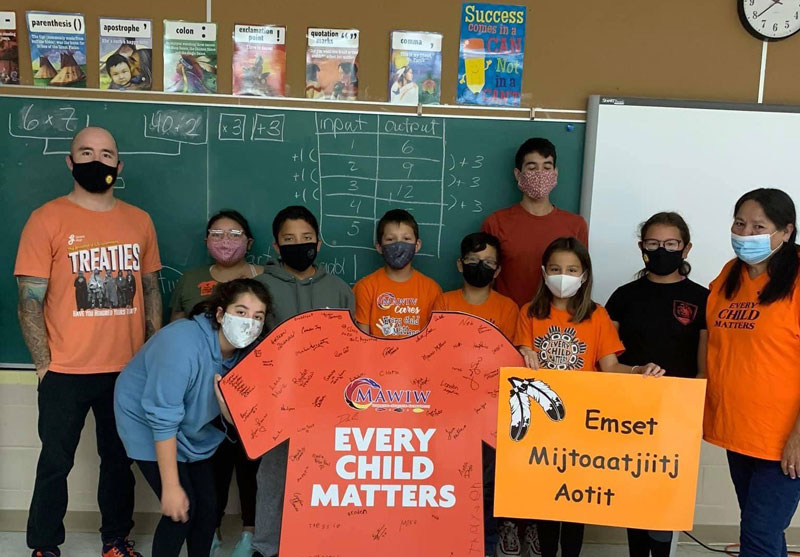 ---
This story is part of the Voices of UNB Alumni series and written by Trey Lewis (BBA'18, BEd'20). 
My name is Trey Lewis. I grew up in a small village named Aldouane, New Brunswick. This small town is right outside of Elsipogtog First Nation, which I am a proud member of, and also where my mother has lived the majority of her life. Like a lot of kids from rural Canada, I've been playing hockey for as long as I can remember. I was fortunate to have had very knowledgeable and dedicated coaches that stayed with my age group throughout our younger days and this led to our small, local team (West Kent Aces) winning almost every single season from Atom to Bantam. I was also very fortunate to be a part of two NB Midget AAA Championship winning teams with the Moncton Flyers and Miramichi Rivermen. Although I may not have realized at the time, being a part of so many well-coached, championship-winning teams definitely cultivated a hard work ethic and a winning mindset, that I take pride in to this day. Who doesn't love to win right?
From midget I was drafted by the Halifax Mooseheads of the QMJHL. This truly was a dream come true for me, and I still have a hard time expressing the gratitude I have for my time in Halifax. To be from such a small town, and to move to Halifax and play hockey in front of 10,500 fans was nothing short of incredible. I fell in love with the city and its fans and I'm so happy that we got to bring them home a President's Cup and a Memorial Cup in 2013. I also think our head coach Dominique Ducharme deserves a personal shoutout. Dom came in as coach after my rookie season (which was a pretty rough one) with the goal of turning the franchise into a championship team. I was still only 18 at the time and beginning my second year in the league, yet Dom made the decision to make me an alternate captain. I remember being so shocked when he announced that in the dressing room that I'd get to wear an A and get the chance to learn from our captain from that season (who UNB fans would be quite familiar with) in Cameron Critchlow. For Dom to see my work ethic and dedication and to reward that with an A at 18 and then to name me co-captain at 19, I'll forever be grateful. It helped me become who I am today.
After major junior, I continued my hockey and education careers at the university level. I first attended and played for St Francis Xavier University before transferring to UNB after my second year. It certainly was an unusual change in the hockey sense because UNB and StFX have such a storied rivalry, but luckily I was able to win an AUS Championship with both teams in those 4 years. I also managed a bronze (UNB), silver (StFX) and gold (UNB) at the U-Sports National Championships in that span of time.
Hockey has and always will be a huge part of my story, but since beginning my university career, I've found new passions that have taken centre stage in my life. I had always known that I was Indigenous and had always loved driving to Truro or Eskasoni or northern Quebec to play in native hockey tournaments, but I had never really asked what it meant to be Indigenous. Throughout grade school we would briefly discuss Residential Schools, and we were taught a bit about Christopher Columbus, but aside from that, our social studies and history classes essentially left the Native American story on the back burner. It was only when I got to university and was able to choose which courses I wanted to take that I was able to dive deeper into the history, culture and issues of Indigenous peoples. Although I have a bachelor's degree in Business Administration, I was sure to focus my electives on Indigenous Studies courses, as well as North American history and even some Religious Studies courses. Almost immediately I realized that the more I learned, the more inspired I became to make change of some sort. After completing my business degree, and also having worked in the school in Elsipogtog for a couple years as an educational assistant, I decided to apply to UNB's Education Program. I ensured that the majority of my assignments and projects within that program were geared towards Indigenous issues, history or culture. Fortunately I got the chance to do parts of my practicum here in the community of Elsipogtog and was lucky enough to be hired on as a teacher right after graduating from the program.
I truly have found a new passion in teaching, and I think it goes hand in hand with my passion for making a change for Indigenous people. In order to make a difference for native peoples here in Canada, we first need to change the teaching of Indigenous history. We need to teach every person, native and non-native, the true history of how this continent was brutally and forcibly taken from the vast variety of Indigenous people that were already here. When you hear these stories and realize just how horrific the European conquest was, it creates empathy in the listener. Empathy leads to a desire to help. If we refuse to face the true history, then it makes it so much easier to brush Indigenous issues aside. It also leads to stereotypes and misinformation. I remember being in high school and a student would say "why don't natives pay taxes like us? That's not fair" and even the teacher did not know how to answer. Teaching true, detailed Indigenous history is the first step to changing the perception of our people. I also think going a step further with embedding Indigenous teachings into all curriculums and all subjects could benefit society as a whole. For example, in today's society, we are facing a surge in mental health issues, especially in youth and teens. A sweat lodge is an ancient, sacred ceremony that various First Nations practice, and I have witnessed troubled people enter a sweat, face and release their negative emotions and come out feeling better. I have seen it and I have felt it for myself.
On a more positive note, I would like to take this opportunity to thank everyone who played a part in helping Elsipogtog win this year's Kraft Hockeyville. This past September our community's arena was destroyed by a fire and has been unused ever since. This was a huge loss for our community as the arena had such an important role especially during the winter months. Not only had we suffered the loss of our arena, but in April, just one week before the Hockeyville winner was to be announced, one of Elsipogtog's fishing boats capsized while fishing off Nova Scotia. We lost two of our own in this tragedy. The vessel was Tyhawk, which was captained by the father of my best friend Tyrone Sock. His father Jumbo had been one of those coaches I mentioned earlier who not only taught us hockey, but how to be a good human. He wasn't much of a talker but before every game he'd give us the same advice; "work hard, have fun." Such a short, yet powerful message that I truly believe applies not only to hockey, but to life. Jumbo was such a huge part of our community and his loss cannot be put into words, but we know how happy he'd be to have won Hockeyville for Elsipogtog. So thank you to everyone who organized and voted to help give us a bit of light when we needed it the most.
Again, hockey has and always will be a big part of my life. I have been beyond fortunate to have had so many wonderful experiences with so many amazing people. I cannot thank everyone enough who's been a part of it and helped me along the way, and I cannot wait to share any knowledge and experiences with my students and my people in the hopes of making some change. It really does feel like I'm just beginning my journey and I am looking forward to every minute of it.