Vice-President Saint John, Dr. Petra Hauf, shares UNB's ambitious vision for the new Integrated Health Initiative
Author: Dr. Petra Hauf, Vice-President Saint John
Posted on May 18, 2021
Category: UNB Saint John , Inspiring Stories , UNB Fredericton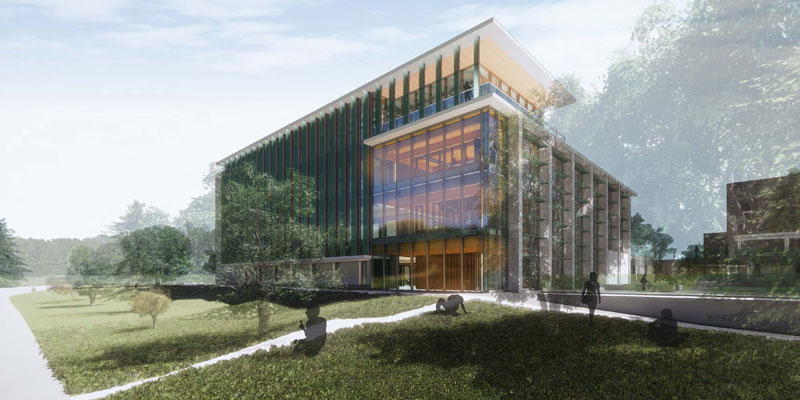 ---
The Integrated Health Initiative by Dr. Petra Hauf, Vice-President Saint John
Growing up in a small town and being raised by a village, a sense of belonging and deep commitment to community is part of my DNA. The shared value of community is exactly what drew me to UNB and the opportunity to serve as the campus vice-president in Saint John. 
There is much to like and admire about UNB Saint John, especially its longstanding relationship to the community. Being responsible for both the academic mission and the administration and operations of the campus allows me to ensure they are aligned and mutually reinforcing. In addition, the campus has developed a very strong academic plan focused on three critical priorities: Health, Coastal Studies and Business, Social and Community Studies. These attributes make the role of Vice-President Saint John both challenging and rewarding.
Since arriving at UNB's Saint John campus in 2019, much of my time has been spent on the development of the Integrated Health Initiative (IHI), an innovative and ambitious new program aimed at contributing to health care reform and addressing some of society's most pressing issues. 
We chose the word "integrated" quite deliberately, mobilizing all three of the faculties on our Saint John campus and taking maximum advantage of the co-location at Tucker Park of educational programs, research expertise and health care facilities. I am very pleased that the concept of integration has been enthusiastically embraced by all parties and amply demonstrated by their active participation in planning and developing the initiative over the past two years. 
Integrated Health is characterized by:
An interdisciplinary approach; bringing together biomedical sciences, social sciences and business education.
A focus on reforming health care for the people of New Brunswick and Canada.
Engaging partners, including Dalhousie Medicine New Brunswick, Horizon Health Network, the Saint John Regional Hospital and New Brunswick Community College, in meaningful collaborations.
Educating bold thinkers to drive excellence and innovation, to implement ground-breaking solutions and to lead systemic reforms.
Clustering researchers in teams that make cutting-edge discoveries in technology, systems and policies while addressing issues of public concern.
Providing students with the opportunities to spearhead new developments in the health sector.
Five key pillars guide our program:
Interdisciplinary Education
The educational program is very close to my heart. It is the core of IHI. The Bachelor of Health degree program was launched successfully in September 2020 and applications for 2021-22 are exceeding projections. An extra-curricular certificate and graduate degree programs are currently in development. 
Collaborative Research
Five research clusters will be led by world-class experts in Digital Health, Aging in the Community, Public Health and Health Policy, Management in Health and Child Rights for Child Health. I have convened a Research Chairs Advisory Committee of distinguished faculty and practitioners to help define the focus and scope of each of these research areas to ensure they have maximum impact and are aligned with the needs of our communities and our province.
Technical and Social Innovation
UNB is nationally recognized as a leader in entrepreneurship and innovation on which I intend to build. Our IHI Innovation Hub will enable students, faculty and staff to develop far-reaching innovations, inventions and ground-breaking solutions that address health and social challenges and reform health care for the people of New Brunswick and Canada.
Knowledge Transfer and Commercialization
In an exciting partnership with Opportunities New Brunswick and The Lark Group of Surrey, BC, we will establish on our campus the Health and Technology District Saint John, a 75,000-square-foot complex that will house up to 50 health-oriented, education and technology-based organizations and companies focusing on innovation for better healthcare and wellness. The innovations, inventions and solutions developed in the IHI Innovation Hub will come to life in collaboration with the businesses and enterprises located in the District. Internships, co-op placements and employment opportunities will ignite new ventures in health and social innovation.
The Health and Social Innovation Centre
Taking the place of the Ward Chipman Library and complementary to the Health and Technology District Saint John, UNB will construct a brilliant new, purpose-built, state-of-the-art space for our Integrated Health Initiative's educational, research and innovation activities. A major feature of this building is what we are calling "collision space," allowing people to come together to discuss new ideas, to inspire each other, and to spark new ways of learning and research. Offering students active-learning classrooms and outstanding informal learning spaces, each floor is configured in a transient design, allowing it to function in several ways, providing flexibility and enabling UNB Saint John to adapt the space to meet future needs.
I am extremely encouraged by the progress we have made with the Integrated Health Initiative over the last two years. I could not have done it without the ongoing support of the University, our campus and the Saint John community. The IHI is another example of what a strong community can achieve together. 
The Integrated Health Initiative is part of a much larger and even more aspirational picture. Our Strategic Vision, UNB Toward 2030, sets out a bold plan for this University to change the world and serve the public good. Through transformative education, research impact, societal engagement, a values-informed community and an integrated, sustainable institution, UNB aims to address the major challenges of our time. The Integrated Health Initiative is UNB Saint John's contribution to this audacious goal.
To learn more about our Integrated Health Initiative and find out how you can be a part of its success, please visit our website.