Professional backcountry snowboarder Geoff Brown (BSc'02) takes on his next big adventure
Author: UNB Alumni
Posted on May 20, 2021
Category: Inspiring Stories , UNB Saint John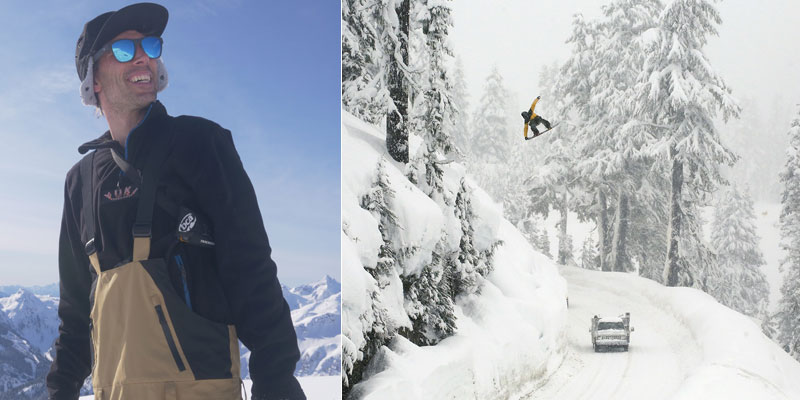 ---
Photo (left): Vanessa Chan | Photo (right):  Luke McDowall
New Brunswick may not be surrounded by the towering mountains and snow-packed slopes that are home to our western provinces, but it was exactly here that professional backcountry snowboarder Geoff Brown (BSc'02) first caught a glimpse of the sport that has since fueled his dreams and passion.
"We were a tennis and a skiing family," says Geoff. "I remember being on a family trip on the ski slopes at Poley Mountain and seeing a snowboarder, and it blew my mind. I pointed and I said 'That! I want to be doing that!'"
Even at his young age, Geoff got straight to work. At the end of the ski season, his father rented him a snowboard and he spent the day struggling, but never gave up. Every winter that followed, he practiced on a ramp in their front yard in Quispamsis, taking a pickaxe through the ice so he could still snowboard.
"I describe myself as a bit of a do-aholic. I always need to be go go go. When I was in university I knew I wanted to go to BC, but I also knew it was important to get my degree first and to establish a foundation for an educated future."
Driven by passion, Geoff spent the next three and half years completing his bachelor of science degree at UNB Saint John, taking summer classes and full course loads before catching a plane to Whistler, British Columbia – a place he's now called home for the last 20 years.
"I didn't know if I really could make it as a professional snowboarder, but I just knew I wanted to try."
Over the course of the next four years, Geoff did exactly that. Working evening shifts at nearby restaurants so he could snowboard in the afternoons, he committed himself to learning, training and growing his snowboarding career from the ground up. Since then, his work has taken him up many mountains, from BC to New Zealand, Japan, China, Korea, Europe and back.
Best known for the 1080 Gap in the Whistler backcountry, Geoff's career took an exciting and pivotal turn in 2015 when he was the first recorded snowboarder to hit a "1080 cork," three full rotations and two flips over the gap. And it wasn't easy. All odds were against him as he battled a snowmobile fire, heavy rainfall, poor snow conditions and multiple attempts. Finally, after convincing his crew "let's give it a few more tries" the sun came out and he landed it.
When most people think of professional athletes they think of competition, but for Geoff and his fellow backcountry mountain snowboarders, the sport looks a little different. Describing it as "you improvising with nature," backcountry snowboarding is performing a combination of tricks driven by the ever-changing weather patterns of the mountains and filming the sport to make it audience accessible. 
"I often get asked: How are you not scared? And I am. I'm terrified the whole time. But there's still nothing comparable to the incredible exhilaration of snowboarding and accomplishing what you went out to do."
Just when he thought his snowboarding career may have hit a lull, sponsors and fellow team members encouraged Geoff to start his own film production. Now in their fifth season, his Out of Service web series has shown the struggles, the challenges and the fears of snowboarders, and has helped give newcomers the opportunity to learn.
"I wanted the web series to be more than just about the jump and the land. I wanted it to tell the stories of what we do to get there. It's the 5 am wakeups, driving to the mountains before the sun comes up, unloading the snowmobiles and spending eight or nine hours in the backcountry."
Life in the mountains for a professional athlete certainly isn't always picturesque. Geoff has experienced his own share of obstacles and challenges over the course of his snowboarding career. Everything from broken shoulders and crushing knee injuries to, most recently, the COVID-19 pandemic.
"The backcountry is dangerous, and search and rescue is a huge, important aspect. So when the pandemic hit, they cut out search and rescue. I wanted to be part of the solution and not part of the problem. That really affected everything and the security of our sponsors. It's taken a big toll on our budget for Out of Service."
Now after an exhilarating two-decade-long career as a professional backcountry snowboarder, Geoff is preparing to hang up his board and take on his next big challenge – medical school.
"I've always had two goals in my life. Snowboarding was one and medical school was the other."
A true East Coaster at heart, Geoff is excited to soon close this chapter and hopes to move home to New Brunswick to pursue an education at Dalhousie Medical School on the UNB Saint John campus – a full circle moment to return to the place where he first landed his love of snowboarding and of education.
As he prepares to take his Medical College Admission Test (MCAT) this September, Geoff now spends 10 hours a day studying through an online course. He says transitioning from an outdoor mountain lifestyle to sitting down and focusing has been a huge challenge, but a rewarding one at that.
A lover of learning and of knowledge, becoming a doctor has always been his other dream. He often felt at home in the hospital, where his mother works as a registered nurse. When asked how he feels to trade in the mountains to pursue a career in healthcare, he says it would be an absolute dream come true.
"There is the fear of living such an exciting lifestyle, to going back into the books and living a calmer life. But at the same time I think that I've always been the kind of person to know what I've wanted to do. I've lived that life and I'm excited to move on to a new challenge and to be rewarded in different ways."
Follow along with Geoff Brown's snowboarding on Instagram and YouTube.