A non-traditional path for Joan Kingston (BN'78) where nothing is unattainable
Author: Dr. Lorna Butler
Posted on May 7, 2021
Category: Inspiring Stories , UNB Fredericton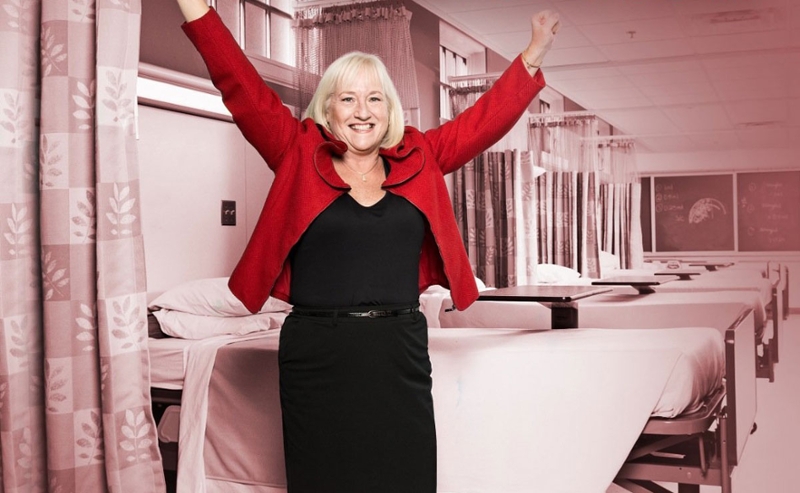 ---
Written and submitted by Dr. Lorna Butler, Dean of UNB's Faculty of Nursing.
Joan Kingston's (BN'78) career pathway as a Registered Nurse is neither linear nor traditional. Rather it reflects her character and the results of numerous initiatives that not only changed peoples' lives but altered the landscape of their communities so others could thrive. Her career accentuates the power of what being a Registered Nurse means.
Ms. Kingston began as a staff nurse and continued to advance her career in maternal/child working in the neonatal intensive care and in labour and delivery. Her leadership was obvious early in her career as she became a Nurse Manager in 1984 in the neonatal intensive care unit. While serving in this role she became involved in the profession of nursing as an NANB Chapter President and was part of a team who successfully lobbied for the modernization of the Nurses Act in New Brunswick. She continued to advocate for change as President-Elect of the NANB in the early 1990s. In this role, she was the Chairperson of the Strategic Planning Committee which was instrumental in adding healthy public policy to the mission of the Association.
For the next decade Ms. Kingston took on the responsibility of creating sustainable change for the province of New Brunswick. She entered the political arena as an elected member of the Legislative Assembly (1995-99) and led three major portfolios: Minister of Environment, Minister of Labour and Minister Responsible for the Human Rights Commission, Workplace Health, Safety and Compensation Commission, Labour and Employment Board, along with the Minister's Advisory Committee on Multiculturalism. The significance of these ministries is the relationship to the social determinants of health. She had the opportunity to influence and shape healthy public policy in ways that could support the growth of the province and the well-being of those whose contributions to the economy had traditionally been undervalued and underrepresented. For example, as the chairperson of the New Brunswick Advisory Council on the Status of Women and as a Registered Nurse she understood how income was a key contributor to the social determinant of health. Her work on this Council focused on economic independence and pay equity for women. 
As Minister of Labour, Ms. Kingston integrated her nursing knowledge and experiences of caring for women and children who experienced poverty to create start-up funds for women on social assistance to begin small businesses. Her goal was to enhance the self-esteem of these women and to help them become financially independent. As Principal Secretary she was a key contributor to the development of Overcoming Poverty Together: The New Brunswick Economic and Social Inclusion Plan.
Ms. Kingston joined the UNB Faculty of Nursing in 2011. Once again, she used the incredible skills learned during her time in government to educate nursing students in policy development and lobbying for quality health care. Upon joining the Faculty, she quickly became involved in the UNB Community Health Clinic, an interdisciplinary, nurse-managed facility providing primary healthcare to people without access to primary care, including vulnerable populations in downtown Fredericton. In 2014, she led the establishment the Fredericton Downtown Community Health Centre (FDCHC), a partnership between the University of New Brunswick and Horizon Health Network as a teaching facility that delivers integrated programming where primary health care services, teaching and research are combined.
Ms. Kingston refers to the FDCHC as a setting that gives her great satisfaction. She has positioned the clinic as a living laboratory for providing transformative learning experiences and research opportunities for students from a variety of disciplines.
She brings her vast experiences in community engagement, policy development, and government to leverage community partnerships that continue to address the social determinants of health. With her leadership, the FDCHC has provided care to thousands of vulnerable members of our community including people living in poverty, experiencing homelessness, refugee/newcomers, and those without a primary care provider. She has positioned the clinic to provide equity oriented, trauma-informed care to those in need. It is not uncommon to hear her with a group of students presenting at City Council in support of improved care for mental health, substance use and housing. She brings the classroom into the community using creative experiential learning opportunities for which she often secures funding for implementation of nurse-led programs. The evidence of her success in teaching nursing students can be found upon entry to the clinic where a number of new nursing graduates and summer students are working.
Another important contribution that Ms. Kingston has made to the community can be seen in the efforts to address the looming cold weather and the lack of accessible shelter space for people who are homeless to stay warm and be safe. In the fall of 2018, a conversation began with the nurses who do outreach and a primary care provider. They were concerned that some of the people experiencing homelessness and/or substance use issues did not have access to appropriate shelter for the upcoming winter. She identified the issue, acted on it, and began what was to become Fredericton's first "Out of the Cold Shelter". It served people who were not able to stay in the conventional shelters. Mobilizing nurses, social workers, volunteers, many partners with whom she had built strong relationships with, and community members she petitioned the city for a change in zoning to allow Bishop House to become the OOTC shelter. She garnered funding from the province, enlisted the assistance of many and worked well beyond her mandate to ensure that the most vulnerable people had somewhere to lay their heads. But this was not just a place to sleep, as Ms. Kingston ensured that guests had access to services and resources that fit their needs. In the end about 90% of the guests were connected with Social Development and the FDCHC to address all of their health and social needs. By the spring of 2020, 25% were offered supportive housing. But, once was not enough, when the same situation arose the following fall, a partnership with the John Howard Association allowed for the purchase of a building that would become the OOTC for winter 2019/2020.
When the pandemic hit, Ms. Kingston mobilized again, the guests moved to the Fredericton High School to ensure that people could stay warm and safe, while also adhering to the COVID-19 regulations. At this time, she also put into place a system to ensure that guests of the OOTC who developed symptoms of COVID were taken to the City Motel for isolation, linking them with resources and services. Ms. Kingston ensured, through collaboration with a pharmacist, that clients were dosed daily with their medications at FHS and the City Motel. Throughout the two winters students were given opportunities to learn and work, broadening their understanding of the importance of the social determinants of health, equity in healthcare, and harm reduction.
Another important example of Ms. Kingston's dedication to the needs of others is the partnership with the Multicultural Association of Fredericton. The CHC has always had a relationship with MCAF, sending nursing students there to learn the intricacies of the needs of newcomer and refugee health, both physical and mental health. Further to this, the CHC has committed to ensuring that the clients of MCAF have ongoing access to primary health care. She developed a program that conducts health assessments upon entry to Canada, addressing emergent needs and facilitating access to ongoing primary health care. The nursing students have, for many years, conducted flu vaccine clinics at MCAF, organized by the RNs who work at the FDCHC. It is Ms. Kingston's stalwart belief that everyone deserves healthcare that has supported the ongoing relationships with MCAF.
Ms. Kingston demonstrates leadership and a willingness to foster leadership in others. She has carefully selected a team of like-minded nurses who believe in Harm Reduction, provision of exceptional care, and equitable access to healthcare as needed. She has encouraged the RNs to pursue opportunities for their own professional growth and to build leadership skills over time. An example of this is the relationship that has been in place for many years with AIDSNB. More recently, the FDCHC has been providing outreach testing of communicable diseases to the clients of AIDSNB. The RN responsible for this initiative came to it following her role, encouraged strongly by Ms. Kingston, as the primary investigator in a five-year Public Health Agency of Canada funded Hepatitis C project. 
There are many examples of Ms. Kingston's beliefs in a better world: her role as the Chair of the Community Action Group on Homelessness to end rough sleeping and episodic homelessness, support of the Riverstone Recovery Centre and collaboration with the Phoenix Learning Centre where people who are homeless can get out of the cold during the day, and her instrumental role in seeking funding and organizing of the COVID Mobile Team that provides support to people experiencing homelessness to be able to isolate as needed.
Most recently, Ms. Kingston has been involved in the development of a sustainability plan. This includes the opportunity to expand the FDCHC model of service and education. Inherent in such a plan is the capacity to track data that can demonstrate return on investment relative to the services provided by the clinic that would otherwise require hospital and emergency room admissions. Capturing these data can show government the economic benefit and impact of community-based health care resources nurses are providing. Ms. Kingston knows how to communicate these important messages that also yield a return on engagement as nurses care for our most marginalized population in our city.
Above all, Ms. Kingston leads from the heart; she interprets vision through eyes that can see what others take time to comprehend. She has a presence when she enters a room and readily extends her hand to help others achieve that vision. She engages with an emotional intelligence that we read about but rarely encounter. Her work is collaborative, supportive and fun. She represents what it means to be an exemplary leader through her quiet, inspirational, and kind way of being in the world. Throughout her fulsome and transformational nursing career she has always put others first, imaging ways to help that are innovative, supportive and self-less. Thinking outside the box is the lens through which she sees the world, nothing is ever too much, too crazy, or too unattainable for Nurse Kingston.