Passion and intensity have fuelled Jody Glidden's exciting career path in tech startups
Author: UNB Alumni
Posted on Apr 28, 2021
Category: Management , UNB Fredericton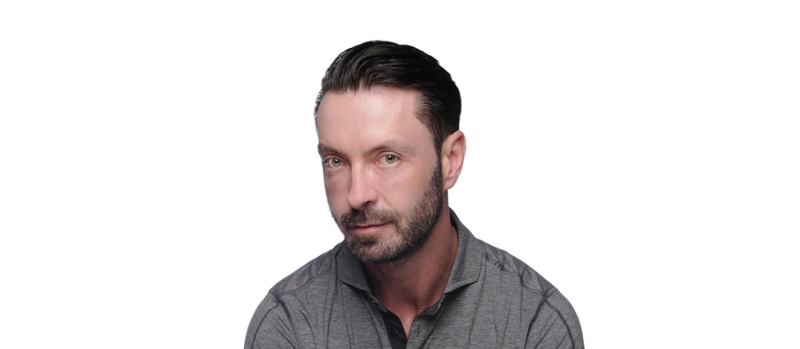 ---
Jody Glidden (BBA'06) believes that bringing passion and intensity to what he does has been his ticket to winning the tech startup game. He's got the track record to back that up: Introhive is the fourth company he's been involved in founding and building, and over the past year, it's expanded its customer base by 52% and grown to almost 300 employees.
Entrepreneurship and "messing around with computers" have been part of Jody's world since he was a kid. "My parents gave me a computer and a book on how to build video games when I was nine," he explains. "I spent a lot of time coding and creating simple projects that won grade school science fairs. I also loved business and made money selling hockey cards and other stuff to classmates. I even took out a loan in high school to start a pool hall. Being entrepreneurial has always been fun for me."
Given his love for technology, computer science at UNB seemed like a good fit after high school. But he found he wasn't being challenged enough since he already knew coding and programming, so he left school to teach in the software department at community college. He saw a need and after leaving the college, built software that guided students through their curriculum. The project was so well received that it was acquired by tech company Scholars.com. "I realized how I could marry my passions for technology and business by diving into the tech sector. I quickly rose up the ranks and Scholars.com became very successful and was acquired by public company CBT Systems. It was there that we built the world's largest learning community."
Jody then jumped into building a new program and co-founded icGlobal, which became the world's first language-independent scalable learning community. In less than two years the startup became hugely profitable and was sold to Smartforce (now Skillsoft).
At that time, Jody was in San Francisco and the dot com bubble was bursting. "I decided it was time to go home and go back to school to take business and learn what I didn't know about that side of things. I was so much more motivated this time around and found the program at UNB to be really fun. I loved the economics and marketing classes and learned a lot about financing a business and about customer loyalty. That became very important to me later on, and I always remembered the importance of turning customers into raving fans."
When he graduated with a BBA, Jody applied for an entry-level sales job with Chalk Media, the biggest e-learning company in Canada at the time. "I really wanted to just spend time on the front lines learning how to sell, and I did that for three or four months. But the CEO looked at my resumé and quickly started talking to me about strategy. He made me VP of strategy, then chief technology officer and chief operating officer. Within nine months, we had become partners and decided to make a big shift to software. It required hiring all new people and starting from scratch. Fortunately, we raised capital and built our products and it just took off. The next thing we knew, we were being acquired by Blackberry (then Research in Motion). It was an insanely fun time!"
After spending a year heading up a portfolio of Blackberry's strategic content products, Jody had another product idea, this time focused on customer relationship management (CRM) systems. "I started Introhive in 2012 with one goal: to help businesses succeed by making CRMs more appealing to the professionals who rely on them. I had realized over the years that people hated using CRM tools because they weren't easy. I had a cool idea to make them better and got really excited about it. I thought we would build this thing in about six or eight months and then it would take off. In reality, it took three to four years and all my money. It was really technically difficult to get it right. But when we finally did, it took off."
The Introhive platform uses artificial intelligence to remove the hassle of manual, time-consuming data entry and management, and deliver easy-to-understand business-relationship data visualizations and insights. This information enables its users to not only keep an eye on their ongoing relationships with their customers but also more quickly make the new connections they need to grow their businesses.
Introhive has become the fastest-growing B2B relationship intelligence service and data management platform on the market, and Jody credits that to listening to customers and turning them into loyal fans. The company was recently recognized by Deloitte's Fast 50 and Fast 500 Awards programs and was named the MarTech 2020 Breakthrough Award winner for Best CRM Innovation as well as the Best Workplaces™ for Women list by Great Place to Work® Canada. The company expects to grow to 400 employees - who work remotely and in offices in Fredericton, Halifax and other cities across the globe – by this time next year.
Jody himself now calls Miami, Florida home, but travels back to Fredericton often – well, at least before the pandemic. "I'm excited to get back to visit as soon as I can." When asked how he's handling the fast growth of the company over the past year, he says "it's the world's best game."
"For me, it's not about the money, it's about competing. I've always loved competition and it's driven me to work really hard at everything from business to sports activities. My mom always used to say make sure you're doing something you love and it won't feel like work. I kind of expand on that to make it: decide to love what you do. When you throw yourself into it and bring the intensity of competing to win, it makes it fun. And that's when you see success."