Q&A: Hannah Sharpe, UNB Alumni Student Leadership Recipient
Author: UNB student, Hannah Sharpe
Posted on Mar 15, 2021
Category: UNB Fredericton , Inspiring Stories , Young Alumni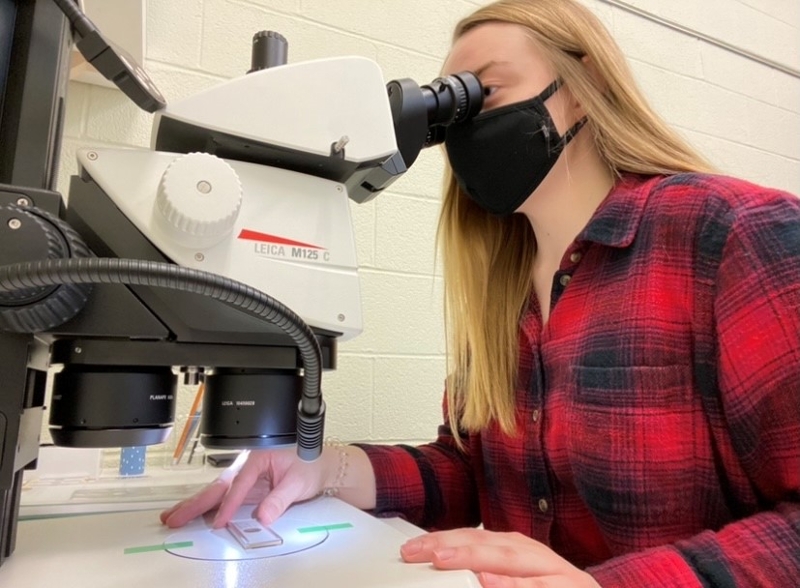 ---
Recipient of a 2020-21 Alumni Student Leadership Award, UNB Fredericton student Hannah Sharpe shares how the award has positively impacted her UNB experience and how she contributes to student life amid the COVID-19 pandemic. Throughout her time on campus, Hannah has thoroughly enjoyed her studies in the environmental geochemistry program and  is excited to be starting her Masters this summer at UNB.
What inspired you to enroll in UNB Fredericton's environmental geochemistry program?
During my first year of the Bachelor of Science program, I was enrolled in the earth sciences course as a science elective. I had never previously considered earth sciences because it was not a subject that I had been exposed to in high school. I immediately found myself very interested in many of the topics covered in class, and really enjoyed the field work and hands-on components that are typical of many careers in the earth sciences field. After talking to the academic advisor, I knew that the environmental geochemistry program would be a great fit because I was particularly interested in studying groundwater and oceanography.
What has been the most rewarding or exciting part of your academic studies?
Throughout my fourth year, I have had the opportunity to do an undergraduate honours thesis, which has been an incredibly exciting and rewarding experience. I am analyzing microfossils collected from the seafloor around Southampton Island, Hudson Bay. These microfossils allow us to infer a lot of information about the physical and chemical conditions of the water, including temperature, salinity, sea-ice, and much more. This type of work allows us to understand the ecosystem's response to long-term climate fluctuations. and provides an understanding of past and future changes in relation to climate warming. This has been my first experience conducting my own research and has certainly fueled my passion for further understanding our oceans. After all, they cover more than 70% of the entire Earth's surface and have a huge impact on our everyday lives, from affecting our food supplies to our local and global weather and climate!
How do you stay involved in student life on campus? 
With the current restrictions in place, my involvement has looked much different this year! Last semester, I was able to act as co-chair for the Atlantic Universities Geoscience Conference, which was held virtually. This was an incredible opportunity to provide a platform for Atlantic Canadian students to present their research, as well as network with major geological companies and working professionals. I have also enjoyed spending some time on campus through conducting my honours research in the lab and working as a teaching assistant.
What did you enjoy most about being involved in student life on campus?
By being involved, I have made lifelong connections with people who have similar interests as myself, and who have become my best friends. Additionally, extracurriculars are a creative outlet to work towards goals that are about more than simply going to class and completing schoolwork. These have transformed my university experience into four years full of memories and adventures.
Can you share one of your fondest or most memorable moments at UNB thus far?
My most memorable moment at UNB was participating in a three-week travel study to Paris to complete two French courses. This was an unforgettable opportunity to learn about a new language and culture, while never setting foot in a classroom.
How has receiving the Alumni Student Leadership Award positively impacted your UNB experience?
Receiving the Alumni Student Leadership Award has allowed me to learn from and connect with inspiring UNB students and alumni. Hearing their stories and experiences have empowered me, both in my studies and in my life outside the classroom. With the support of UNB alumni, I am able to confidently pursue my goals.
What makes you Proudly UNB?
I am Proudly UNB because of its welcoming environment for all students and its family-like atmosphere. This school is full of people who want to see you succeed and who will provide constant encouragement and support along the way. UNB has amazing opportunities for students to get involved on campus, travel and study internationally, or conduct their own research, just to name a few!
What are your future plans once you've completed your undergraduate degree?
I am extremely excited to be starting my MSc project at UNB this summer! I will be analyzing algal cells, microfossils, and compound specific isotopes to document seasonal and spatial changes in the submarine canyon systems of the St. Lawrence Estuary.
How do you hope to stay connected to UNB in the future as an alumna?
I will forever be a proud UNB alumna and will continue to be involved through volunteer opportunities, networking events, and celebrations. I will continue to share my experiences in hopes of inspiring future students to become involved at UNB.
Watch Hannah's UNB Alumni takeover on Instagram.
Learn more about the Alumni Student Leadership Award.