Virtual celebration recognizes UNB Saint John Graduating Student Leaders
Author: UNB Alumni
Posted on Mar 25, 2021
Category: Inspiring Stories , Young Alumni , UNB Saint John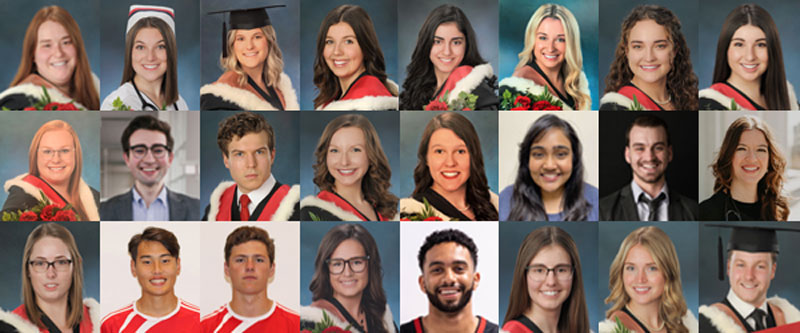 ---
Twenty four graduating students from the UNB Saint John campus have earned 2021 Graduating Student Leadership awards for the remarkable initiative they've taken during their time at UNB.
The award recognizes students in their final year of studies who have made outstanding voluntary and extracurricular contributions to the campus, their academic program, and the university community. 
Although recipients can't gather in person for the annual UNB Saint John Graduating Student Leadership awards dinner, the Associated Alumni, in partnership with UNB Saint John Student Services and the UNB-SRC, will virtually celebrate graduating students from the classes of 2020 and 2021 on March 25. These students have demonstrated extraordinary voluntary contributions and  leadership within their academic program, to initiatives on campus or to UNB Saint John as a whole.
Congratulations to our 2021 UNB Saint John Graduating Student Leaders: Ariel Arthurs, Jessica Cook, Maria Cummings, Chloe Dallon, Janet Debly, Emily Fitzpatrick, Brianna Forbes, Hanna Grossman, Lauren Hartland, Patrick Hickey, Max Lahey, Allyson Lamont, Jennifer Lord, Sobana M, Jordan MacDonald, Kathleen MacNeill, Kimberly Mazerolle, Harold Oh, Logan Perry, Lauren Purdy, Wendall (Keshaun) Skeir, Sarah Smit, Hannah Thorne and Ryan Walsh. Read more about our 2021 recipients.
Congratulations to our 2020 UNB Saint John Graduating Student Leaders: Dayna Alexander, Alex Allison, Joelynn Annoh-Kwafo, Bailey Boyer, Ashley Cook, Kendra DeMerchant, Gabrielle Gibbons Salib, Emma Green, Catherine Hall, Chantel Henderson, Madison Herrington, Justin Leslie, Kathryn Magee, Montanna Meyer, Abigail Morgan, Marie Elisabeth Nombro, Luke Watson and Allison Woodman. Read more about our 2020 recipients.
Created by the UNB Associated Alumni, the Graduating Student Leadership awards program celebrates its 16th anniversary this year. More than 350 alumni have been recognized as a Graduating Student Leader since 2005.