UNB PhD candidate helps develop Black history resource for New Brunswick teachers
Author: UNB Alumni
Posted on Jan 26, 2021
Category: UNB Fredericton , Inspiring Stories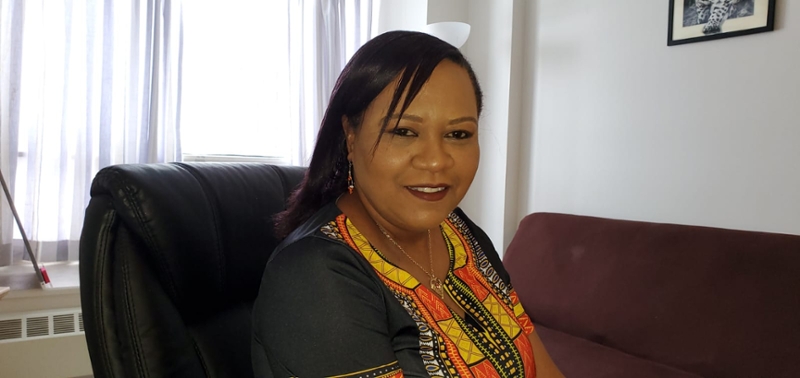 ---
Alicia Noreiga-Mundaroy (BEd'11, MEd'16) came to New Brunswick from Trinidad and Tobago in 2018 to pursue her PhD in education at UNB. Two years later, she says that she could see herself making the province her new home. "It's so quiet and peaceful here."  
She does admit though, that moving to New Brunswick did, and still does, have its challenges for her as a Black person. This led to her researching Black culture in the province. "I was pleasantly surprised to learn that New Brunswick has a rich Black history," she says.  
Through her PhD work, and in talking with other Black students, it became evident to Noreiga-Mundaroy that Black history is not part of New Brunswick's K to 12 education curriculum. "There is a void throughout the curriculum at all levels of education throughout New Brunswick, where Black history, Black issues, Black impact and contribution to the province are not mentioned."   
In the summer of 2020, Noreiga-Mundaroy teamed up with the Black Lives Matter Fredericton Chapter to see what could be done bring Black education into New Brunswick's curriculum.  
"We reached out to the provincial department of education and had some great discussions but, making changes to the curriculum is a long process," she says. "If we want to make significant changes, it will take us a lot of years." 
Noreiga-Mundaroy, who is the education coordinator with Black Lives Matter Fredericton, is not giving up on making changes to New Brunswick's education curriculum, but she and the project team also don't want to wait years to introduce Kindergarten to Grade 12 students to Black history. So, with financial support from UNB's faculty of education, they came up with a quicker solution -- an online resource that teachers can use "in the interim, as we move along in the process of curriculum development." 
The Black Lives Matter in New Brunswick Education Project is a website filled with worksheets and lesson plans, and features cellphilms (cellphone and filmmaking) and other resources that focus on issues within the Black community in New Brunswick. "We examined the New Brunswick curriculum and found areas where Black history could be directly fed into the curriculum," says Noreiga-Mundaroy. "We made our first target social studies. These resources meet the objectives of certain sections of the social studies curriculum from K to 12."  
The website will officially launch on February 1 during a live event on Facebook (https://www.facebook.com/UNBFEduc) at 7 p.m. Noreiga-Mundaroy says that she hopes as many people as possible will tune into the event. "Even though it was created for teachers, this website can be used by anyone who wants to learn more about New Brunswick's Black history," she says. "This is an evolving resource, and our next phase of the project is to reach out to Black community members and stakeholders to find out from them what should be added to the website, what they think is missing and how we can improve on it."  
The third phase of the project will involve reaching out to teachers throughout New Brunswick to help create more lesson plans and add more resources. "We also want to know what challenges they encounter with the resources and if the website has been helpful integrating Black issues into their everyday teaching pedagogies." The project team is also looking to translate the website to French so that more schools in the province can have access to the content. 
The Black Lives Matter in New Brunswick Education Project is a collaboration between Black Lives Matter Fredericton, members of UNB's faculty of education, St. Thomas University, and UNB's Office of Experiential Learning.  
Noreiga-Mundaroy says that the project was a personal goal for her. "It was so fulfilling for me. It was great to have students come together from UNB and STU to conduct research that will help raise awareness about New Brunswick's Black history. But this project also helped me to build a greater connection to New Brunswick and allowed me to learn about things that I may never have learned about had I never embarked on this project."  
To learn more, listen to Alicia Noreiga-Mundaroy's CBC interview.