Volunteer spotlight: Travis Bergin
Author: UNB Alumni
Posted on Jan 26, 2021
Category: Engineering , UNB Fredericton , Inspiring Stories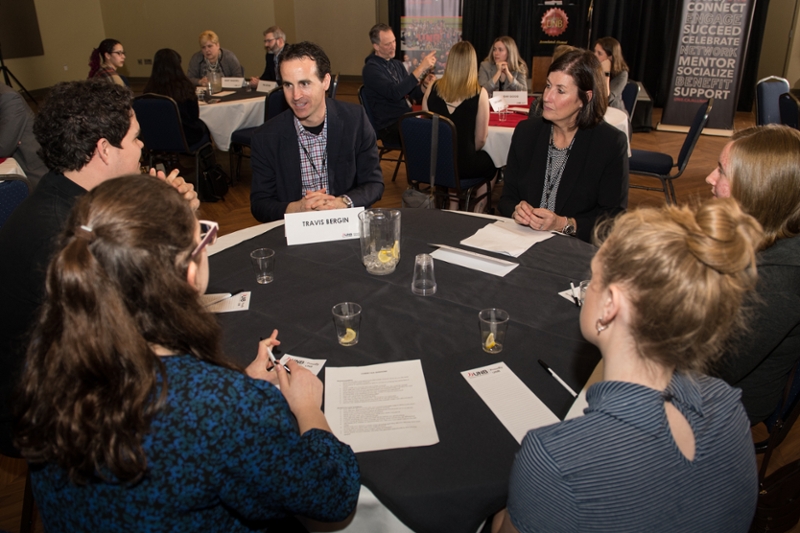 ---
One of the most challenging tasks Travis Bergin (BScCE'02, D-TME'02, MScCE'04) is faced with as a UNB Associated Alumni councillor, also happens to be the one he values and cherishes most of all. He says serving as chair of the scholarships and awards' committee, and learning about the remarkable accomplishments of UNB students and alumni, has been one of greatest highlights of his time on council. 
A three-time UNB alumnus and Fredericton native, Bergin has long been connected to the university. Throughout his undergraduate and graduate academic studies in the faculty of engineering, as well as in the Technology Management and Entrepreneurship (TME) program, Bergin made a number of important connections at UNB - including meeting his wife, a fellow proud alumna.
After graduating, Bergin continued to stay up to date on all the exciting academic and athletic happenings at UNB, and it wasn't long before he joined the Associated Alumni council.
Bergin has since volunteered a great deal of time and enthusiasm to supporting and celebrating members of the UNB community alongside his fellow councillors. 
"Attending the Proudly UNB Awards dinner for the first time was a turning point in my overall UNB journey. It was so inspiring to learn about the outstanding work and contributions of fellow graduates and to celebrate their achievements. Perhaps even more inspiring is our work in reviewing scholarship and student award applications. I am consistently impressed with the efforts these future leaders make not only in the classroom, but also in enriching the quality of life for others on campus and in their communities."
Over the years, Bergin has also become a familiar face at our annual student-alumni Career Talks networking events. Reflecting on how valuable it was to make his own professional connections as a student, is what motivates Bergin to give back his time to the next generation of leaders.
"I look back at that experience as influential in setting me on my career path because of the important connections I made. Getting involved in the university helped shape me in my knowledge and readiness for the workforce." 
Throughout his many volunteer efforts and time spent with UNB, one thing has remained constant for this proud alumnus. Every day he continues to be inspired to be part of a community with over 93,000 members worldwide.
"During my time at UNB, I appreciated how the close-knit campus community made UNB feel small, resulting in a personalized and immersive student experience. But as alumni you realize there's UNB pride virtually everywhere you go and that is amazing."