Materials engineer goes digital
Author: UNB Alumni
Posted on Jan 15, 2021
Category: UNB Fredericton , Engineering , Inspiring Stories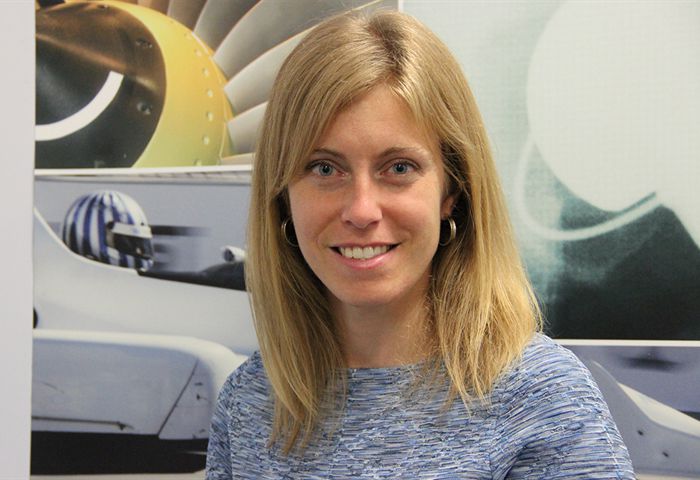 ---
Fredericton native Donna Dykeman (BScME'99, MScME'01) always enjoyed the sciences, so when she started her undergraduate degree at UNB she chose Mechanical Engineering because she discovered she enjoyed learning about and working with structural materials for mechanical design.
"I remember enjoying the project work we did in undergrad where we were designing for the real world. Our visits to plants and production operations and having alumni speak to us in class opened my eyes to how what we were learning really mattered."
Donna started doing research work during the summers at a UNB lab and appreciated the time for literature reviews, learning characterisation techniques, and the autonomy of working independently. It led to a master's degree at UNB in Mechanical Engineering, where she focused on stress and enthalpy relaxation of polymers for in-service life-cycle performance prediction.
Her next step was across the country to The University of British Columbia to take a PhD in Materials Engineering. Her focus was again on polymers characterization and she did experimental and modelling work to update process modelling of polymer composites for the aerospace industry. An opportunity for a post-doctoral fellowship at The University of Waterloo allowed her to work in the automotive industry on a metal-to-polymer conversion project with Dana Long Manufacturing.
Then she jumped the pond. And jumped careers.
"After 14 years of research experience I felt it was a good time to move closer to the business side of research and innovation (R&I) and to make a change into digitalization." Donna moved to Cambridge, United Kingdom to work with Granta Design (now Ansys), a software firm that develops materials information management and materials selection tools to improve quality, innovation and efficiency while reducing risk and cost for a wide range of industries.
Now nine years with the company, Donna leads an R&I project team which explores topics related to materials informatics for applications such as materials modelling, electrification, eco design, circular economy, additive manufacturing, the built environment, polymer composites manufacturing, biomedical devices, etc. "Digitization is of increasing value to manufacturing organizations and using my engineering and research knowledge to translate between the physical and digital worlds is exciting."
She says that she really enjoys living and travelling in Europe. "Before COVID-19, I traveled a lot for work to meet researchers and businesses from across Europe for R&I projects. The way of working here is very dynamic and conversational – travel time and distances are reasonably short, and access to transport enables people from across different sectors to come together quickly and with relative ease for open innovation on topics such as materials modelling or circular economy, among many other topics."
With family in Fredericton, Donna typically visits two or three times a year – before the pandemic hit – and still considers Canada her home. Cambridge is now a second home for the foreseeable future. "It's a unique city, with 800 years of academia tradition associated with The University of Cambridge, coupled with a location within The UK Innovation Corridor which attracts and stimulates business. It is also a reasonably small city but with exceptional international diversity in its population. One of the city's strengths is introducing newcomers to its traditional lifestyle elements such as cycling as a mode of transport around the city, rowing on the River Cam, science and literary festivals, country-side walks, chapel services and concerts, among other activities, which I've embraced over the years spent here."