Proudly UNB legacy: My family's connection to UNB
Author: Christos Papadopoulos (BSc'09)
Posted on Jan 25, 2021
Category: Young Alumni , Inspiring Stories , UNB Saint John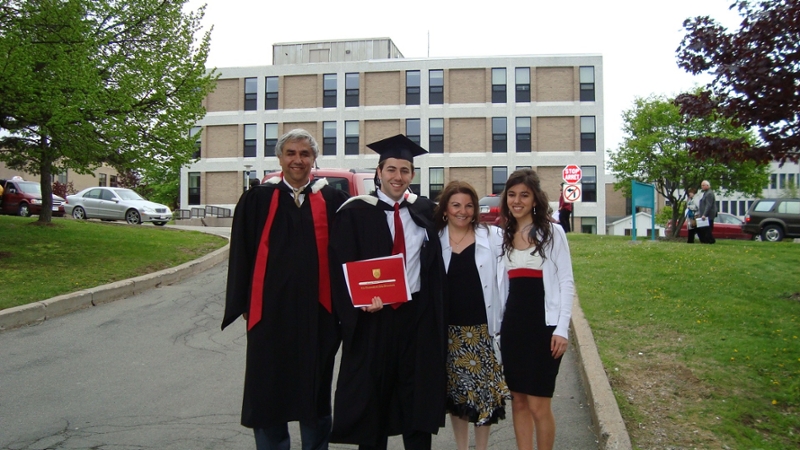 ---
This is the story of my UNB family. Back in 1973, my father Nicolas immigrated to Canada at the age of 17 from Greece. Having no family in New Brunswick, he worked multiple jobs to pay for his university studies and attended both the UNB Saint John and Fredericton campuses. In 1980, he graduated with his electrical engineering degree from UNB.
Throughout my childhood, he and my mother Rosa taught my sister Vasiliki and me the values and importance of hard work, education, and family.
In 2009, I graduated from UNB Saint John with a Bachelor of Science degree. During my four years at UNB, I enjoyed being on the Students' Representatives Council (SRC), serving as the vice president of my graduation class and contributing to the student newspaper The Baron, as a sports writer with a monthly NHL column. Following graduation, I went on to complete my Doctorate of Dental Surgery degree at Dalhousie University, a pediatric dentistry residency at the University of British Columbia and specialty training at Western University, where I graduated as an Orthodontist. I have since returned to my home province to practice orthodontics and am proud to be back in New Brunswick.
In 2011, my sister Vasiliki became the valedictorian of her UNB graduation class and went on to pursue medical school at the University of Ottawa. She has since graduated, completed her medical residency at Western University and is now a practicing physician in Saint John.
We are a #ProudlyUNB family, who continue to give back to the university as alumni in various ways and are proud to act as unofficial ambassadors to the university that has given our family excellent education, experiences and memories.    
It is my hope that my family's story can inspire other students to pursue their dreams right here at home at the University of New Brunswick. Our family is and always will be Proudly UNB.



UNB is wherever our people are making an impact on the world around them. Interested in sharing your UNB story? We'd love to hear! Share your #UNBishere story online.
Learn more about our volunteer opportunities and how to get involved with UNB.