Alumnus Jason Goldlist takes the road less travelled to tech success
Author: UNB Alumni
Posted on Jan 25, 2021
Category: Inspiring Stories , UNB Fredericton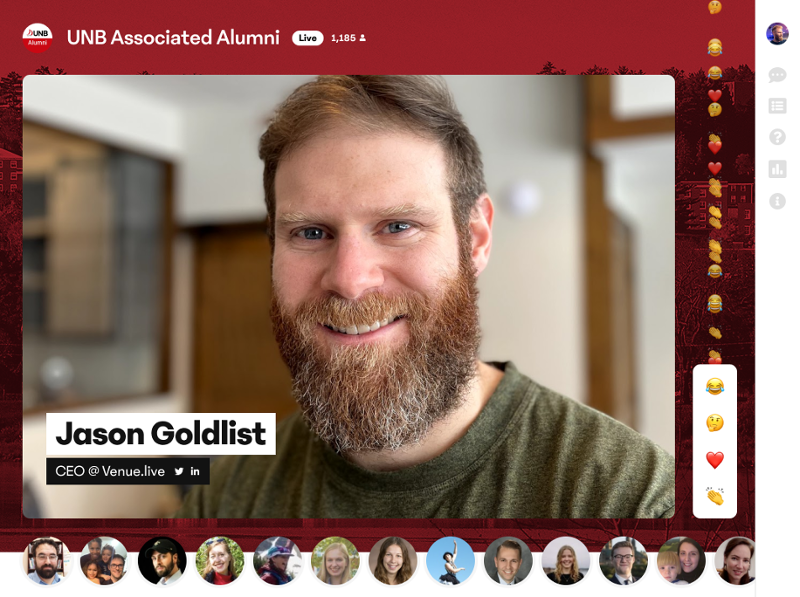 ---
Jason Goldlist (BPHIL'06) has always been someone who wanted to do things differently. It was the reason he chose to leave Toronto and head to New Brunswick for university when his friends were going to Western or McGill. He was looking for a different kind of program, and the new Bachelor of Philosophy in Interdisciplinary Leadership at Renaissance College fit the bill. 
"I've always been one to go against the grain, so this program was perfect for me. It was innovative and based on community and it celebrated doing things differently. After I got over the culture shock of moving from Toronto to Fredericton, I really enjoyed it. My favourite parts were the self-directed projects in the community. We had a course on effective citizenship and to understand change, we had to go out and make change happen. So I ran for city council for Ward 10 in downtown Fredericton! I went door-to-door and talked to everyone and created a policy platform. That mentality of not just reading about it but getting out and experiencing it – that was everything I wanted."
Jason also loved the domestic and international internships that were part of the learning program at RC. "I interned in Vancouver and Switzerland and the experiences made a deep impression on me. So when I graduated, I moved to Paris and travelled a lot and purposely looked for work that would optimize travel. I found that at McKinsey & Company."
Jason worked at the mega-consulting firm for two years as a data analyst and was able to travel to places like New York City, Amsterdam and sub-Saharan Africa - where he worked for 13 months, consulting on telcom projects. "I learned so much from those cultures and the strategic, smart people I was around. It was super-interesting work."
His winding path then took him back to Canada. "I knew that for my next challenge I wanted to manage a team of people and work for a large brand, and the opportunity came when the Olympic winter games were hosted in Vancouver. I joined the organizing committee and became the Deputy Venue Manager for Athlete's Village in Whistler. I had a staff of 150 people and we needed to serve over 3000 athletes. It was 24 hours a day for 77 days. It was wild."
When asked if he had ever pictured doing something like this, Jason answers, "I've never had limiting thoughts. I have dreams and nothing ever seems impossible. Renaissance College encouraged those kinds of world-changing ideas."
After the Olympics, he completed an MBA at INSEAD in France and came to a realization. "It wasn't the brand that was important to me, it was the people. So, I picked the most interesting people in my network and reached out to them. One of my connections from McKinsey & Company was working with a seniors-care company in Seattle. I asked him if he had anything for me and he asked what kind of position I was looking for. I said 'I don't care! I just want to work with you!' Thankfully he hired me, and the company became the nation's largest referral service for senior care – kind of the Expedia for seniors homes. It was hugely successful and I learned so much about problem solving and growth."
It was at that time that Jason's wife was pregnant with their first of two children and they decided that they wanted to move back to Toronto to be close to their families. "Taking risks in my career had been successful so far, so I looked for smart people I knew in Toronto to jump on board with. I found a friend who was starting an investment firm that would operate completely differently than any other out there. I came on as Wealthsimple's first marketing leader and then general manager and helped build out the brand and communications. I even got to buy a Canadian Superbowl ad in 2016 – it was huge for us. We built the company to become the leading fintech company in Canada."
Jason was also busy as co-founder of TechTO, Canada's largest tech community that brings together 50,000 members to build an inclusive tech ecosystem of entrepreneurs and innovators. For Jason, this world aligns with his way of thinking. "The ethos of the tech sector is to get beyond thinking about something and just do it. That's been my mentality since I was at UNB."
That mentality is what's brought Jason to the latest stop along his path – developing his own business. "It was time to put my own skin in the game." He stepped away from the General Manager position at Wealthsimple (he remains an advisor to the company) and sought out people to bring on board with him – people that were "smart, kind and wanted to create software that would make the world a better place."
They started working on an idea. Then the pandemic hit and it all changed. 
Jason's experience running events at TechTO gave him insight into what would be needed for events to bring people together virtually. "We started running interactive live streams for TechTO on March 19th. Our in-person events were always truly interactive and brought people together, but we couldn't find software that would allow us to do that well online. All the platforms focused on the speaker but didn't respect the audience. I wanted to build community, not broadcast a message."
In April, they started building the software to do just that. Venue was born – a software platform that offers beautiful, interactive spaces to bring communities of people together to experience content and make authentic connections.
"By May we were using it for TechTO and by the summer we brought on other users. I was knocking on doors again, just like back in Fredericton. I was listening to customers and what they wanted from the platform and then making improvements. We're still doing that."
"It's been a whirlwind and we're seeing a lot of success. The Venue platform is being used to build relationships and bring groups together for interactive discussions and learning. It's fantastic to work with an amazing team of people to make an impact. When we break down the barriers of distance that keep like-minded people from meeting, we're going to see meaningful relationships and growth in ways society's never seen before. For me, that's what it's all about."