UNB Associated Alumni awards the inaugural Alumni Legacy Scholarship
Author: Young Alumni
Posted on Jul 17, 2019
Category: UNB Fredericton , Management , Young Alumni , UNB Saint John , Inspiring Stories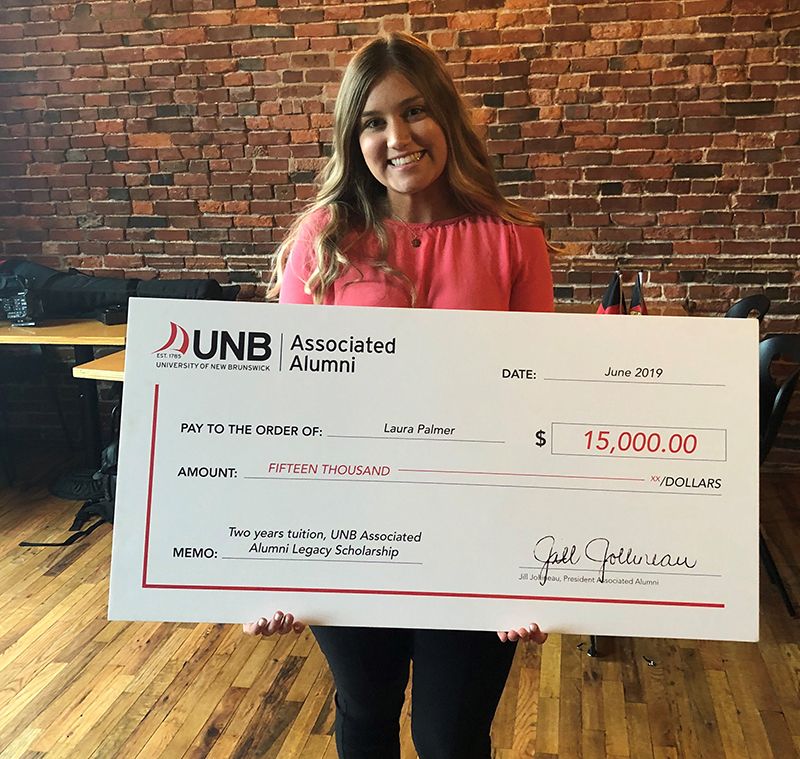 ---
A University of New Brunswick student was announced as the inaugural winner of the Alumni Legacy Scholarship, established and presented by the UNB Associated Alumni.
This year's recipient, Laura Palmer, is an outstanding example of the values outlined through the scholarship – fiercely proud of the institution, dedicated to making a difference on campus and committed to carrying on the UNB alumni legacy for years to come.
Valued at two-years of tuition and fees, the scholarship was generously funded through the support of UNB alumni and friends.
Entering her third year of studies in business, Ms. Palmer has shown academic achievement as well as exceptional involvement on campus. Throughout her two years at UNB, she has served as business representative of the Students' Representative Council, events coordinator of the Business Administration Society and marketing head for UNBSJ's first-ever Relay for Life organization committee. Ms. Palmer also volunteers with the SRC finance committee, UNBSJ Best Buddies program and the Promise Partnership.
"Being Proudly UNB is something that I live each day. I knew when I graduated from high school that I wanted to attend an institution that gave me a sense of community, opportunities for growth and a foundation for academic excellence," says Ms. Palmer.
The scholarship recognizes a UNB student who has completed the minimum requirements for the second year of an undergraduate degree program and has demonstrated immense pride and commitment to the university through extra-curricular involvement.
In addition to submitting an essay describing why they are "Proudly UNB" and how they will continue to be an ambassador for UNB upon graduation, candidates are also required to provide a letter of recommendation from a UNB graduate.
With alumni legacy at the heart of the scholarship, UNB alumni Jeff (BBA'93, MBA'05) and Susan Reid (BBA '93) played an important role by referring Ms. Palmer for this recognition and helping to support her academic career.
"Laura is an excellent representative of the university as demonstrated through her energetic promotion of UNB, and we have no doubt that she will continue to promote UNB as a future leader in the community."