Coming 'back home' was a step forward for this engineering alumna
Author: UNB Alumni
Posted on May 1, 2019
Category: UNB Fredericton , Inspiring Stories , Engineering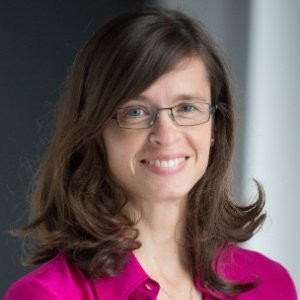 ---
Anna Robak (BScCE'01) is a proponent of always moving forward and conquering new things. So the decision to move 'back home' to Fredericton from New Zealand, where she had spent the last thirteen years working in global asset management, was not made lightly.
A Fredericton native, Anna had gone through UNB's civil engineering program concentrating in transportation and economics. "I wanted a career that was versatile and offered many opportunities," she remembers. "Civil engineering gave me that, and I realized during my studies that I wanted to work in asset management."
The only master's program at the time that specialized in asset management was the Asian Institute of Technology in Thailand. Fortunately, she had spent a year in Thailand with her family. Her father, a forest engineering professor at UNB, had moved them there while on sabbatical when Anna was in high school. She already knew she loved the country that's full of "great people and great food." So after graduating from UNB, she crossed the globe and spent two more years there, earning a Master's in Infrastructure Engineering.
Her next move forward was to apply her asset management skills, and she did that in Auckland, New Zealand at Opus International. She began advising asset owners on the impacts of investment strategies for their billion-dollar portfolios, and traveled to see clients in the UK, US, Canada, Malaysia and UAE (and picked up a PhD in Applied Economics from the University of South Australia as well). She began working with behavioural scientists, engagement specialists and natural asset managers to advance the firm's asset management practice. "I have a soft spot for using behavioural nudges over building more physical assets, and for using the natural environment in lieu of concrete infrastructure."
When it came time to have a family, she and her partner, a U.K expat, decided to move to Canada to be close to family, and ended up back in Fredericton in 2016. She transferred to the local Opus office and soon after applied for and won the role of Director of Whole Life Asset Management, where she was responsible for a cultural change program to embed Whole of Life thinking into everything staff did- from how they invested in people to how they thought about the long-term implications and opportunities in designs.
Last year, when Opus was bought by WSP, a global consulting giant, she transferred seamlessly into an important role within WSP Canada: leading a new Future Ready Research Program. This exciting position incorporates her interest in the potential for behavourial and environmental sciences to find more innovative and effective ways of planning and running public infrastructure services. She is currently designing a research program that will help WSP understand trends in the world, how they will impact their clients and economic users, and how they can change plans and designs to make them more Future Ready.
"This is work that I'm really passionate about," says Robak. "I'm tasked with providing leadership around mindset shifts, regardless of discipline. It's cradle-cradle thinking and applying a broad approach to everything we do."
Anna looks at four categories of trends: society, technology, climate and resources. "So for example, I look at the growing aging population and the needs that come with that, and how we then can account for this in all of our project designs. I'm also researching how our built environment can affect health. We can use this information to design neighborhoods that entice more physical activity and promote better mental health."
She's also building an innovation platform in the company that will track all of the innovative projects and processes that are already happening, and provide the research and tools to encourage more staff to build innovative solutions to future needs and trends.  
Obviously, moving back to Fredericton has not meant stepping backwards for Anna. Her career is flourishing and she says that the region offers a tremendous culture of innovation and research that complements her work. She's recently taken on a role as adjunct professor in the civil engineering department at UNB, supervising a graduate student and guest lecturing. "WSP Canada's Future Ready research program will be looking to collaborate with universities, who are the experts in research, and UNB could be a great partner for us."
She's also part of Fredericton's Smart Cities Taskforce, helping the City become one of 20 finalists in Infrastructure Canada's Smart Cities Challenge. "Fredericton has so many good things going on right now. Its small size allows us all to be very connected which means it's easier to make things happen."
Anna recounts that it was amazing to live in other places in the world ("where, other than New Zealand, can you surf in the sunset after work?") and be able to "sort of reinvent yourself where no one knows you". But she views coming home as an opportunity to create a new and different life than her past one. "There's such a strong and supportive network – from health specialists in my own neighborhood to community and professional connections. I'm seeing New Brunswick through a new lens."  
Her advice to new graduates just starting out in their careers?
"If you have a vision for what you want, stick to it, even if some of the decisions you make to progress toward it seem unconventional. Try hard to express your vision to others, and look for opportunities that might come along that will get you further down that path.
"If you don't yet have a vision for what you'd really like to do, rely on people who see something in you and suggest opportunities and experiences you might not have thought of yourself. Over my career, people have suggested I apply for positions or an award because they thought I would do well and it would be good for my development. These were not things I would have thought to do, but when I did put myself up for them I found the experiences hugely rewarding.
"Finally, especially early in my career, I always said 'yes, I can do that' or 'I can help with that' and it made me the go-to person with a broad range of skills. It meant I was the first person people thought of when there was an outside-the-box problem. And it also meant that people actually looked to create positions for me that suited my unique skill set. Although I started my career in traditional engineering roles, being creative and positive within those roles meant I got to create my own position every time."