Problem-solving in an exciting high-profile career
Author: UNB Alumni
Posted on Aug 24, 2018
Category: Inspiring Stories , UNB Fredericton , Engineering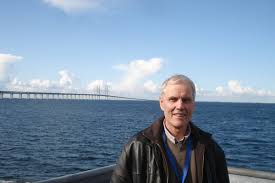 ---
Ian Naish (MEng'71) has a face that might seem familiar. That's because as a transportation consultant and former director at the Transportation Safety Board of Canada, he's a media go-to spokesperson for train derailment and other major transportation news stories.
Ian's been in the transportation field since 1969 when he came to UNB fresh off a civil engineering degree from the University of London. One of his professors in London told him that transportation engineering was the thing of the future, and shortly after that he came across a poster on campus promoting UNB and the new master's degree in transportation. Though he'd never been to Canada before, he applied and jumped the pond.
He was pleasantly surprised at how quaint and welcoming Fredericton was. "I remember my parents visiting and being taken with the New England style homes," Ian says. "I was taken with how kind everyone was and how much fun I had on campus. I'm still good friends with people I lived with in Neville House and who I studied with through the program."
He was also impressed with the transportation program, which used hands-on practical projects for learning instead of solely theoretical work upon which many other schools focused. "Frank Wilson and Albert Stevens got me out doing a transportation survey after being on campus for only one week. We undertook a research project involving interviews with drivers in southern New Brunswick to collect origin-destination data at key arterial roads and border crossing points. In the summer between our two academic years, my classmate David Innes (BScCE'69, MEng71) and I did the design study for the future Wheeler Blvd. in Moncton. It was a classic UNB approach to learning – apply your knowledge in real life."
Upon graduation, a student who had been ahead of him in the program, Stuart Embleton (BSchCE'68, MEng'70), suggested he stay in Canada and join him in Ottawa. He helped get Ian several interviews across the city and Ian was subsequently hired in the transportation planning area for the Ottawa-Carleton Region.
Over the next years, Ian did transportation engineering, urban planning and transport economics work for Indian and Northern Affairs, Parks Canada and Transport Canada. During that time, he had also completed an MBA from the University of Western Ontario.  When he returned to Ottawa, he soon joined the Canadian Transport Commission which was later merged into Transport Canada.  His career took off as a problem solver.  He accepted challenges that no one else wanted – projects like finding solutions to pedestrian railway crossing risks in Mississauga and analysing issues related to trespasser fatalities on railway lines from Pickering through to Oakville. "I walked the length of the track, working on identifying the problems and creating a plan with recommended solutions." The plan worked, and it became a model across North America.
In 1990  Ian was promoted to Chief, Policy, Regulations and Standards in the Railway Safety Directorate. "That was exciting," Ian exclaims, "because I got to understand rail equipment and operational issues as well as those in the civil engineering discipline." Again, he applied problem-solving skills: for example, as team leader of a six-person mix of headquarters/regional staff, he had one of the biggest challenges of his career. After a major collision between two trains in Quebec, they had to find consensus on how to permit single person freight train operations without jeopardizing safety. They had a very tight deadline and had to obtain consensus with both the railway and the related rail labour organization. Ian and the team analyzed a host of safety issues, obtained consensus, and more than 60 safety measures were implemented to assure a successful transition to one person operation. Again, the solution worked well and became a model for the future.
In 1998, Ian became Director of Rail and Pipeline Investigations at the Transportation Safety Board of Canada, reviewing over a thousand accident reports every year and being accountable for around 20 in-depth full Board investigations per year. "This was a change for me, both because of the continuous amount of work required and because I also needed to speak publicly on behalf of the Board when the media called. One of the things I was thankful for was that the UNB program taught me how essential it was to be a good public speaker."
After eleven years with the TSB, Ian "retired" and started getting consulting work with the TSB, Transport Canada, and even for the Government of Ireland. He was an expert witness for law firms on cases in Canada and the U.S. and in 2011 / 2012 he had an amazing opportunity to work in Saudi Arabia for the Saudi Railways Commission. Currently, he's working on the Ottawa Light Rail Project, which is a new and exciting approach for transit in Ottawa. "I've learned so much through consulting and have met interesting people from all over the world."
He's also learned how to be good on camera, as he gets "tons of media requests" for commentary on accident investigations. "I was never all that comfortable with public speaking, but you learn that it's a part of the job and generally, the more interviews you do, the easier it gets," he says.
Ian believes that having transportation-specific knowledge has been a great advantage throughout his career. He's very happy he chose to study transportation engineering at UNB and get practical, in-field experience while there. "I've had an interesting and wonderful career and have always enjoyed my jobs. I've been so lucky to have worked alongside so many good people."