Desk Diaries: Q&A with Canadian Geographic's digital editor
Author: Young Alumni
Posted on Mar 13, 2018
Category: Young Alumni , UNB Fredericton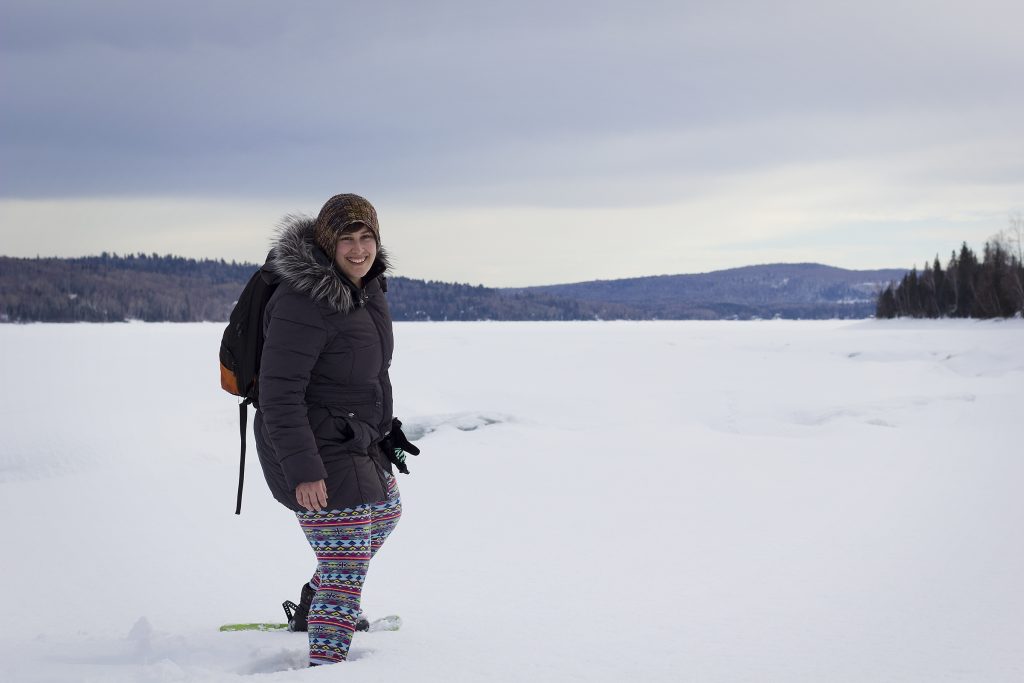 ---
Our young alumni have transformed their UNB degrees into careers around the world. Whether their office is at a desk, on stage, in the outdoors or always on the move, we love taking a glimpse into their daily life. As digital editor for Canadian Geographic magazine at their head office in Ottawa, young alumna Alexandra Pope (BPhil'06) tells us about her always-interesting (and Instagram worthy) career.  
Q: What inspired you to pursue a career in photography? I pursued photography as a hobby from the time I was in high school and bought my first SLR camera (which used 35 mm film!), but I really began to take it seriously when it became part of my job. My first full-time job out of journalism school was as a reporter for a weekly newspaper in Alberta. We were a very small staff, so we were all responsible for writing, editing, production and photography. I had to learn a variety of photography techniques in a very short time. Shooting minor hockey games was a particular challenge!
Q: What does an average day look like for you as digital editor for Canadian Geographic magazine? My primary responsibility is to assign, edit and write content for Canadian Geographic's website. The magazine is very well-known in Canada, but our goal is to evolve into a multimedia brand. That said, we are also a small team, so I do my fair share of writing and editing for the print side as well, and I help with social media promotion.
Q: Describe a day on the job that has stood out as particularly interesting or exciting. A definite perk of working for Can Geo is that I occasionally get to travel on assignment, which has allowed me to do all kinds of interesting things in interesting places. I've driven a dog-sled in Quebec, kayaked on San Francisco Bay and learned how to blow glass in Ontario's Haliburton Highlands. But probably the coolest thing I've done for work (so far!) was travel to France with our education team for the 100th anniversary of the Battle of Vimy Ridge. We brought our giant floor maps of the Western Front and Vimy trench system and spent two days teaching thousands of Canadian high school students about Canada's role in the First World War.
Q: What projects have you been most proud to work on? I was very proud to have led the development of a special publication dedicated to our Instagram community in 2017. For Canada 150, we produced a beautiful glossy book of photos from 150 different photographers across the country. Seeing that in print after months of work was a thrill. Currently I'm guiding the creation of another new publication: our first Kids digest. I'm very excited to see that hit newsstands later in the spring.
Q: What has been most challenging about your role? Balancing multiple different projects and deadlines at the same time. Fortunately, I like being busy!
Q: What do you wish people knew about Canadian Geographic magazine? That we're different from National Geographic magazine — but just as interesting! 
Q: What is one thing you couldn't live without in your work life? I have a CanGeo world map tacked to my cubicle wall, and I've put stickers on all the places I've visited. I love to look at it when I need a brain break. It reminds me of how far I've come — and gets me dreaming about all the places I have yet to explore.
Q: How has your UNB experience impacted your career? I will be forever grateful for The Brunswickan, which gave me my first real editing and writing experience and helped me realize that this was what I wanted to do as my career. I credit Renaissance College with giving me a well-rounded education. To be able to ask the right questions of an interview subject and write authoritatively, you have to have at least some knowledge in a wide range of disciplines. I'm particularly grateful for the conversations and projects we undertook as a cohort with Indigenous Peoples in New Brunswick. Those experiences have given me a solid grounding for some important conversations we're now having about reconciliation at the national level.
Q: Outside of work, what are two things people would most likely find you doing? Walking or biking my beautiful city, or playing board games with friends.