Seawolves Recognize Top Athletic and Academic Achievements
Author: Stephanie Guimond
Posted on Mar 28, 2018
Category: Basketball , Varsity Sports , Soccer , Volleyball , ACAA , SAAC
Saint John, New Brunswick- UNB Saint John held its 52nd Annual Varsity Athletics Evening on Friday, March 23 to honour its student-athletes.  Women's volleyball setter, Taylor McGrattan and men's basketball guard, Hunter Gray were named the Male and Female Athletes of the Year.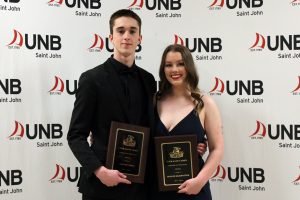 Fredericton native McGrattan provided her team with veteran leadership during the 2017-18 season and was a major factor to her team's success. Her skill and understanding of the sport, especially in her crucial position, brought a completely new dynamic to the game. McGrattan was named to the ACAA All-Conference team, even with a nagging injury that kept her out of the line-up for a few games.  She had a total of 360 assists, earning her 4th place in the league for total assists and assists per set.  "Taylor is considered a threat in the ACAA for her ability to split blocks and hitters unlike any other," says Seawolves women's volleyball head coach Lauren Hale-Miller.  "Her understanding of the game and ease when playing allows her teammates to settle in and focus on what they need to do".
In his second season with the Seawolves, Woodstock's Hunter Gray was instrumental in propelling his team to their best finish in over 5 years. "We relied on Hunter for his point production, ball distribution, rebounds and tough defense," says Seawolves men's basketball head coach, Peter Vincent.  Gray finished fourth in the ACAA with an impressive 18 points per game average and was the Seawolves' first men's basketball player to be named to an ACAA All-Conference team since the 2009-10 season.
The Dr. Ann Gorman Condon Academic Athletic Achievement Awards were presented to Kathryn Magee of the women's basketball team, and Patrick Kendall of the men's volleyball team for their outstanding athletic performance and dean's list status. Saint John's Magee is a top contributor to her team, a three-time CCAA National Scholar and a dedicated volunteer with UNB Saint John's Promise Partnership.  Fredericton native Kendall led the ACAA with an average of 8.2 assist per set and his 434 assists were the second most in the ACAA.  He is also one of two UNB Saint John student-athletes to be nominated for the prestigious CCAA Academic All-Canadian Award.  "To achieve excellence in both sport and academics requires tremendous skill, dedication and perseverance," says Athletics Director David Munro.  "These qualities are also the foundation of what great community leaders are made of".
Over fifty awards were distributed at Friday night's event.  The full recipient list can be found here and the event photos are posted on the UNB Saint John Seawolves Facebook fan page.