Alumni Athletes give back to Men's Volleyball Program at UNB Saint John
Author: Stephanie Guimond
Posted on Feb 5, 2018
Category: Varsity Sports , Alumni , ACAA , Volleyball
Dakota Lutes and Tom Harris are no strangers when it comes to volleyball. Their enthusiasm, knowledge and passion speak through their broadcasting during home games at the G. Forbes Elliot Athletics Centre.
Tom and Dakota are Seawolves Volleyball and UNB Saint John alumni, in addition to being great friends. When the UNB Saint John Athletics Department was looking for voices to represent Men's Volleyball they were quick to jump on the opportunity. The duo is a perfect match for the Seawolves broadcast; they play off of each other in such an organic way that the flow is seamless. Tom and Dakota have received excellent feedback during their second season as live broadcasters for the Seawolves. They always have their research done prior to games and follow all teams' progress in the conference; it is never a disappointment when they do a broadcast.
Dakota graduated from Saint John High School in 2011 and was fortunate to be able to continue his volleyball career at UNB Saint John.  In addition to his studies, Volleyball was his main sport focus and he was involved with the Promise Partnership program and was an active member of the Student Athletic Advisory Committee. UNB Saint John gave him everything he needed out of a university, a small community oriented campus with a lot of room for self-growth.  He began playing volleyball in grade 11 and was team captain, which speaks volumes to his talent as he only had one prior year of experience. Dakota was a multi-sport athlete (football) but once he reached university he wanted to focus on becoming a better volleyball player. He is partial to the blocking aspect of the game and to him, nothing feels better than going up to the net and getting a huge block. His switch from football to volleyball required a strong mental transition which he achieved rather quickly. One of his career highlights as a volleyball player for the Seawolves was a five set win against Humber College in Quebec. Humber was nationally ranked in the top five at the time. Not only was Dakota a team leader with a great sense of pride for his team, he also forged friendships with his teammates that will last a lifetime.
"Doing the broadcast with Tom is a lot of fun. We played in the league together for quite a while and accumulated an abundance of knowledge about the league, the teams and its players. I think that knowledge helps us share the story lines with the viewers that are following their friends, kids or favorite school. The players around the league work hard to put a quality product on the floor, so we try our best to give them a quality broadcast".
His hard work and love for the team development transfers directly to his love of broadcasting the games for the ACAA live stream webcasts.
Tom Harris spent four years with the Seawolves Volleyball program and graduated from UNB Saint John in 2016. He is also a multi-sport athlete (hockey and baseball). He distinctly remembers Geoff Mabey (past coach of the men's volleyball team) visiting his elementary school promoting the Wolfpack Volleyball Club. It was then that Tom took an interest in volleyball and his parents who also played volleyball encouraged him to pursue the sport. Tom played volleyball throughout the years and received the MVP award in high school. He subsequently joined the Seawolves once he started university. Tom walked into a culture of a winning team (Men's Volleyball were two time ACAA Champions) however only one veteran team member would be returning for the season. As a first year player, Tom knew there would be a transitional year or two ahead, with a lot of rebuilding to work on. With that in mind, Tom set out to hand pick talent for the men's volleyball team. His last two seasons with the team resulted in a winning record but they lost out in semifinals both years. Tom was extremely proud of what his team accomplished and his ultimate goal was to bring the program back to the high level that it once was. He and Dakota truly restored the integrity of the program by buying into the team and setting the standard of hard work expected of all team members. They set the bar for incoming recruits and the lessons Tom learned from his experience with the team have been invaluable. Tom is thankful for the coaching guidance that improved his physical and mental performance as a volleyball player.
The Seawolves broadcast has been tons of fun for Tom and it is very rewarding for him to give back the program. His pride to deliver great commentary for the games is clearly apparent the moment he puts on the headphones and the first words of welcome to the game are spoken.  He understands that a lot of family and friends are unable to be present at the games and knows that a great commentary adds to the webcast and provides an enjoyable experience for those viewing at home. Tom does a fantastic job at calling an unbiased match and giving players credit where it is due, regardless of what team they play for.
Tom and Dakota have a genuine excitement watching good volleyball. Dakota takes care of the color commentary and Tom tackles the play by play during the games. They have a natural chemistry and complement each other well. They frequently chat about the league off air so they can paint story lines during the broadcast. They are like brothers.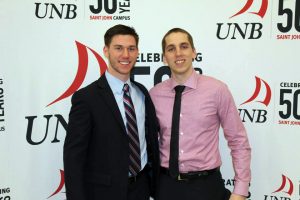 "I am most thankful for the friendships that I have made while playing with the Seawolves".
"Over the last few seasons, I think the talent level in the league is really top notch, and I think the ability to supplement this high level of volleyball with a great broadcast really adds to the legitimacy of the ACAA.  Overall, I'm just proud to be able to provide what I consider to be a superb product for the Seawolves broadcast and the ACAA".
Tom and Dakota already have one ACAA Volleyball Championship broadcast under their belt. They traveled to Dalhousie Agricultural College in Truro, Nova Scotia to broadcast the 2016-17 Championships. Their goal is to broadcast more Championships if the opportunity comes up.