New Volleyball Coach Makes Great Impact
Author: Stephanie Guimond
Posted on Dec 13, 2016
Category: Volleyball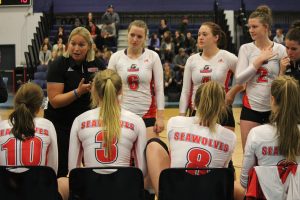 Women's Volleyball, UNB Saint John Seawolves
Appointed as new head coach for Women's Volleyball in September 2016, Lauren Hale-Miller understands the importance of team building for athletes.
Lauren is from Fredericton, NB and is a recent graduate from the Bachelor of Recreation and Sports Studies program at UNB. Her vision is clear and concise as to what culture she wants to create when it comes to coaching the Seawolves. Upon speaking with Lauren and getting to know her on and off the court her passion for coaching is something that she is certainly proud of. Her coaching experience at UNB Saint John so far has greatly displayed her motivation and drive to help the team reach their full potential.  She has high hopes for the women's team and they, in turn, are eager to learn and transfer Lauren's guidance and direction to the court. Lauren has been a strong presence and positive influence on the team and the response has been excellent. Her technical style of coaching is hitting a high note with not only her players, but also other coaches and the Athletics Department staff. Her desire to win and her love for volleyball have reflected on the girls in a fantastic way.
One of the most important factors to having a well-rounded team is ensuring the cohesion of the team is stretched across the board. This includes the players and the coaching staff who share a common goal: success as a unit. A team can be comprised of the best athletes in the world but if they do not mesh well it creates difficulties in performance as a team. The 2016-17 Volleyball season brings a new dynamic to the women's team as there are new players and a new coach. Even the smallest of changes can have a significant effect on a team. One of many responsibilities that Lauren has is to get to know her team and make sure they are all on the same page. This is why she has team building activities as part of her coaching mandate. Bringing the girls closer together on and off the court creates a sound environment to reach their goals. Trust is imperative between coaches and players and this is executed through exercises and activities to improve physical and mental aspects of the game. Volleyball has several key factors, a large one is communication, not just during play but on the sidelines and during practice. Often times mental skill in the game can outweigh and beat physical skill, but the combination of both can yield incredible results. The purpose of team building is to bring the "family" closer and connect on a much deeper level. Maintaining positive energy is crucial as well, Lauren keeps the language at a great level with her team, and she is open and available to all of her players whenever they need her.
To keep things light and fun, Lauren and her team play "Ninja" before matches. This helps the girls loosen up and get rid of any tension or stress before playing a match.
As per Lauren, here is why team building is important to her:
"Team building is important to me because it provides the opportunity to get to know your teammates (and coaching staff) outside of the gym environment. Through team building activities we learn to trust, problem solve, and succeed as a unit, and not just as an individual. For me as a coach, I like participating in these activities, so that my athletes can see a different side of me, not just the hard-ass coach. I also enjoy seeing the girls working together outside of the volleyball court.
We use team building activities to eliminate pre-game jitters or stress. If we are too tense going into a match we tend to overthink everything. My girls play a game (of Ninja) about an hour before match time. During the 5-10 minute game we make decisions, laugh, and do not think about volleyball".
We here at UNB Saint John Athletics couldn't be more pleased with Lauren's performance as a coach thus far. Keep it up Lauren! Go Seawolves!!