Men's Volleyball Lands Top Recruit
Author: Stephanie Guimond
Posted on Apr 8, 2016
Category: Volleyball , Varsity Sports , Alumni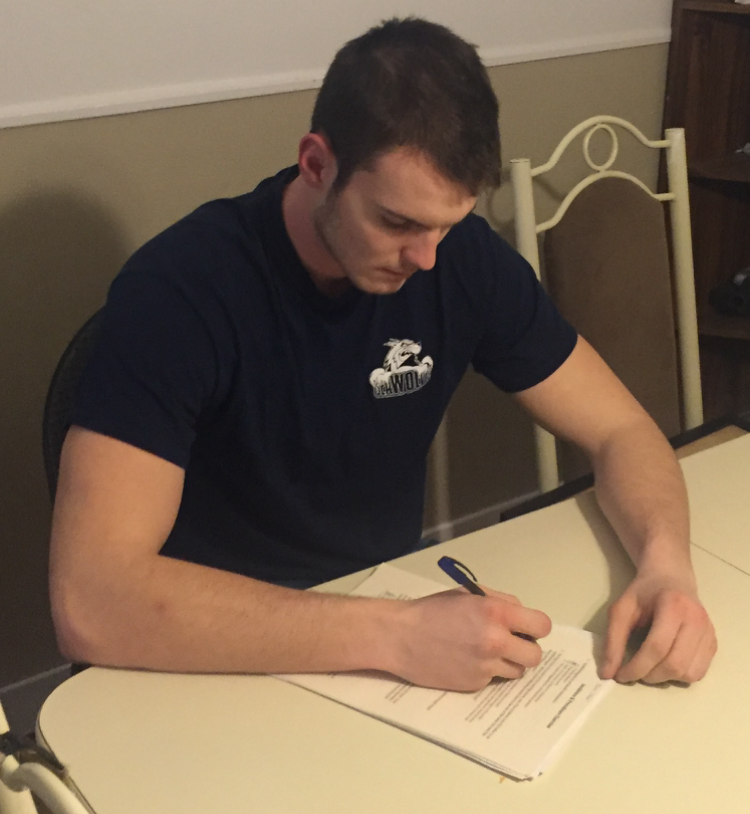 The men's volleyball team is shaping up quite well with the addition of their latest recruit, Zane Hamilton, a 19 year old from Hartland, NB. Zane has been recruited by the top ACAA and AUS schools, and after two years taking a police foundations course has chosen UNB Saint John to join former teammates Patrick Kendall, Hendrik Compagner, and Jacob McLean. Zane brings a wealth of experience the the Seawolves squad. He played on the U16 Reds club team where he won an all-star at provincials and was chosen as the all-star of the team that year, the U16 VNB team where he was selected to the all-star team at Easterns and was nominated for Volleyball New Brunswick Male Athlete of the Year, the U17 Reds club team where he was an all-star at provincials and MVP of his team that year, and he played two years on the U18 Reds squad where he was an all-star at provincials and won MVP of the team. Hamilton also played on the Canada Games team coached by Geoff Mabey.
Zane is a versatile player that will bring the Seawolves to a whole new level. After just falling short in the ACAA Championship game this season, the Seawolves are hungry for an ACAA banner. Hamilton may be the missing puzzle piece to get the Seawolves a trip to Nationals. After signing his letter of intent, Hamilton said "I chose UNB Saint John because they have a great volleyball program, and I have confidence in the coaching staff. Next Year I'm looking to contribute to a successful season with the Seawolves, ending us with a ticket to nationals. I'm excited for what UNB Saint John has in store for me."
Head coach Kyle Blanchard is happy to see Hamilton join to Seawolves program, "Zane is a tremendous athlete that I could play in a number of different positions including Middle, Right Side or Left Side. He is really good friends with our core group of guys in the program, so I feel he will be a perfect fit for us, on and off the court. This is the type of athlete that will take our program to the next level. I truly feel that by adding Zane to our line up we will be a contender at the national level for years to come."
With the addition of Hamilton, the men's volleyball team will look to start the season off on a high note come the fall. The Seawolves community is beyond excited that Zane has committed to our program and we are anxious to see what he can do on the court next season.