Last Chance for Volleyball Alumni to get DISCOUNTED TICKETS
Author: Stephanie Guimond
Posted on Feb 22, 2016
Category: Volleyball , Alumni , Varsity Sports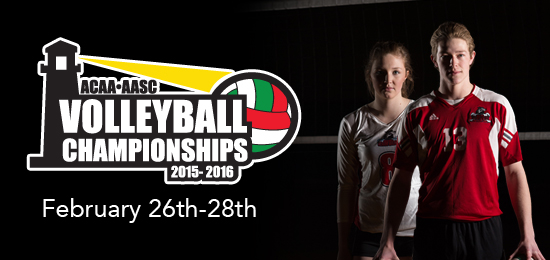 ACAA Volleyball Championships Feb. 26 - Feb. 28, 2016
UNB is hosting the ACAA Volleyball Championships – and we want to invite you to come cheer on the UNB Saint John Seawolves!
To reserve tickets, please email Devin O'Brien at a8ihu@unb.ca by
Thursday, February 25th at 7:00pm
for a special alumni rate of $10 for a tournament pass. Tickets at the gate will be $15. Our women's team is currently 4th in the ACAA and the men's team is currently ranked 1st in the ACAA and 9th in the country. The fitness room overlooking the gym will be a VIP/Volleyball Alumni room open to you to catch up with friends and teammates while you cheer on your UNB Saint John Seawolves. The campus bar will be open on Friday from 12:00pm-7:00pm and on Saturday from 12:00pm-10:00pm, with an alumni reception Saturday at 3:15pm. We hope to see you there!
Schedule:
Friday, Feb. 26
QUARTERFINALS
WOMEN #1 - STU (3) vs. UKC (6) 1:00 p.m.
WOMEN #2 - UNBSJ (4) vs. MTA (5) 3:30 p.m.
Saturday, Feb. 27
SEMIFINALS
WOMEN #1 - MSVU (1) vs. Lowest Remaining Seed 11:00 a.m.
WOMEN #2 - HC (2) vs. Highest Remaining Seed 1:30 p.m.
MEN #1 - UNBSJ (1) vs. USA (4) 4:30 p.m.
MEN #1 - STU (2) vs. HC (3) 7:00 p.m.
Sunday, Feb. 28
FINALS
WOMEN - 12:00 p.m.
MEN - 2:30 p.m.