Cathy Simon - Clinic Director of Lifemark Physiotherapy Clinic
Author: Stephanie Guimond
Posted on Feb 2, 2016
Category: Varsity Sports , Basketball , Soccer , Volleyball , Fitness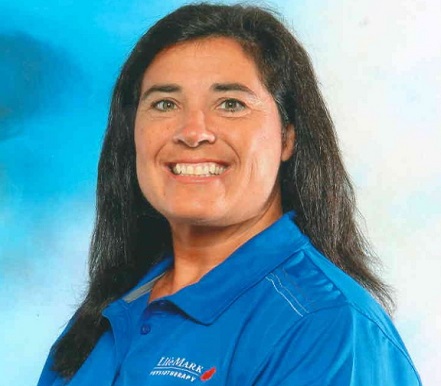 Lifemark Physiotherapy Clinic is the Seawolves number one choice when it comes to treatment of athletic injuries! Cathy and her team provide on site care for our athletes at all home games.
Cathy graduated with a BSc (Physical Education) from St.F.X. She played Varsity volleyball for 4 years at "X" and played on the first Women's Rugby Team as well.  She continued her education at the University of Toronto, where she graduated with a BSc (Physical Therapy). Cathy worked at the Saint John Regional Hospital, Saint John Extramural Hospital, in private practice, as well as became owner of Active Physiotherapy Clinic in Saint John until 2014 when she merged with Lifemark Health to further expand the business.
As Clinic Director of Lifemark Physiotherapy Clinic, Cathy takes pride in the high quality of service provided at the clinic and is committed to a program of continuous quality improvement so as to continually provide high quality assessment and treatment techniques to her clients.
Cathy has extensive experience in Sports Medicine having provided Physiotherapy services at numerous Canada Games, National and International track, rugby, soccer, gymnastics, hockey and basketball sporting events to name a few. She has been named Chief Therapist at the 2013 National Men's CCAA Soccer Championships, Chief Medical Officer and Chief Therapist at 2012 & 1997 Skate Canada and World Jr. Figure Skating Events as well as on the Medical Planning committee for the 2010 World Jr. Track & Field Championships.
Since 2010, Cathy has been the Physiotherapist for the Saint John Mill Rats Professional Basketball Team and is currently the Physiotherapist for UNB (Saint John) Athletics Program. Cathy also keeps busy in the community coaching volleyball at the middle school and high school levels, volunteering at sporting events and speaking at local schools and business on health and wellness topics serves as Certified Technician for Drug and Alcohol Testing.  
For more information on the Lifemark  Physiotherapy Saint John clinic you can follow this link: https://www.lifemark.ca/locations/LifeMarkPhysiotherapy/10115