2016 ACAA Volleyball Championship Press Release
Author: Stephanie Guimond
Posted on Feb 19, 2016
Category: Varsity Sports , Volleyball , Alumni
Atlantic Canada's Top Volleyball Teams will meet at UNB Saint John
University of New Brunswick Saint John will host the
2016 ACAA Men's & Women's Volleyball Championships
February 26th-28th, 2016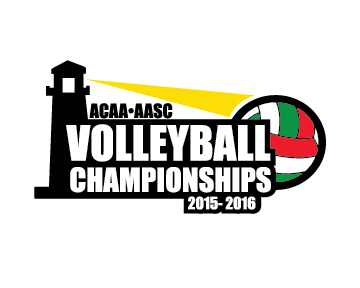 February 19th, 2016, SAINT JOHN NB: Some of the best university and college volleyball teams in Atlantic Canada will be coming to UNB Saint John to compete for the ACAA championships February 26th-28th, 2016.
Local youth, parents and community volleyball enthusiasts will see top-quality teams throughout the weekend. The UNB Saint John Seawolves Men's Volleyball team is currently ranked 9th in Canada and the MSVU Mystics Women's Team and the Holland College Hurricanes Women's Team are currently ranked 10th and 14th respectively. This is the first time in many years where it will come down to a battle in many games throughout championship weekend to take home the gold. The difference between walking away empty-handed and walking away with the ACAA banner could could be just a few small errors.
David Munro, Director of Athletics, Recreation & Wellness at UNB Saint John says, "the ACAA men's and women's volleyball championship weekend is the premier event in the ACAA. The top teams are highly competitive this year and will be giving everything they have to take the championship banner back to their own institution."
The participating teams and seeding will be decided Monday, February 22nd, 2016, immediately after the final ACAA regular season games. The games are open to the public. Tickets are now available for purchase at the UNB Saint John Athletics Department and will also be available at the door on game days.  
Ticket prices: Tournament passes are being sold in advance and at the gate for $15.00. Spectators can buy a day pass at the gate for $10.00. UNB Saint John Volleyball Alumni will be offered a special rate of $10.00 for a tournament pass up until Thursday, February 25th at 7:00pm by emailing Devin O'Brien at devin.o'brien@unb.ca to reserve your tickets.
Non-UNB Saint John Students with a valid student ID: $5.00.
UNB Saint John Students with valid ID and children: Free  
Event Sponsors UNB Saint John Seawolves volleyball players thankfully acknowledge the support of our sponsors and partners:
Sponsors:
UNB Saint John Students' Representative Council
Pepsi
Papa John's
Coastal Graphics
Holiday Inn Express
University of New Brunswick
UNB Associated Alumni
Chartwells
Media Partners:
Brunswick News (The Telegraph Journal)
Webcast Partner:
A special thank you to UNB Saint John for their continued support, which has allowed us to host this championship. About UNB Established in 1785, UNB is one of the oldest public universities in North America. More than 11,000 full and part-time students from more than 100 countries are studying on campuses in Fredericton and Saint John and several thousand more are taking UNB courses online and at partner institutions around the world. As the largest research institution in New Brunswick, UNB conducts more than 75 per cent of the province's university research. The university has an annual operating budget of more than $165 million and annually employs more than 3,500 faculty, staff and students.
For more information or to request an interview, please contact: Devin O'Brien at a8ihu@unb.ca