Think Pink raises over $1,100 for Canadian Breast Cancer Foundation
Author: Stephanie Guimond
Posted on Jan 19, 2016
Category: Soccer , Think Pink , Volleyball , SAAC , Basketball , Varsity Sports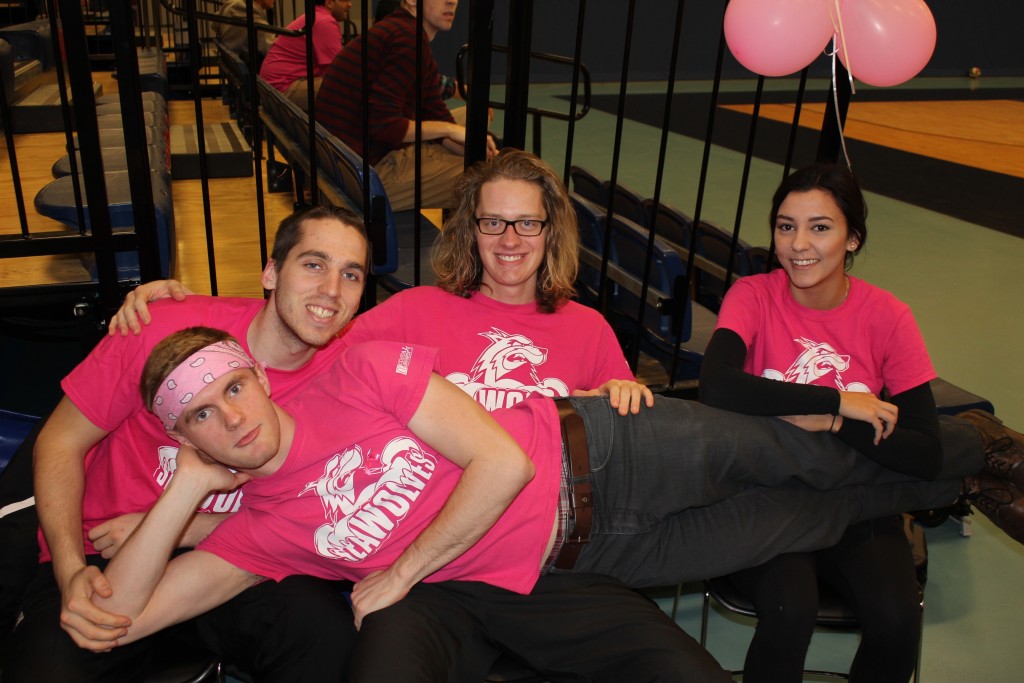 The Seawolves wrapped up their 3rd Annual Think Pink events this past Sunday evening. With the help of the student-athletes, the Seawolves were successful in raising over $1,100 to go directly to the Canadian Breast Cancer Foundation. The money was raised via a bake sale, tickets sold on a raffle basket, and a BBQ at the Think Pink soccer games. Jill Corey, a first year player on the women's basketball team, also donated 10-inches of her hair at half-time of Sunday's men's basketball game.
During the weekend, the volleyball teams swept the Universite Sainte-Anne Dragons with the men's team winning 3-0 both days, and the women's team winning 3-2 and 3-0. With those matches, the men's volleyball team remains in 1st place at 7-2, while the women's team moves into 3rd place with a record of 7-6.
The women's basketball team had a solid game, but fell short to the Holland Hurricanes who are ranked 4th in the country by a score of 79-48. The men's basketball team had a phenomenal weekend with UNB Saint John Papa John's Athlete of the Week Jarred Crawford leading the way. The Seawolves laid a beating to Dal AC 111-41 on Saturday, they then played Holland College, the number 2 seed in the country, on Sunday. The Seawolves came out strong from the first whistle, even leading at many points during the game. It was not until the fourth quarter the Holland College drained a few from beyond the arch to take a significant lead. The Hurricanes came out on top 74-56. The
Student Athletic Advisory Council would like to thank everyone who came out to support the cause and cheer on the teams! Winner of the raffle basket was Shane O'Brien and winner of the IPAD Mini was Tanya Sipkema.