New leadership for the Canadian Rivers Institute: Dr. Michelle Gray appointed director in July.
Author: Minal Abhange & UNB Research
Posted on Dec 17, 2020
Category: Research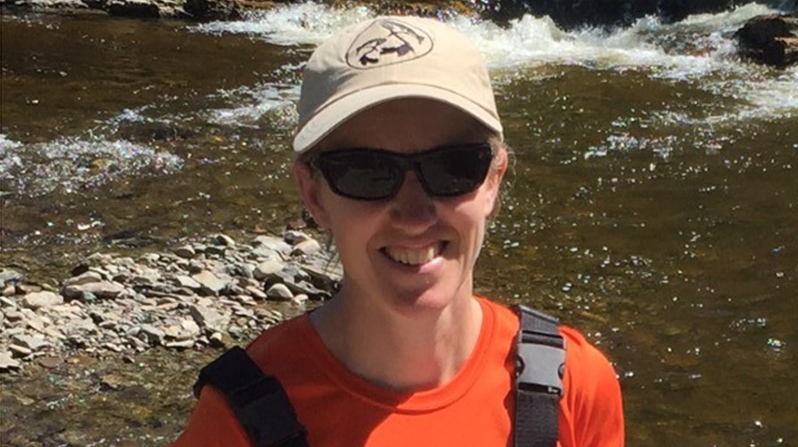 ---
Earlier this year, Dr. Michelle Gray officially assumed the role of director of the Canadian Rivers Institute, a network of 31 scientists at 14 institutions across Canada and internationally housed here at UNB.

For nearly two decades, CRI has been conducting significant research that supports our ability to make informed, evidenced-based decisions about the waterways that are so critical to our environment, health and way of life.
Returning to the source
Pursuing a dream career and inspiring others to follow the same path can take different forms, and for Dr. Michelle Gray, it means, quite simply, leading by example.
Dr. Gray has been involved with the Canadian Rivers Institute (CRI) since its inception in a variety of roles, culminating with her recent appointment as Director, and as she comes full circle, she says it's all been a surreal experience.
"I started my PhD at UNB in the fall of 1999 (which according to my math is 21 years ago!), and so I was around when the CRI was just an 'idea.' It was officially born in 2001 with the four original CRI founding Science Fellows - Drs. Deb MacLatchy, Kelly Munkittrick, Allen Curry, and Rick Cunjak. Since then, CRI has grown from the 4 founding Fellows to more than 30, and is showing little sign of slowing down. We are now represented in 4 countries, we've seen hundreds of talented students graduate, and we've benefited from collaborations with amazing Post-Doctoral Fellows and Associate Fellows."
In her new role as Director, Dr. Gray envisions accommodating, expanding and focusing on the talents and successes of young researchers within the CRI network.
"CRI has accomplished so much in its nearly 20 years, and is capable of so much more, especially with the talent we have within our network. I want to help restructure our governance so that we have the right framework in place to allow expansion and continually work to elevate the CRI profile and celebrate the advancements in river science by our students, Post-Doctorates, Associates, and Science Fellows."
CRI alumna
Drawing from her firsthand experience as a student, fellow and alumna, and now taking a leadership role at CRI, Dr. Gray strives to motivate and inspire other students and Fellows.
"I first became a CRI Science Fellow in 2006, after I completed my post-doc at the University of Manitoba. At the same time, I transitioned into working for the CRI to develop the Training and Professional Development division, and my CRI title subsequently changed to the Director of Training and Professional Development for nearly 10 years. In the fall of 2015, I was hired as a research professor in the UNB Faculty of Forestry and Environmental Management and switched to building my own lab and research program."
Academic leadership roles
Dr. Gray said her career path was not strategically planned from point A to Z, but rather flowed, like the rivers she studies, as she took opportunities along the way.
"My academic and career path was not strategically planned, nor do I recall having other aspirations; I think I just allowed myself to flow down the path much like a river network I guess: I have progressed through the stream orders by entering larger tributaries along the way, but I feel like I may have reached the mainstem now."
There's no doubt Dr. Gray has been passionate about her work and leaves a lasting impression on her students. Her commitment and passion towards 'making every river a healthy river' reflects in everything she does.
Congratulations from Dr. David MaGee, UNB VPR
"Dr. Gray reflects CRI's commitment to strong, innovative research, to using science for the good of all, and to inspiring and educating future experts. I know she will accomplish great things as its director, and I look forward to celebrating those with our community. Congratulations, Dr. Gray."
- Dr. David MaGee, vice-president (research), University of New Brunswick
About Dr. Michelle Gray
Dr. Gray has been involved with the development and refinement of guidelines for the federal Environmental Effects Monitoring (EEM) program and for aquatic monitoring in Northern Canada. She has designed and conducted aquatic monitoring programs related to diamond and gold mines, pulp mills, agriculture, and shale gas development.
Dr. Gray's current research interests continue to explore novel and integrated tools to assess aquatic environmental health, and the utility of small-bodied fish species in monitoring by investigating their basic life history characteristics.
More information:
Dr. Michelle Gray | Canadian Rivers Insititute | Faculty of forestry and environmental management | Research at UNB | Graduate Studies at UNB