Investigating hateful ideologies and extremism in the Canadian Armed Forces
Author: UNB Research
Posted on Nov 24, 2020
Category: Research , Partnerships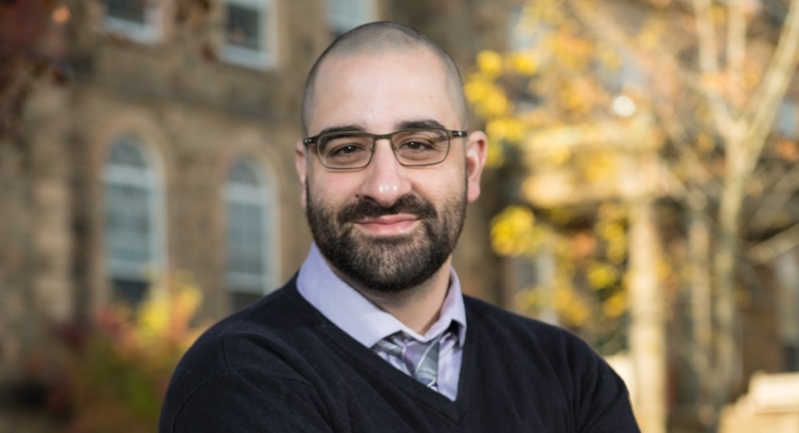 ---
University of New Brunswick researcher, Dr. David Hofmann, and Ontario Tech University researcher, Dr. Barbara Perry, have been granted $750,000 in April to investigate hateful ideologies and extremism within the Canadian Armed Forces (CAF) over the next three years.
From this understanding, they will provide recommendations and insight to CAF leadership to help address these concerning ideologies.
"Anyone paying attention to the news lately knows that this is an issue that keeps cropping up. I think this is a chance to create meaningful change within the CAF as an institution, and I have to commend them; they're putting a lot of time and effort into actively trying to deal with this issue. It's not like they're sweeping it under the rug. They are also willing to listen to outside expertise, which not everyone is open to doing," said Dr. Hofmann.
Before the project officially launched this past fall, the team had been in ongoing conversations with General Jonathan Vance, the Chief of the Defence Staff of the CAF, last year as he sought their guidance and expertise on how to respond to right-wing extremism within the military. They were encouraged by the Chief of Defence Staff to apply for a grant from the Department of National Defence's Mobilizing insights in Defence and Security Program (MINDS).
Dr. Hofmann and Dr. Perry are the co-leads on the project and will be working with research hubs in British Columbia, Ontario, Quebec and Atlantic Canada.
Their goal is to form a research network connecting diverse experts across Canada. They will be conducting several phased projects over the next three years to examine the extent, depth and breadth of hateful conduct in the CAF, and will use their findings to provide policy and practical recommendations for the CAF who are actively trying to combat extremists within the military.
"This project really excites me because we're funded by the Department of National Defence to make real, empirically, scientifically informed recommendations that will be heard by the highest levels. This means that we have a chance to really help the CAF combat this worrisome trend," said Dr. Hofmann.
The first phase of the project will consist of a media and environmental scan of the phenomenon. The team will be conducting as many interviews with CAF members as possible, followed by statistical analyses and surveys in the second phase.
In order to build a comprehensive understanding of hateful conduct within the CAF, Dr. Hofmann describes the interview method with an analogy of a radar signal to gauge what CAF members may have seen, heard and think.
"It's not like we can walk up to them and ask them, 'Hey, are you a neo-Nazi, do you want to talk to me about being a neo-Nazi in the CAF?, Even if they hold those ideas, they're not going to share it.
"When a radar signal goes out, you don't literally see the object you're looking for, but you get an idea of what the object is or where you need to go based upon everything that's around it," he adds.
He is also planning on contributing his expertise on social network analysis in the future to ground their findings with rigorous and valid data to make informed policy recommendations.
Dr. Hofmann is also a co-investigator for a three-year Public Health Safety Canada funded project where he has been conducting an environmental scan of right-wing extremism across Canada with Dr. Perry, who is the head researcher. This project has helped build momentum for the team'sproject with the CAF.
Dr. David Hofmann is an Associate Professor of Sociology at the University of New Brunswick. His research interests include charismatic authority in terrorist groups, right-wing extremism in North America, transnational criminal organizations, terrorist radicalization, and terrorist leadership.
More Information:
Dr. David Hofmann | Department of Sociology | Faculty of Arts
Funding for the project provided by:
[External link] Department of National Defence MINDS Program