UNB graduate wins award for journal article along his journey to clean the world's water
Author: UNB Research
Posted on Oct 14, 2020
Category: Publications , Accolades , Research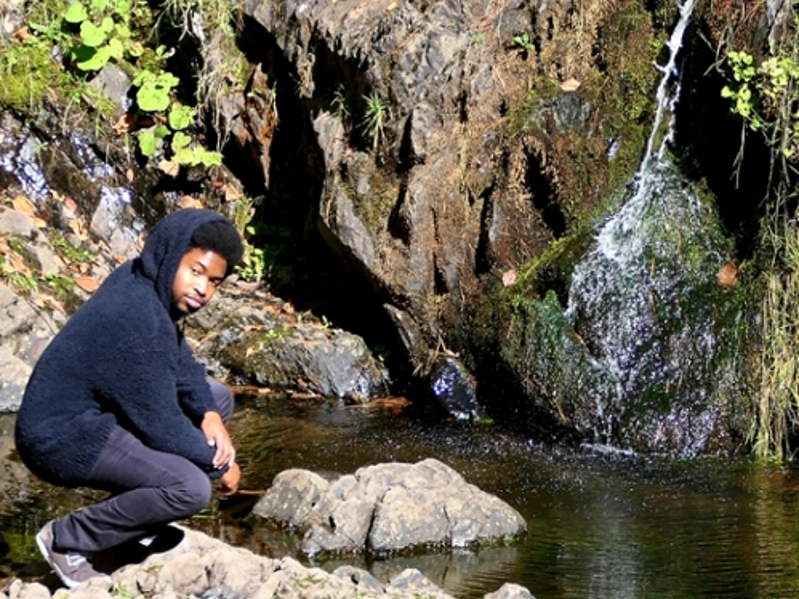 ---
UNB alumnus Ogbogu Kalu has been awarded a 2019 Acta Student Award valued at $2,000 for a paper authored as a graduate student at UNB.

Mr. Kalu completed a bachelor of engineering at UNB in 2016, and his master of science in engineering in 2018. He currently works for Michelin in Bridgewater, N.S.

Mr. Kalu's paper, "A novel approach to the sol-gel synthesis of titanium dioxide-coated SBA-16 type silica mesoporous microspheres for water purification," was published in Acta Materialia in 2019. In it, Mr. Kalu details a new technique for use in water purification, contributing to an important body of knowledge crucial to human life and security.

"My research speaks to a true need for clean drinking water, a basic human right," said Mr. Kalu. "Yet, it is a far reach for many of the world's population, especially effluent-affected communities and developing countries."

His new and innovative process holds the potential to yield a low-cost, sustainable solution to make clean drinking water available, supporting this basic human right around the globe. He and three other researchers have filed a patent for this research breakthrough.
"This process will enable us to cost-effectively create nanoporous materials – materials that allow water to pass through at molecular levels – that can continuously attract and, using light, degrade an array of harmful pollutants," Mr. Kalu said. "Our process can operate at scales ranging from small-scale potable water filters, to large-scale industrial remediation activities."

Mr. Kalu came to UNB from Nigeria, where his life experiences instilled in him a passion and drive for improving lives and solving problems.

"People go into research for different reasons," he said. "For me, I had experienced a lack of access to clean water firsthand. I had experienced a lack of stable electricity firsthand. My expertise in the problems I wanted to solve came from living them. I wasn't looking for a job; I want to change the world. I came to UNB with that vision, and I left with it being even stronger."

The technology is currently being considered for use in scenarios including improving access to clean water for Indigenous communities in the region, like Boat Harbour, in the Sipekne'katik First Nation (Pictou Landing) in Nova Scotia.

The site is considered one of the most polluted bodies of water in Nova Scotia.

Mr. Kalu conducted his research in UNB's Nanocomposites and Mechanics Laboratory (NCM Lab), supported by the New Brunswick Innovation Foundation's Emerging Projects program and the Queen Elizabeth Scholars program, as part of his master's degree under the supervision of Dr. Gobinda Saha. Dr. Saha is an associate professor of mechanical engineering and the director of the NCM Lab that specializes in design of new composite and nanostructured materials and their advanced manufacturing with specific functionalities.

"Ogbogu has an inherent desire and determination to contribute to societal change through science and engineering," said Dr. Saha. "The access to clean drinking water by decontamination of polluted water has practical, day-to-day implications, and the developed technology has the promise to realize that aspiration in a cost-effective way. It takes passion, hard work, persistence and courage to address these big questions, and Ogbogu has those qualities."

In addition to being supervised by Dr. Saha, Mr. Kalu also collaborated with St. Francis Xavier researcher Dr. Brian J. MacLean and Trent University researcher Dr. Balaji Subramanian on this project.

Mr. Kalu hopes that this technology will eventually lead to large-scale solutions for environmental remediation, by cleaning contaminated bodies of water in situ.