COVID-19 research: Dr. Gobinda Saha
Author: UNB Research
Posted on Aug 6, 2020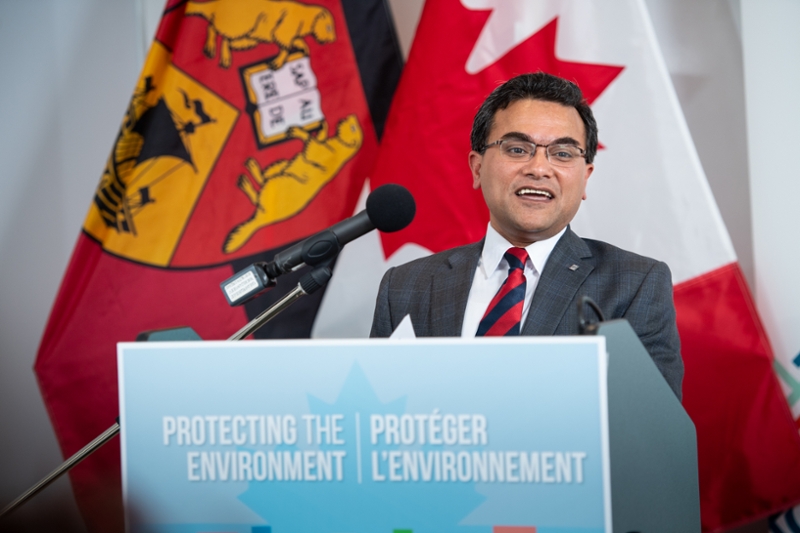 ---
Around the world, researchers across all fields and disciplines are working to address the challenges, issues and implications of the 2019 novel coronavirus pandemic. Here at UNB, our own research community is part of that global movement.

Last month, we announced 13 new, funded COVID-19 research projects; here's a little more about the expertise, the passion and the capacity behind one of them. Want to read the others? Find the full list of stories here.
Dr. Gobinda Saha (Mechanical Engineering & Nanocomposites and Mechanics Laboratory, Fredericton)
Dr. Gobinda Saha is researching the use of nanocomposite materials to protect against viruses like the 2019 novel coronavirus.
Who are you?
I am a materials scientist and an associate professor in mechanical engineering. I devote my research innovation activities to building a better Canadian manufacturing landscape through technology development and industry collaboration. I lead UNB's Nanocomposites and Mechanics Laboratory, where we strive to challenge current industrial practices.
Our work has already received national and international attention by contributing to new technology development for clean transportation infrastructure (rail/aviation), high-speed ballistic threat mitigation, and superior wear-resistant materials for industrial manufacturing. We challenge the current, metal-based additive manufacturing with cermet (ceramic-metallic) and biomass-derived composite materials design, synthesis, additive manufacturing, testing and characterization, and recycling of materials to create lightweight, high-strength, biocompatible, and extended life materials and objects.
What are you working on?
The COVID-19 pandemic upheaval has reinvigorated the global research collaboration among materials scientists, virologists, epidemiologists, health care professionals, industry, and various levels of policy-making bodies. The challenge has brought opportunities to work on technology development to curtail and diminish the virus threat at its origin.
I am working to design, develop, and test, in a medically controlled environment, activated nanocomposite films that will render the virus inert on contact. I am also working on engineered nanocomposite fabric filtering materials for personal protective equipment development. My goal is to help strengthen Canada in the face of current and future health crises.
Why did you decide to work on this research?
The unfolding COVID-19 pandemic has prompted all of us to use our abilities to better respond to the risk and threat. Soon after the imminent health crisis became clear, I decided to employ my knowledge, skills, and abilities by joining the global research community and contributing to our collective recovery through research and innovation. The development of targeted materials, vaccine, and health care technologies is a Canadian priority, and I am volunteering with numerous provinces including New Brunswick, Nova Scotia, Quebec, and Ontario.
This research is funded by the New Brunswick Innovation Foundation, the New Brunswick Health Research Foundation, and the Atlantic Canada Opportunities Agency as part of a special COVID-19 funding program.
Media: If you are interested in this story, and would like more information, please contact Jeremy Elder-Jubelin, Marketing and Communications Officer in the Office of Research Services.
More information:
Dr. Gobinda Saha | Nanocomposites and Mechanics Laboratory | Mechanical Engineering
Research at UNB | Graduate Studies at UNB | Postdoctoral fellowships
Related Pages: COVID19 Research Stories