COVID-19 research: Occupational disruption and adaptation
Author: UNB Research
Posted on Aug 18, 2020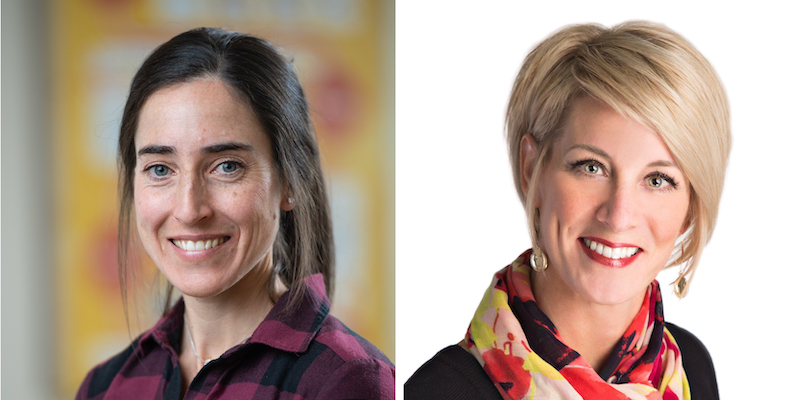 ---
Around the world, researchers across all fields and disciplines are working to address the challenges, issues and implications of the 2019 novel coronavirus pandemic. Here at UNB, our own research community is part of that global movement.

Last month, we announced 13 new, funded COVID-19 research projects; here's a little more about the expertise, the passion and the capacity behind one of them. Want to read the others? Find the full list of stories here.
Dr. Shelley Doucet (Nursing and Health Sciences, Saint John) and Dr. Kerrie Luck (Centre for Research in Integrated Care postdoctoral fellow, Saint John)
Dr. Shelley Doucet and Dr. Kerrie Luck are exploring the experiences of disruption and adaptations to routines, roles, habits and occupations of individuals with chronic disease during the pandemic.
Who are you?
Dr. Kerrie Luck:
I am completing my Postdoctoral Fellowship with the Centre for Research in Integrated Care (CRIC) at UNB in Saint John. I am an occupational therapist with research interests that include: tobacco reduction and policy; program design and evaluation; and healthcare and service delivery.
My current research, exploring the experiences with occupational disruption and adaptation of individuals with chronic disease during the COVID-19 pandemic, has allowed me not only to research an understudied and novel topic, but also to combine my interests by exploring healthcare and service delivery through an occupational lens during this unprecedented time.
Dr. Shelley Doucet:
I am the Jarislowsky Chair in Interprofessional Patient-Centred Care, an Associate Professor in Nursing, and Director of the Centre for Research in Integrated Care at the University of New Brunswick. My research team develops programs that address the barriers and gaps in services identified through research, with the goal to promote collaborative patient-centred care that is accessible and meets patients' needs. I am the co-founder and co-director of NaviCare/SoinsNavi, the New Brunswick navigation centre for children with complex care needs, an example of one of these solutions. My multi-method community-based research involves intersectoral partnerships with a variety of stakeholders, such as health professionals, decision makers, patients, trainees and community stakeholders.
What are you working on?
Our qualitative description study explores the experience of occupational disruption and adaptation among individuals with chronic disease during the COVID-19 pandemic.
By exploring the disruption to routines, roles, habits and occupations; the effect of the pandemic on the self-management of chronic disease; and the barriers and facilitators to accessing healthcare during a pandemic, our research will strengthen our understanding of the impact of COVID-19 on individuals living with chronic disease and provide needed insights to improve future processes, policy and research in NB. Our study will invite 20-25 New Brunswickers living with chronic disease to participate in semi-structured interviews to share their experiences of occupational disruption during the COVID-19 Pandemic.
Occupational disruption is a newer phenomenon in the literature and has never been explored in relation to a pandemic. This research will offer a first glimpse inside this topic, not only enhancing our understanding of the impact of COVID-19 on individuals living with chronic disease, but also strengthening our understanding into how to improve communication, organization, and the provision of care for individuals with chronic disease both during a pandemic and in everyday life. Specifically, this project will provide insight into how to better support and enhance engagement in occupations, including self-care, work and leisure for those with chronic disease.
This project also has policy implications to ensure individuals with chronic disease are better represented, especially during times of extreme and unprecedented social isolation. Finally, this project will help identify other areas that need to be further explored through research.
Why did you decide to work on this research?
New Brunswick has the highest prevalence of chronic disease in the country, which accounts for significant healthcare utilization, costs, disability and death. During a pandemic, one's ability to engage in activities and tasks of everyday life, which we call "occupations," can be significantly impacted or restricted, especially for those trying to manage a chronic disease. Access to regular health care can also be altered when healthcare providers are assisting with, or disrupted by, pandemic implementation plans.
While some occupations may be easily adjusted or omitted, individuals can experience challenges if they cannot participate in the occupations, roles, routines and habits that make up the context of their life, even if temporarily. Occupational disruption is inevitable during a pandemic and can have an impact on the overall well-being of individuals.
It is especially important to understand how the pandemic has impacted an already vulnerable segment of the population so that we can identify how to mitigate its effects. The COVID-19 pandemic is like nothing we have experienced before. While a pandemic plan has been implemented across New Brunswick to protect our most vulnerable in society, the implications from this is still unknown. Research like this project will help us better understand those implications in the future.
More information:
Dr. Shelley Doucet | Centre for Research in Integrative Care | Nursing and Health Sciences (Saint John)
Research at UNB | Graduate Studies at UNB | Postdoctoral fellowships
Related Pages: COVID19 Research Stories