COVID-19 research: Dr. Felipe Chibante
Author: UNB Research
Posted on Aug 20, 2020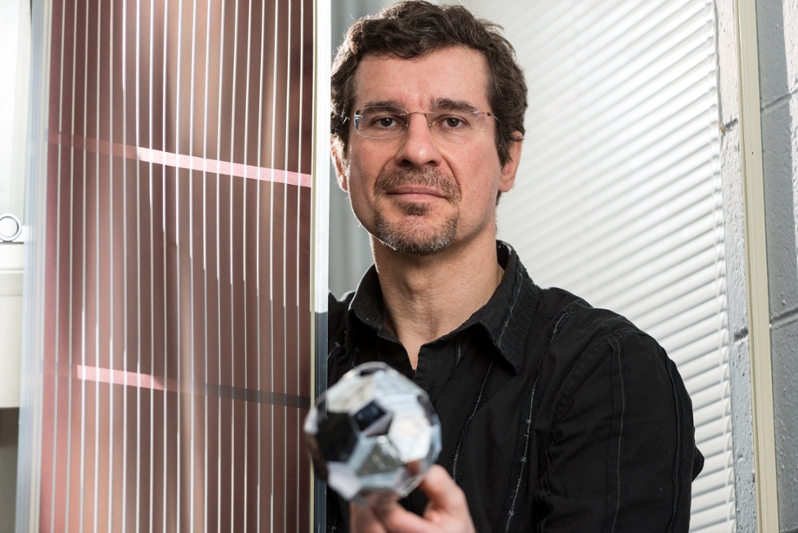 ---
Around the world, researchers across all fields and disciplines are working to address the challenges, issues and implications of the 2019 novel coronavirus pandemic. Here at UNB, our own research community is part of that global movement.

Last month, we announced 13 new, funded COVID-19 research projects; here's a little more about the expertise, the passion and the capacity behind one of them. Want to read the others? Find the full list of stories here.
Dr. Felipe Chibante (Chemical Engineering, Fredericton)
Dr. Felipe Chibante is researching the use of nano-coatings to kill airborne pathogens.
Who are you?
My name is Felipe Chibante, and I am an associate professor in Chemical Engineering and in Chemistry. I am a materials researcher mainly focused on the clean energy sector through the perspective of nanotechnology.
With a focus on clean technology, the Applied NanoLab at UNB explores the manufacture and application of nanoscale materials to improve performance or new applications in the areas of energy and the environment.
The term "nano" refers to the scale near the atomic level, where all chemical interactions are occurring. This holds true for both materials and biological systems.
At the nanoscale, properties change as compared to the observable scale, creating new opportunities for technology and design. These materials can then be engineered into novel devices, with the intent of solving real-world problems, often with commercial potential.
What are you working on?
Building on my expertise in nanotechnology, specifically how materials behave at the nanoscale, I recognized an opportunity to take advantage of the thermal, electrical and anti-pathogen properties of metal nanoparticles.
By combining nanoscale materials into personal protection equipment (PPE) such as masks, we expect to not only trap airborne pathogens such as COVID-19 more effectively, but also deactivate the pathogens and disinfect the mask for reuse. Currently, used masks remain contagious and are consider biohazardous and must be disposed of accordingly. This both puts a burden on the supply chain up front, and increases the environmental impact downstream.
The first phase of the project will be the development of nano-enabled filtering layers with anti-pathogen properties and assessing their neutralizing efficiency with common bacteria. After that, we will be looking for additional support for a second phase, to continue with viral testing, mask design and commercialization.
Why did you decide to work on this research?
COVID-19 has impacted all of our lives in significant and unexpected ways. I think, like many people, as the state of the world was rapidly changing around us, and as we were bombarded by the numbers every day and the message to help flatten the curve, I felt compelled to figure out how I could contribute. I saw the need for PPE, and recognized a potential opportunity from my previous materials research.
COVID-19 is demonstrating just how connected we all are. Healthcare, supply chains, farmers, grocers, schools – none of us can do what we do in the same way anymore. If my expertise can contribute to how we are able to do our jobs and support one another, then I feel an obligation to step up and participate in finding a solution.
Research and innovation are necessary for getting us through these unprecedented times and ensuring we are able to continue working together. Researchers are problem solvers. We are accustomed to tackling difficult challenges in unique ways.
In our case, nanotechnology is multidisciplinary by its very nature and we regularly work in diverse teams to solve challenging, multi-faceted research problems. There are a lot of very smart people working on solutions to various challenges that COVID-19 has presented us with.
Together, we will develop solutions and find new ways to ensure people can keep working, living, and staying connected - safely.
More information:
Dr. Felipe Chibante | Chemistry (Fredericton) | Chemical Engineering
Research at UNB | Graduate Studies at UNB | Postdoctoral fellowships
Related Pages: COVID19 Research Stories